Jaw-dropping. This is probably the best word to describe the unspoilt nature of the Northern part of South Africa. Many travellers fly to Johannesburg and continue the road directly to one of the game reserves in Kruger park. Fine, it's nothing wrong with that, however, if you still haven't planned your perfect South African route, then please take this part into your travel itinerary. Why? Let me show you some photos of the breathtaking landscape with my instructions on how to get there and what to do. 

How to Get Around
Before revealing one of the gems in South Africa, I'd like to say a few words to my dear readers out there. To explore this adventurous part of the lovely African country, I highly recommend renting a car at the airport in Johannesburg to avoid all troubles accessing the most beautiful corners, of which I'm going to talk about. Please note, driving in South Africa happens to be on the left side. Well, for those, who are not keen with that, it takes you a few hours to fully adapt but after a while it should work out for you. Herewith, I'd like to add: Don't drive at night to keep you save from crime, animals crossing the roads, people without lights and non-illuminated roads. Now, let's continue.
Limpopo
First, I would like to introduce you to Limpopo. Limpopo, this is my blog reader. Say hi. And dear blog reader, this is Limpopo. A Province in the Northern part in South Africa, known for it's diverse landscape and eco-friendly tourism. It borders to Botswana, Zimbabwe and Mozambique and is a great gateway if you continue your journey to other African countries (but please explore South Africa too). The name "Limpopo" stands for the Limpopo river and means "strong gushing waterfalls". In this region you will find 96.7 % of Black Africans and only 2.6 % of White population groups. Due to its variety of landscape, Limpopo offers a lot of joy for all the nature-lovers. People come here for bird watching, private game reserves, the Waterberg reserve (a Biosphere Reserve, designated by UNESCO) but also to have some outdoor adventures. The region is a mix of majestic mountains, clear rivers, misty forests and comes with an Alaska touch (wilderness without bears, let's say it like this).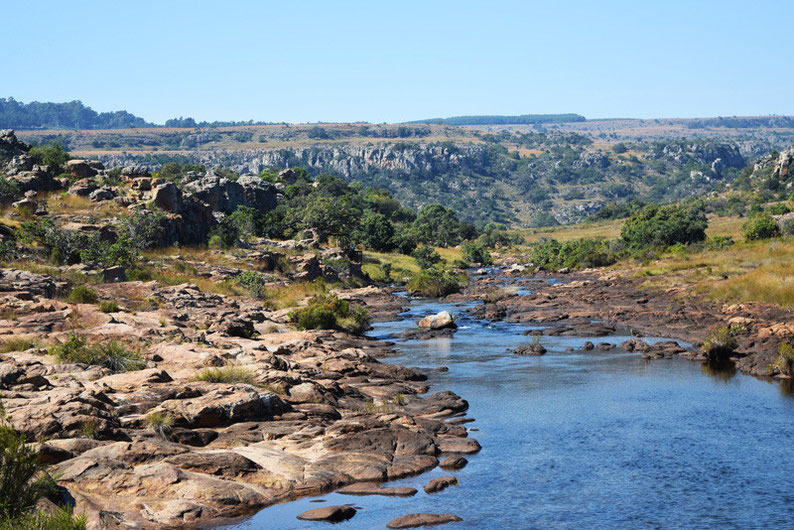 There is no reason why not to fall in love with this part of South Africa. Here are some special activities if you plan to spend a few days in Limpopo:
- Visit the Endangered Species Centre in Hoedspruit (website)
- Walk with lions (website)
- Hot Air Ballooning (website)
- Limpopo Horse Safaris (website)
- River rafting (website)
- Mountain Biking (website)
- Sky Diving (website)
.. and I could go on and on.. canyoning, canopy tours, quad biking, hiking, voluntary work etc. You see? Unfortunately we were in a rush and therefore we couldn't spend here as much time as we actually wanted. It is an area where I can see us coming back and staying a minimum of one week.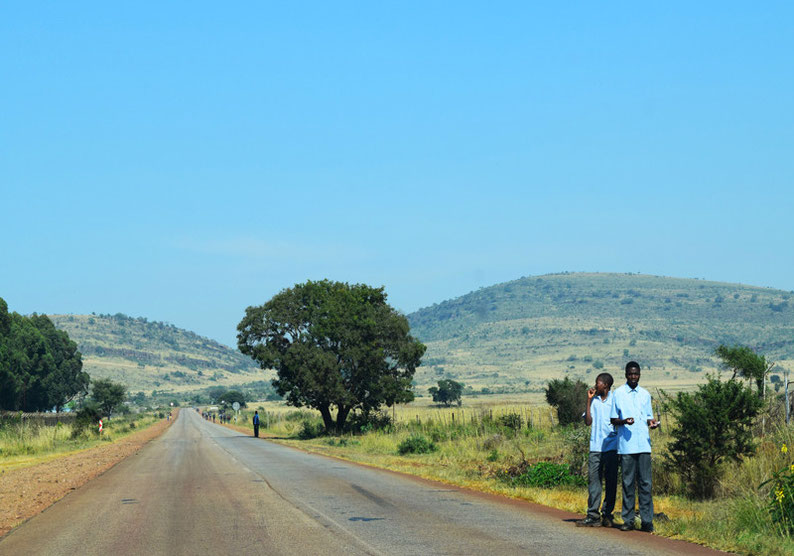 And what did we do? Well, I've mentioned it before, we didn't have a lot of time to spend here, so we actually just went for a drive through the savanna and its bushveld, where we've seen every then and now a baboon or even a large group of monkeys, crossing the road, climbing on trees or hiding in the bushes. It is something we've never seen before, hence it made a big impact on our first impression of the real African continent. What is more, while driving through the land, we had the chance to observe children coming home from school, people gardening in front of their homes, locals getting a lift by a car and driving in the open vans. Not to mention the nature we were surrounded by. Agricultural fields, stunning mountains and hills, red-coloured rocks, awe-inspiring rivers and breathtaking canyons.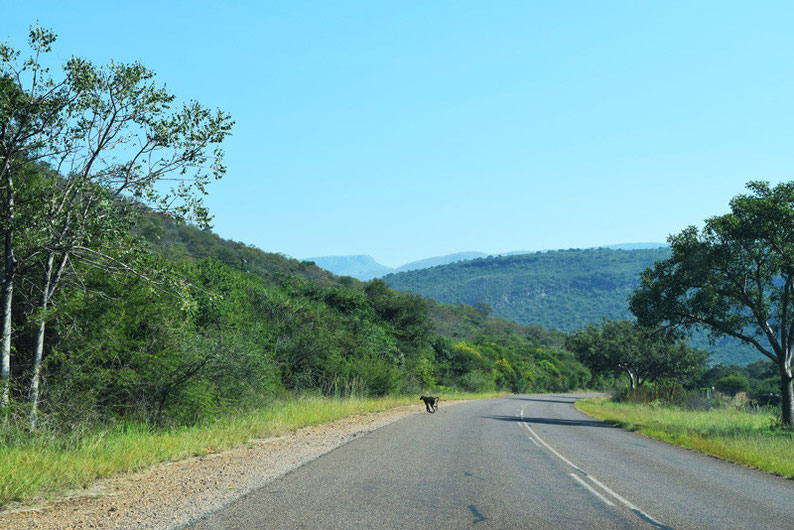 Maybe I'm not able to provide a big picture here of all the things Limpopo has to offer, but believe me, this region is special, different from many as I've explored before. Consider traveling to Limpopo, attending voluntary work in some of the game reserves where you can feed endangered animals and clean their habitats. You can also give some English or Sports lessons in African schools. The options are unlimited. Check out Daktari Bush School and Wildlife Orphanage (it's also very high on my bucket list). Then take some time and go for the aforementioned outdoor activities. Once done, continue the  route to the region called Mpumalanga with it's gem - the Blyde Canyon.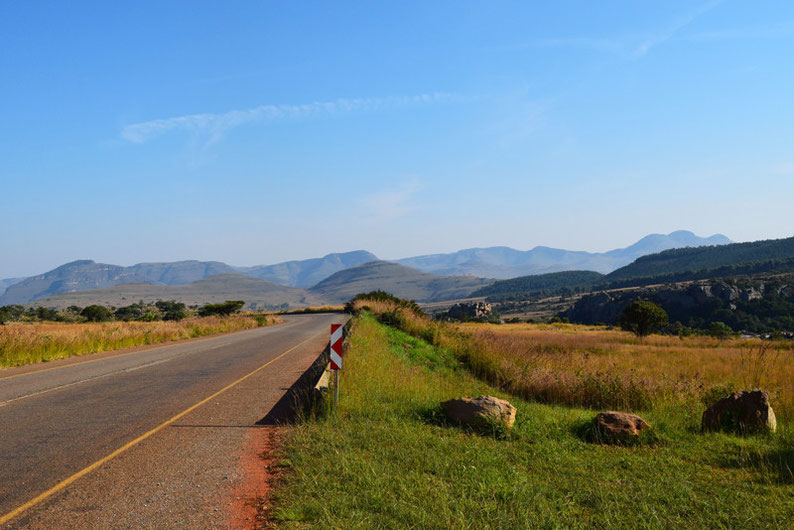 Mpumalanga
The meaning of Mpumalanga, one of the provinces of South Africa, is so beautiful: "The place when the sun rises". It lies in the Eastern part of South Africa and borders to Swaziland and Mozambique. Besides Limpopo, it is another region worth exploring and sneaking around. As in Limpopo, the landscape is enchanting, the animals jump around and the dark forest provides fresh air. You will mostly see the beauty of it through the car's windows if you drive from Johannesburg to Graskop. It is a 4-hour scenic drive with lots of diversity in nature. For a second I thought I am in Canada :) Mpumalanga is the perfect region for your next visits to God's window and the Blyde Canyon.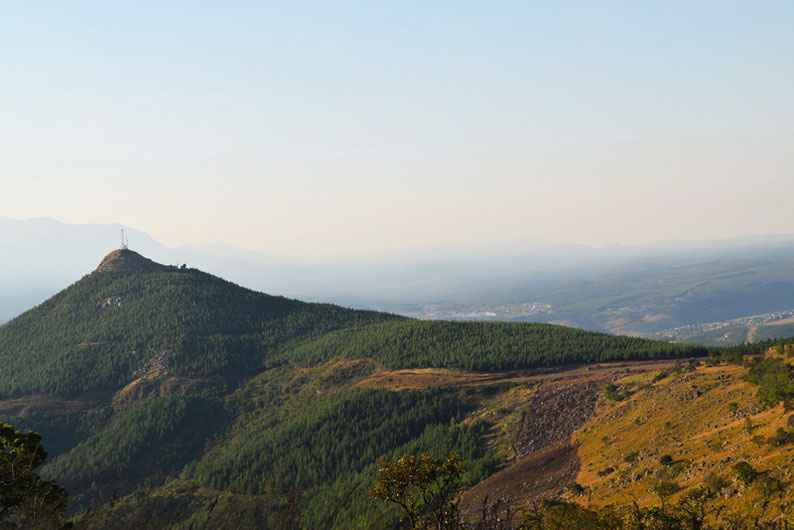 God's Window
God's window is a viewpoint, from where you can see the beginning of the Blyde Canyon landscape. Be smart if you decide to go there - wake up early and if you see there is a haze in the air, don't waste the time going there. In the opposite, it is well worth it as the views are magnificent. Unfortunately, luck was not on our side since the haze was present.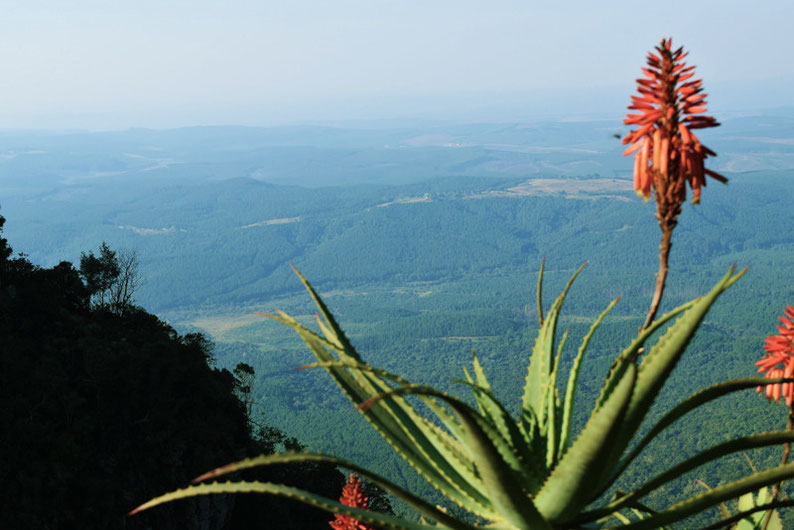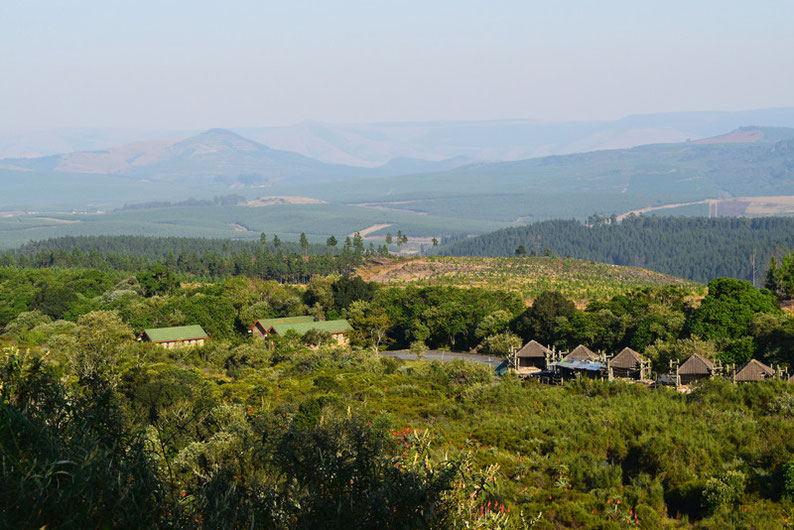 I have the urge to comment the photo below. It was right after visiting the God's window when I stepped out of the car and felt suddenly so grateful to have the chance experiencing a country I was always dreaming of. In the early morning hours on that day we had already seen many baboons in the never-seen savanna before, the sunlight was special and the excitement of seeing the rest of the country was big. A moment which I'm going to capture forever.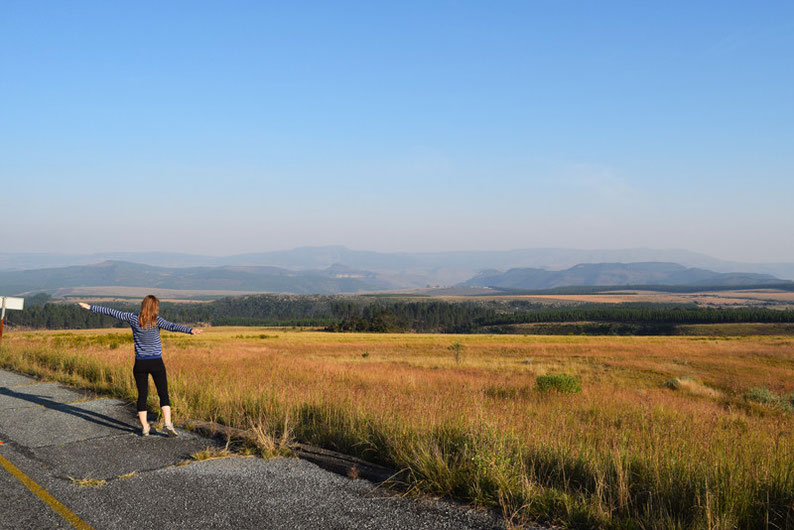 The Blyde River Canyon
We are going to talk about the "Happy River Canyon". Oh yes, Blyde means "happy" or "glad" in Dutch. To add another surprising fact, the Blyde River Canyon is one of the largest canyons on Earth with its depth of 750 m and length of 25 km! The natural feature is home to numerous animal species such as crocodiles and hippos. Different fish, bird and monkey species also live here. The Canyon can be enjoyed from many viewpoints. Actually the God's window already belongs to one of the Canyon's Viewpoints, however many people call the stunning view of the river (see the photos below) unofficially "The Blyde River Canyon View".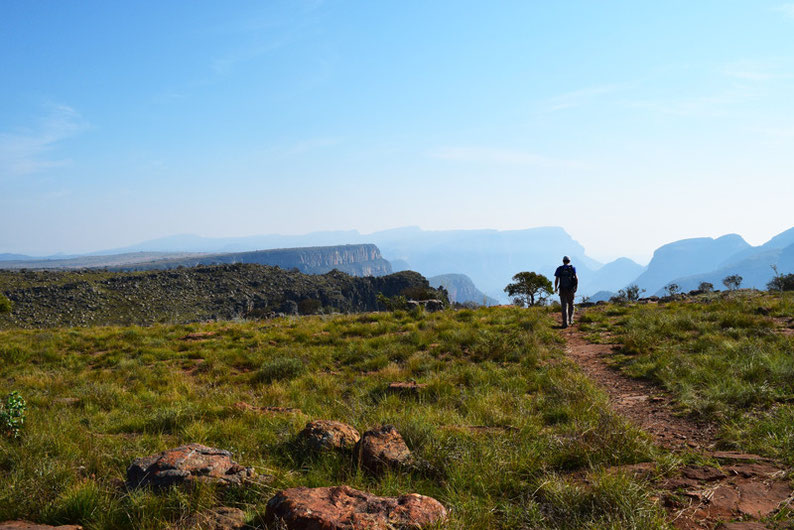 For all budget travellers, there is a small entrance fee for visiting the Blyde Canyon and the Three Rondavels. What is more, there are some locals selling amazing handcraft products which might probably lead to a lighter wallet... :)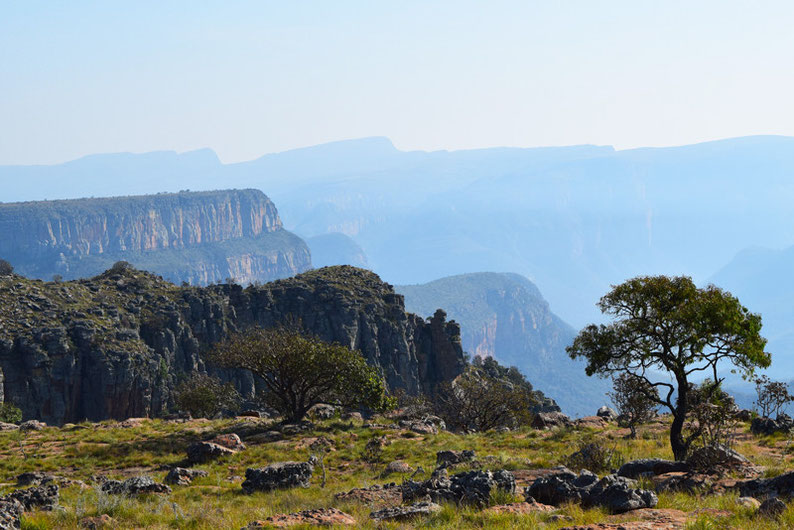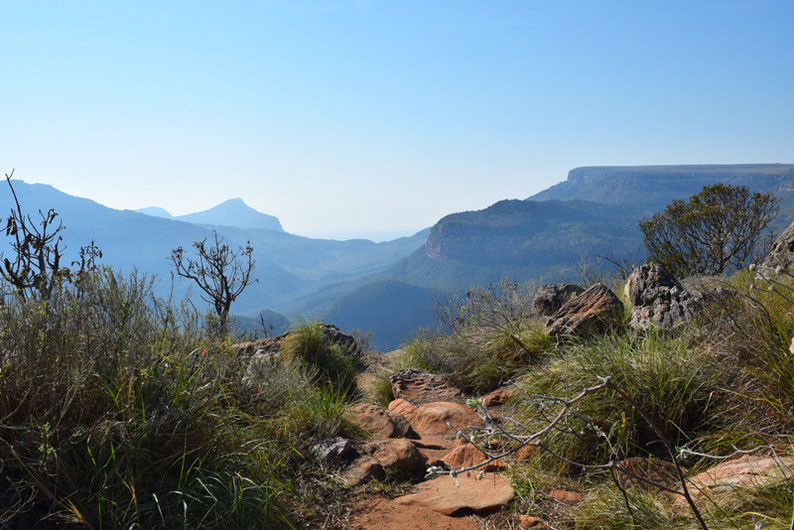 I don't know what it was, but the spot there was so misty and peaceful, everyone was so happy, so were we. A happy couple photo had to be taken, of course :)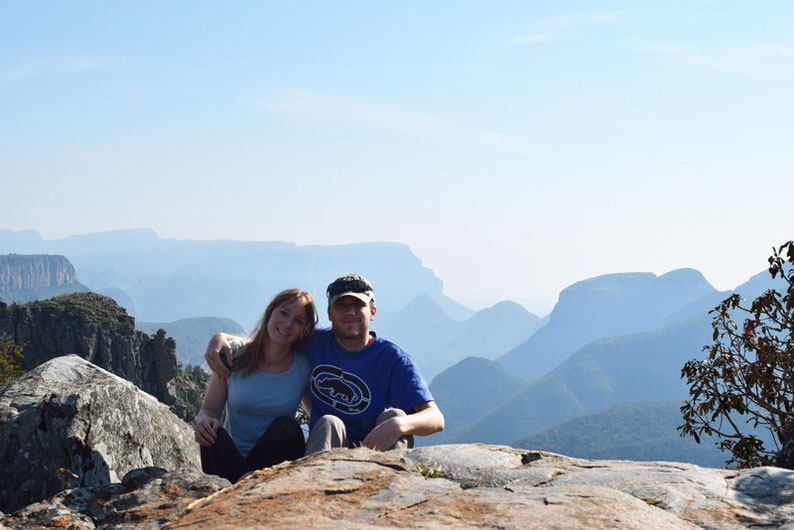 ..and this is THE VIEW! Isn't it breathtaking?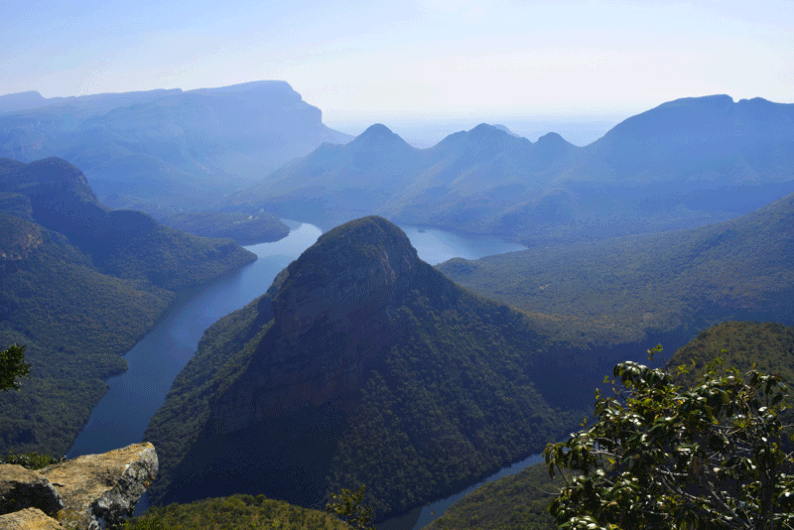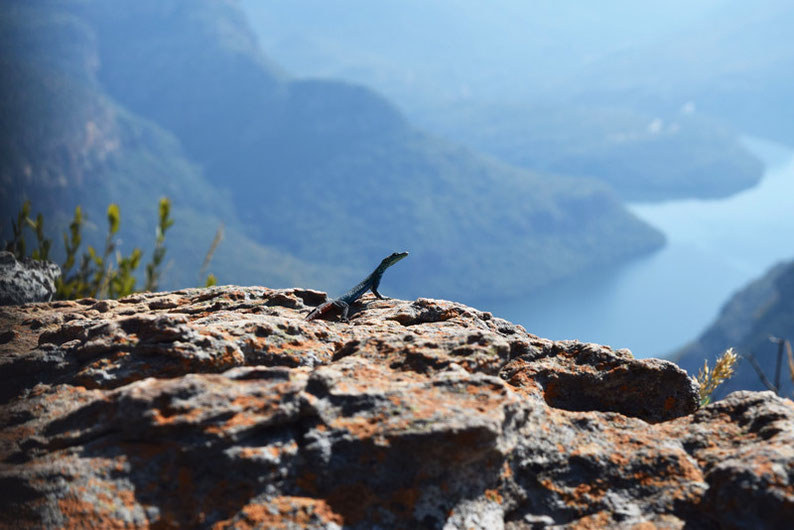 Are you into meditation? If you heard a sound in your head saying "yes", then this place will most likely give you the right amount of peace and tranquility for your meditation.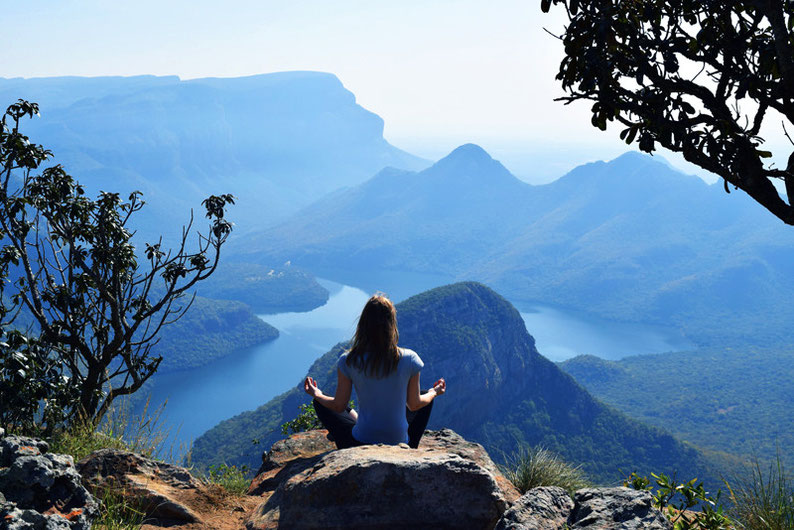 In the back on the left, you see the THREE RONDAVELS, named after the typical African styled hut. While driving through the African land, we've seen people still living in such houses. We even had the chance to stay in one of them but let's keep that for the next blog post.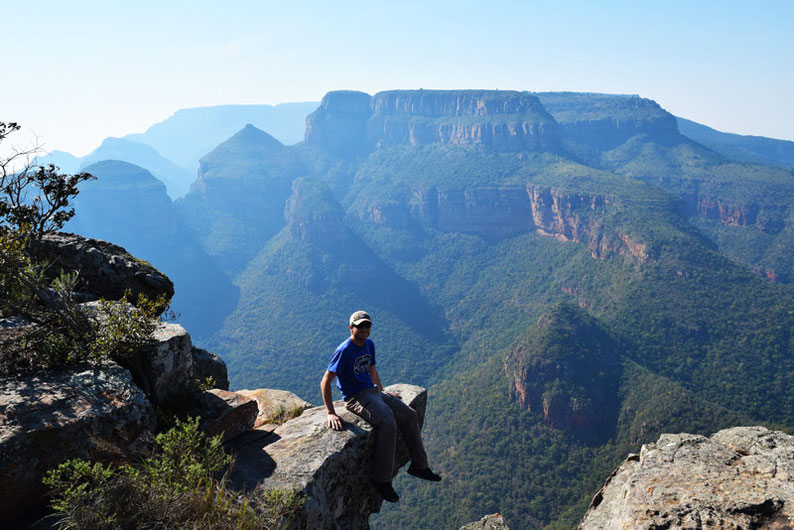 You can easily spend here 2 hours just watching the majestic hills, the river and the surrounding forest. Take the time.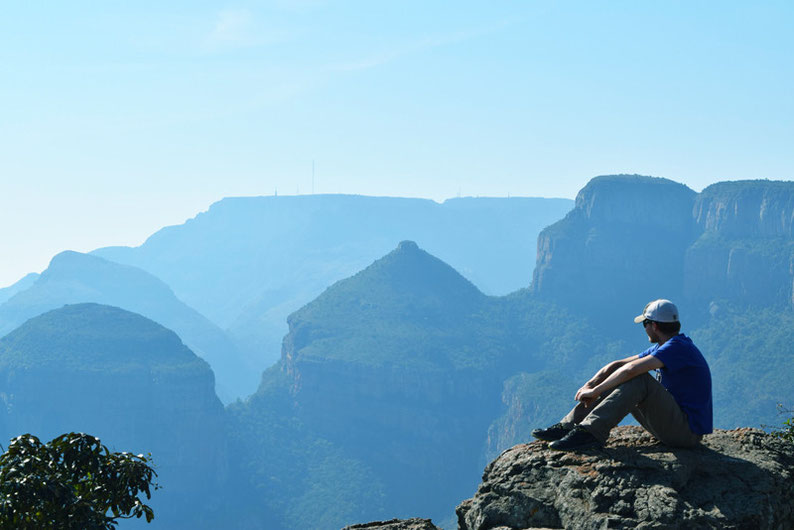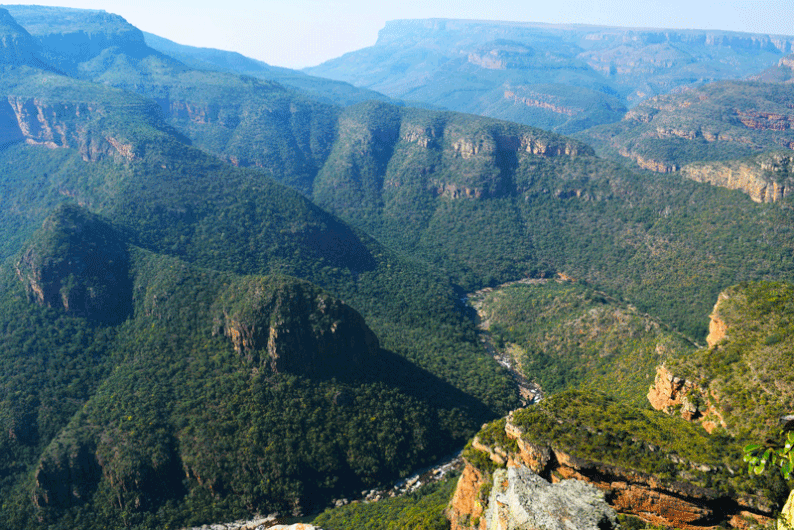 Worth to mention, there are some hiking trails nearby. Count 3 hours for a relaxed hike. The gateway for it is a bit tricky to find (that is why we didn't go for it..). Apparently the access point to the hiking trails to the canyon is at the FOREVER RESORT (it is not necessary to stay there). After completing the trail register you're fine to explore the region. Enjoy and tell us how it was! :)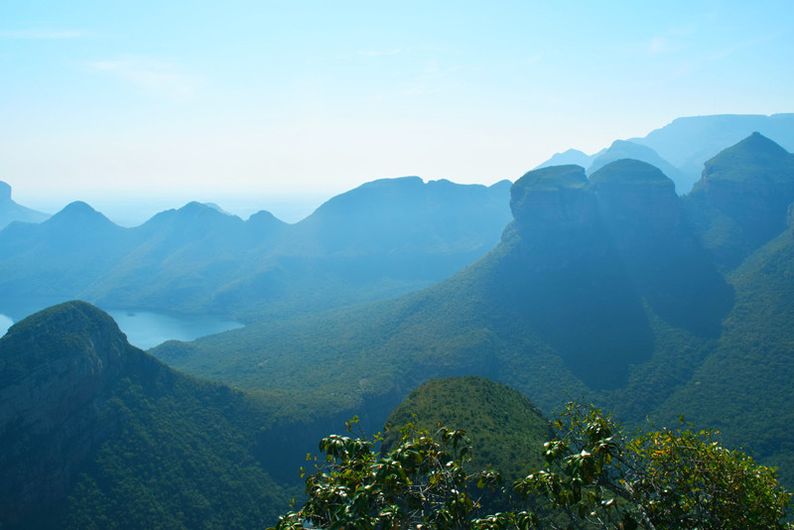 This is a glimpse of the stunning Blyde River Canyon in South Africa:
Where to Stay
No, I'm not being paid for the following promotion. This is my own decision to recommend the Thaba Tsweni Lodge in Graskop. We have spend 2 wonderful nights in this luxury self-catering lodge with a bedroom, kitchen, bathroom and a living room with its own barbecue chimney! You can easily book via Booking.com! There is only 10 minutes drive to Graskop, 10 minutes drive to God's Window and 1 hour and 30 minutes drive to the Blyde Canyon.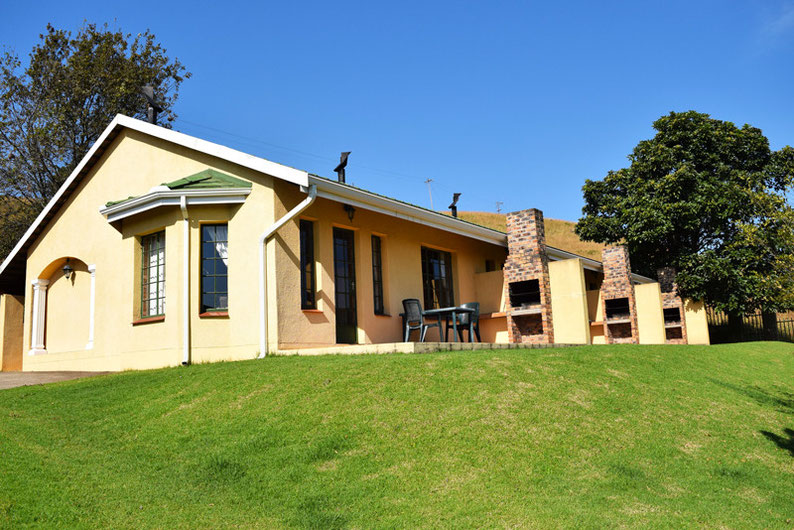 The adventurous and inspiring owner is very friendly and gives you many good tips for your activities around the region. He offers bungee jumping (next time!), hiking and 4x4 tours, mountain biking and more. We went for quad biking in the late afternoon. It was our first time on the quad bikes, which turned out to be a great experience. It was tough though to keep the balance since we drove through the savanna, and over some little streams and rocks. It also got romantic (for romantic souls out there!), as we were quad biking in the sunset time! Definitely, one of the evenings I will remember for a lifetime. The owner drove us to the two main attractions nearby - first to the Berlin falls and then to the greater Lisbon falls! 
Well, try it out, if you decide to stay in Thaba Tsweni Lodge.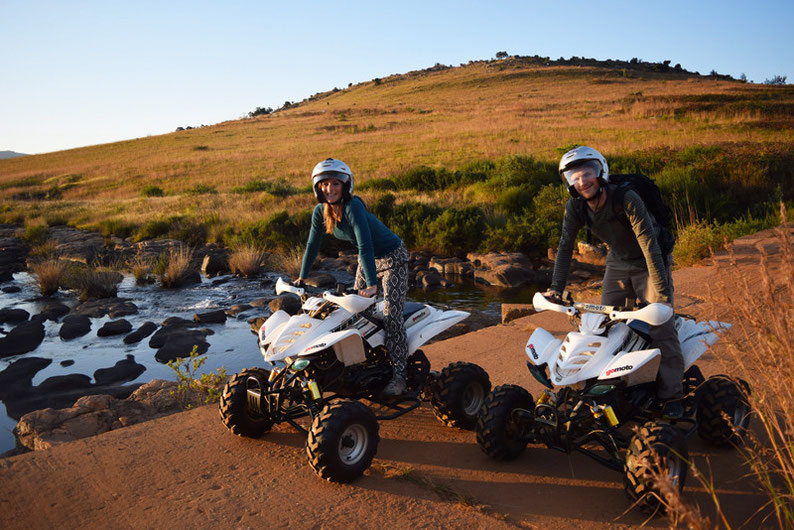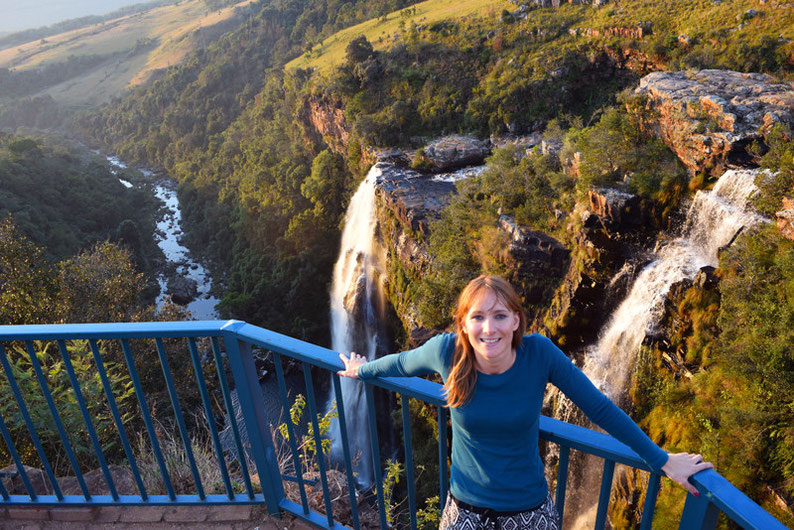 The regions Limpopo and Mpumalanga offer so many "WOW" moments, as far as the landscape and adventurous activities in South Africa are concerned. Don't skip this part of the country, since it was one of our favourite! Stay tuned for the next blog posts about South Africa. There is already a travel video of the Drakensberg mountains available on YouTube.  Have a look!
Thanks for reading and sharing + don't forget to visit our Facebook and Twitter page in order to stay connected!
Have you been to the Blyde River Canyon? Did you go for a hike? Please, leave me a comment below. 
You might also like
Leave a comment