Do you SUP (stand-up paddle)? Whether you live in Switzerland or not, we highly recommend to take your paddleboard to these magnificent places in Switzerland! Let's check them out.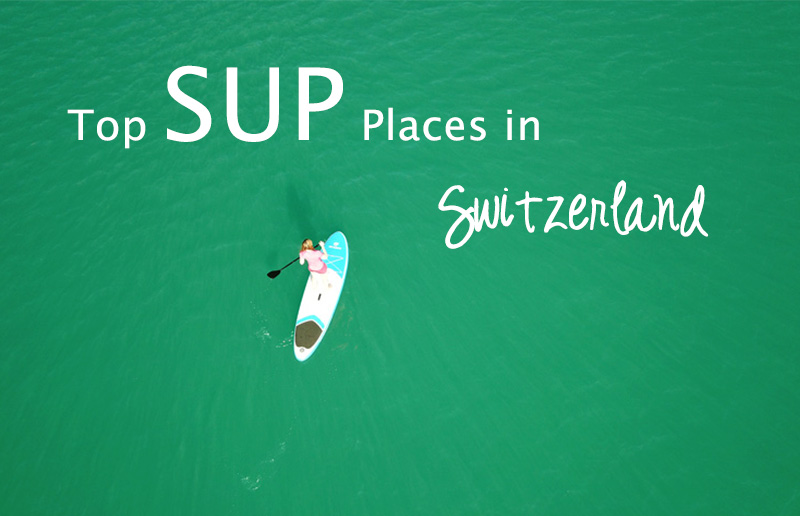 Top SUP Places in Switzerland
Here is the list of top SUP places in Switzerland:
1# Klöntalersee (Klöntal Lake)
One of the top SUP places in Switzerland to paddle around is the picturesque Klöntal lake. Stand-up paddling on this lake with the incredibly beautiful nature around is extraordinary.
2# Sihlsee (Sihl Lake)
Einsiedeln has this stunning lake called Sihlsee. In summer it makes a great spot for stand-up paddling. Imagine standing on the paddleboard and having this amazing views of surrounding mountains and villages like you see below.
3# Reuss River
Just recently discovered, there is this beautiful river called Reuss. There are many walking trails and BBQ spots along the river. But more importantly, it is perfect for boating, kayaking and you guessed it - stand-up paddling too! 
4# Türlersee
A bit less-known lake in Switzerland is the lake that goes by the name Türlersee. Since it is not that popular, it's not as crowded in summer as other lakes might be. If you want some calmness and remoteness, make sure to take your paddleboard to Türlersee.
5# Walensee
Our favorite lake for stand-up paddling in Switzerland is called Walensee. The landscape around the lake is more than fascinating. Also the color of the lake is extravagant and makes this spot very special. 
6# Thun Lake
Why not visiting the Thun Lake and go for a SUP session. Look what it looks like! Amazing, isn't it?
7# Sempach Lake
Also a very good option for a SUP day is the lovely Sempach Lake near Lucerne. 
8# Lake Hallwil
Last but not least, Lake Hallwil is a great option for stand up paddling in Switzerland. 
9# Lake Lauerz
If you don't like crowds and you are looking for a remote place to SUP, lake Lauerz is a great choice! There are even two small islands on the lake and the surroundings with the mountains like Grosser Mythen (see the photo below) makes the lake worth a visit. 
Where do you usually go stand up paddling? Any cool recommendations? Let us know in the comments below!
You might also like
Leave a comment