Besides amazing natural landscapes and power to purify minds, Tibet is also known for its fantastic trekking routes. Because of the unique trekking area and magnificent nature where the treks are passing by, there is an increased number of travelers asking for a Tibet trekking and hiking tours in the past few years. For greatest adventurers, Tibet is a very popular region for trekking, and I am sure it's on everyone's bucket list for visiting.  However, Tibet can be visited, not only by climbers and active hikers, but by everyone on this planet.
John Muir once said: "Keep close to nature's heart...and break clear away, once in a while, and climb a mountain or spend a week in the woods. Wash your spirit clean."

The need for a mountain and a stay in nature can't come with a better description. Every person should go on a mountain for at least once a year. Well, if you are planning to go on a Tibet tour next 2020, this article will be beneficial for you.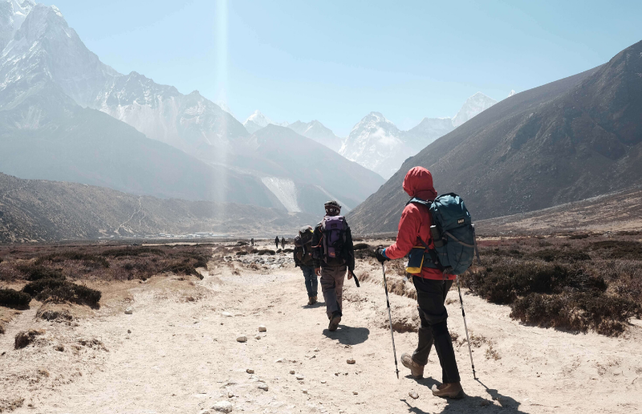 Choose a Local Travel Agency
For every trip to be a success, the main part has a travel agency and a tour guide. It is essential to choose the right travel agency, and when you select a Tibet trekking tour, it will be best if you choose a Chinese travel agency or Tibetan travel agency. You may ask why. Well, local travel agencies have employees that are also local. And who can know more about the area of living more than domestic people? Chinese and Tibetan travel agencies also have more tour offers than other travel operators, and with that, you will have more choices for your Tibet trip. Tibet is a unique region with unique regulations, and Chinese travel agencies can be very helpful with the required documents and permits.
Tibet's Regulations and required Documents
As I said, Tibet is a unique region with special regulations. This is the main reason why I wrote this article. Everyone who is planning on going on a Tibet trekking tour should know the necessary Tibetan's regulations and requirements.
You cannot travel to Tibet on your own
Foreign travelers can't be alone in Tibet. That means that a licensed tour guide must accompany every tourist; you must have an organized route, organized transportation, and a driver. Well, this can be bad news for backpacker travelers but it isn't as bad as it sounds. Chinese travel agencies offer a private Tibet trekking tour. On your trip can be only you and your tour guide, and of course your driver. Also, group tours are not bigger than 12 people.
Chinese Visa
There are three ways to enter Tibet. From mainland China, from Nepal and Bhutan. If you are planning to travel to Tibet from China, you will need a Chinese visa. You can apply online on the Chinese Embassy website, or you can go to the Chinese Embassy in your area. The regular time for a Chinese visa to be done is three to four days. If you are traveling from Nepal or Bhutan, usually, your chosen travel agency will arrange a group visa to enter Tibet.
Tibet Travel Permit
The Tibet travel permit isn't a visa. It is a document that allows you to enter Tibet. For this permit, you can not apply on your own, and it will do your travel agent on your behalf. Before applying for the Tibet Travel Permit first, you must have a Chinese visa. You will send the scanned Chinese visa and the personal information from your passport to your agent, and he will do the applying for you. You must have a valid passport for at least six months. And another vital thing when applying for TTP is that your occupation shouldn't be journalist, diplomat or government official. If you work some of these jobs, you'll need to apply for entry through the Tibetan Foreign Affairs Office. For Tibet trekking tour, it is necessary to have other permits such as Aliens' Travel Permit and Military Permit. Still, for these permits, your chosen travel agency will get for you.
Adjusting to the Altitude before Tibet Trekking Tour
Acclimatization is another crucial thing to do before going to trek in Tibet. One of the best ways to get acclimatization is to travel to Tibet from China by train. The trip is very long, about 43 hours, but it will pay off every hour spent on that train. You can get gradual acclimatization, and the best part is the majestic view from the window. Every trekking tour starts from Lhasa. Travelers spend two to three days in Lhasa to get acclimatization. This is also an excellent opportunity to visit some of the greatest attractions in Lhasa, such as the Potala Palace, Jokhang Temple, Barkhor Street, Sera Monastery, Drepung Monastery and Norbulinka.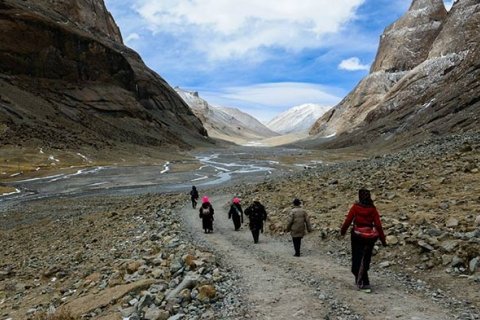 Packing for Tibet Trekking Tour
Trekking in Tibet isn't the same as the other trekking regions in the world. It requires different clothes and accessories, owing to the high altitude and the harsh weather, especially during the winter. It is advisable to dress in layers to be able to get off some of the clothes during the trek. In your bags, you have to pack both hiking and walking shoes, and sandals to wear at camp. You'll need to have hiking pants, and it is advisable to be water and windproof pants. Very important for Tibet trekking is to wear thermal underwear, woolen socks. Warm winter coat, rain jacket, gloves, warm hat, scarf, and bandana are the things that are also a must-pack to your bags. Trekking poles are optional, but it is advisable to have it. Hygiene and toiletry items are also must-have during the Tibet trekking tour. Bring everything that you think that it will be necessary. In your medicine bag, you will have to add Diamox, painkillers, antibiotics, and medicine to treat diarrhea, and your prescription medication if you have one. Don't forget your camera, extra batteries, charger, memory cards, electric outlet adapter for Tibet. Pack sunglasses with UV protection, sunscreen, and lip balm, this is necessary to protect you from the intense ultraviolet radiation.
Best Time to go on a Tibet Trekking Tour
Depending on which part of Tibet you want to trek, there is a different season for that. Generally, the trekking season in Tibet is from late April until late October. If you want to trek the most popular trek in Tibet- Mount Everest, the best time it will be January through mid/late February, April through early June and Mid-September through December. During these months, the sky is clearest. The best time for Mt. Kailash trek is from Early May through late October. Avoid summer months for trekking in Tibet. The rainy season is in July and August. You can trek, but mostly the sky can be cloudy during the day, and usually, there is a rain shower. However, with the proper equipment, you can trek in the summer and be fine.