You haven't been to Madeira yet? Guys, it's about time! In October 2013 we decided to fly to Madeira and explore this small marvellous portuguese island. First, we thought it's is going to be a calm vacation to relax but hey, once we were there, it was no time for being lazy.
I want you to know the great things Madeira has to offer, so I made a short list with 5 things what to do in Madeira. Enjoy and promise me to book a flight there ASAP :P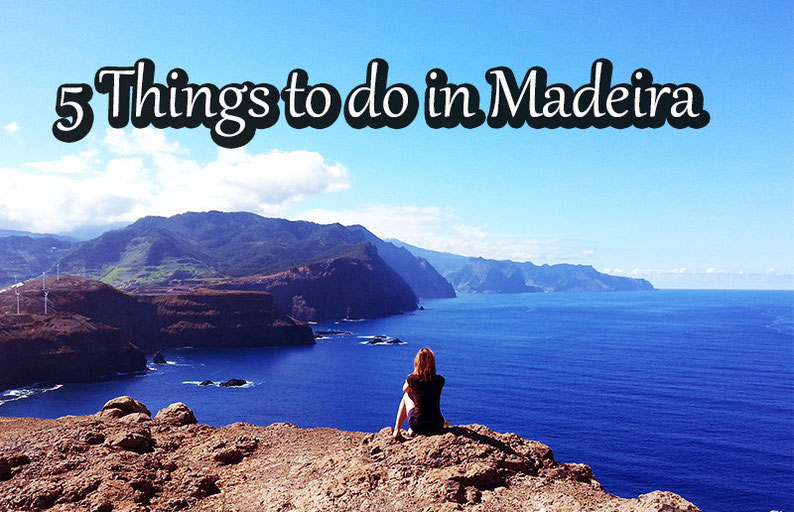 1. Enjoy swimming in turquoise water.
This photo was taken 5 min away from our hotel "Four Views Oasis" - the nearest city is called Canico de Baixo. The water here is so tempting. Go for a swim and be amazed by the turquoise water.. And if you're asking yourself what's the sea temperature in October, I can tell - it's about 21°C, very pleasant.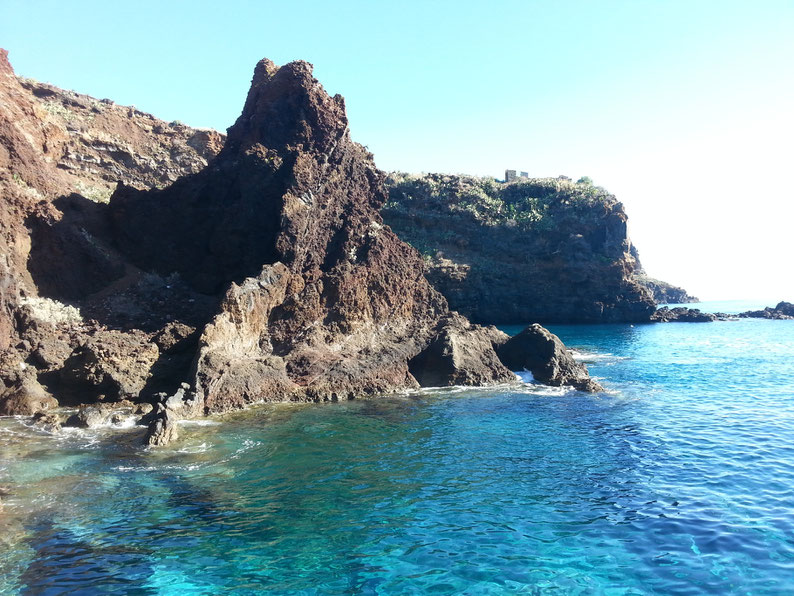 2. Rent a car and explore the island.
You can rent a car from up to 30 euros per day. The roads in Madeira are pretty narrow and also very steep. Make sure you rent a car with enough power (don't take the cheapest car if possible). We got the car at our hotel (which is the basically the easiest way) and paid 40 euros per day. Once you got the car, you're free to explore the whole island.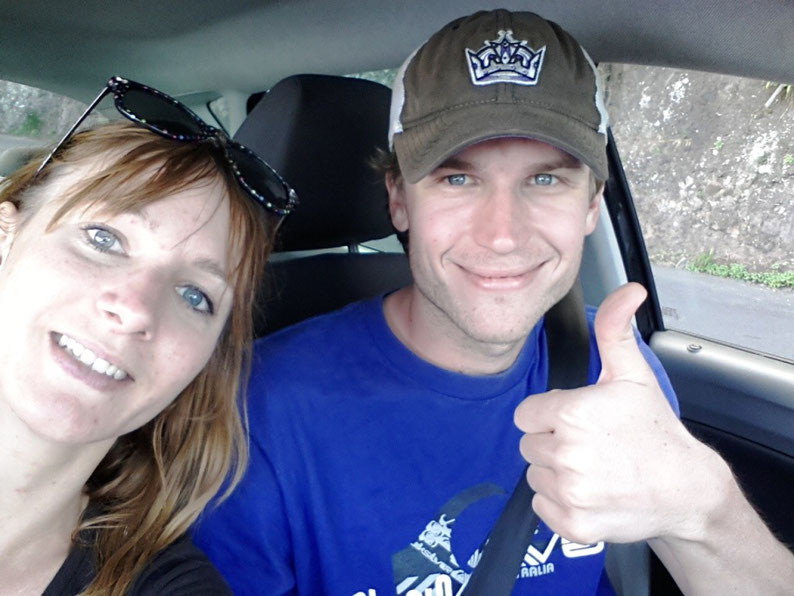 We received a pretty awesome map of Madeira with suggested daily routes on it. The main attractions were divided into 5 routes (and some more but these are combined routes):
- Northeast tour (Volcanic caves, Ponta Delgada, Arco Sao Jorge, Cabanas, Porto da Cruz, Pico do Facho, Santa Cruz)

- East tour (Camacha, Pico de Areiro, Ribeiro Frio, Faial, Santana, Portela, Ponta de Sao Lourenco, Machico) 
- Southwest tour (Ponta do Sol, Moledos, Calheta, Prazeres, Ponta do Pargo, Paúl do Mar, Jardim do Mar, Madalena do Mar)
- Nuns Valley (Pico dos Barcelos, Eira do Serrado, Curral das Freiras)
- West tour (Camara de Lobos, Cabo Girao, Ribeira Brava, Encumeada, Paúl da Serra, Porto Moniz, Seixal, Sao Vicente)
If you do the West tour, you will visit the famous Porto Moniz. Enjoy the swimming pools carved out of the volcanic rock (no entrance fee!). Take your swimming suit and have fun swimming in the green water..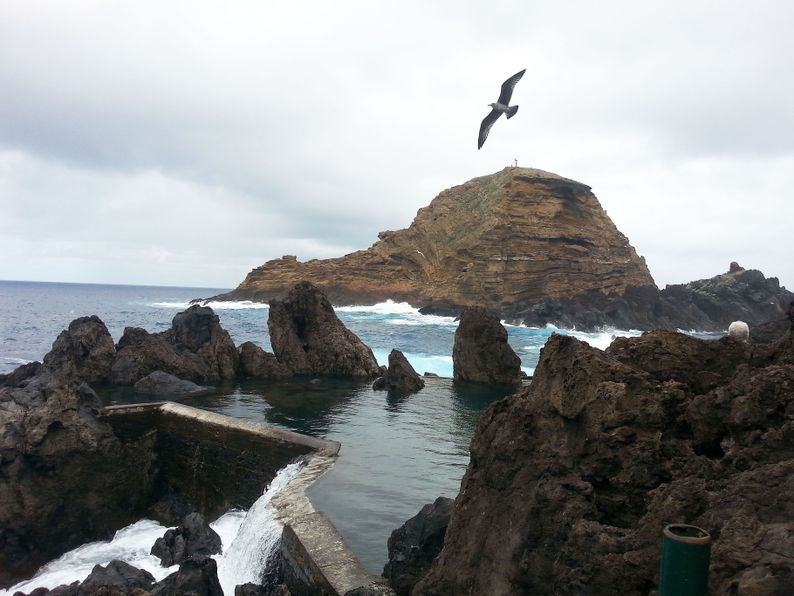 A peaceful ride on 1600 m but still with views of the sea is what the West tour offers too. It was soooo beautiful here. Stop to get some fresh air and enjoy your meal in this calm area. You will like it!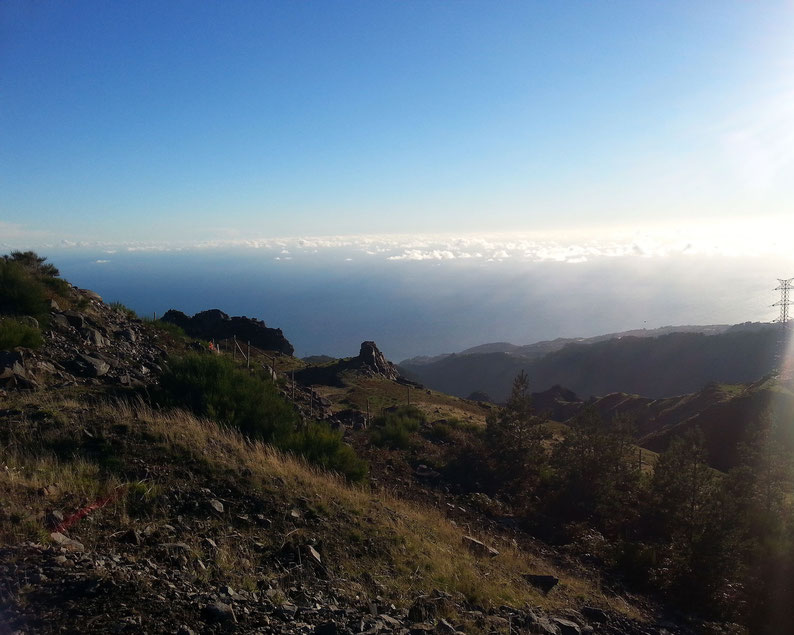 One of our favourite routes was the Northeast tour. The road along the coastline offers many stunning views of the sea and some great beaches to spend your day. Machico is a small romantic city worth visiting. This route offers also the famous and not to be missed Ponta de S. Lorenco with picturesque cliffs.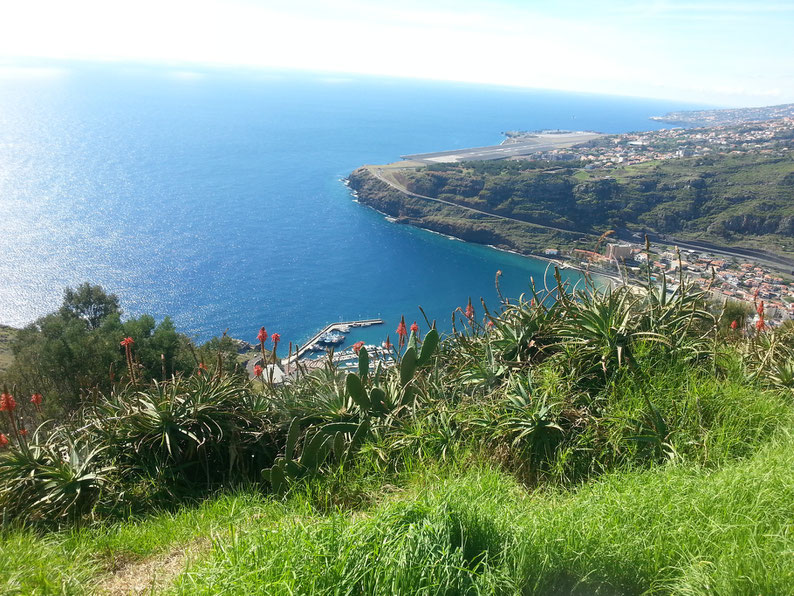 The East tour wasn't as promising as we expected but still - you don't want to miss the traditional straw-roofed houses called "casinhas de Santana". Also the curvy roads from Ribeiro Frio to Camacha through the picturesque forrests are an experience worth.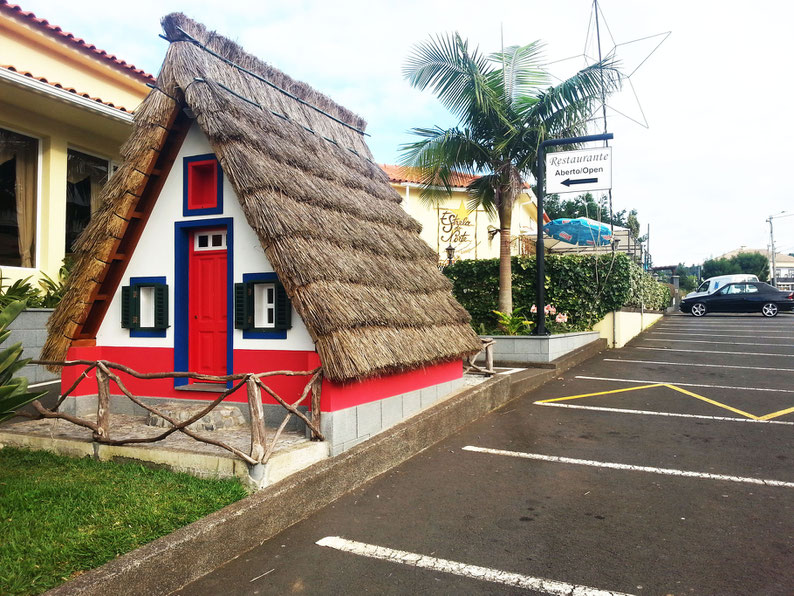 3. Go hiking.
Hiking is a must do in Madeira. One of the most beautiful hiking tours in Europe can be found here - Pico do Arieiro (1810 m). Unfortunately, we had bad luck with the weather. Exactly on the day we've planned to see Pico do Arieiro we were surprised by heavy fog and rain. However, we took a photo at the beginning of the tour path :)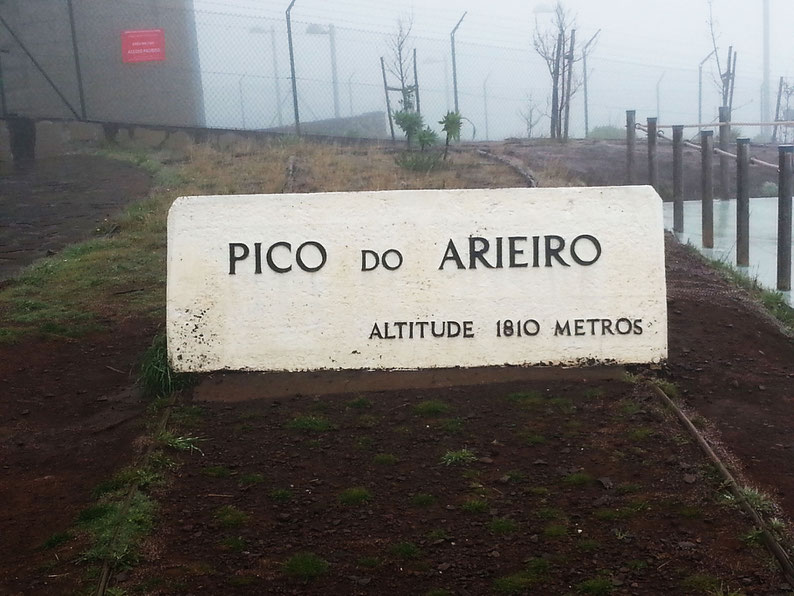 Ponta de Sao Lourenco was one of our most memorable hiking tours we've ever been so far. Oh man, it was soo beautiful. It can't be described in words. It took us about 2 hours to hike in one way. But this fact should not stop you to take this path. You can go for a 20-minutes walk and you will already enjoy the stunning sea views upon the cliffs. My recommendation - go in the morning hours since it can get pretty hot out there. A sunburn is not out of the question :) Therefore, take the sun block and a lot of water with you!
Just have a look at our photos below: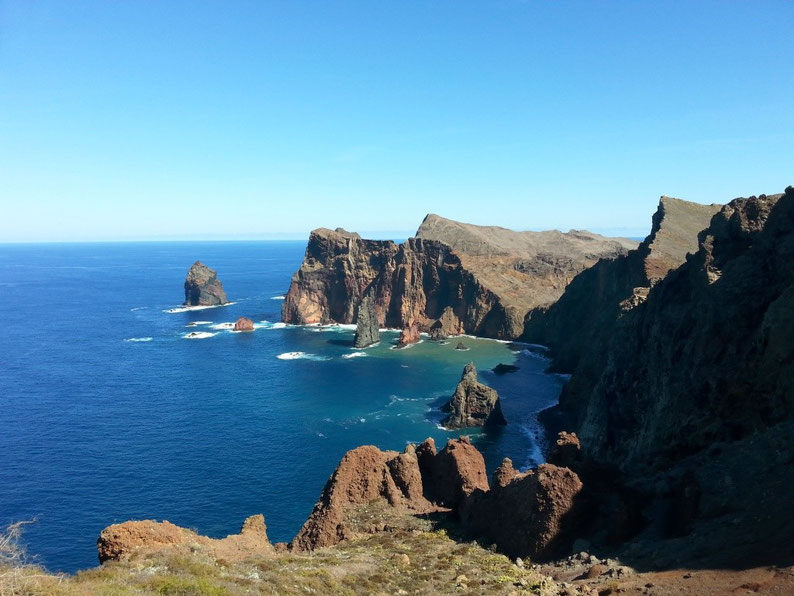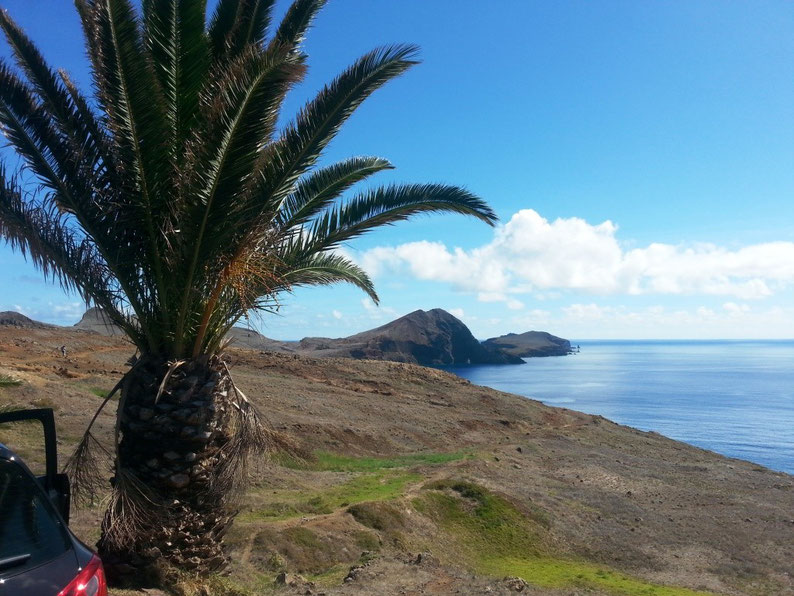 There are so many hiking possibilities in Madeira. Here are some suggestions for half and full day hiking tours:
half day:
- Vale da Serra de Água (duration: 2h, difficulty: easy)
- Vale do Paraíso (duration: 2h, difficulty: easy)
- Marocos (duration: 2h, difficulty: easy)
- Referta (duration 2h, difficulty: easy)
full day:
- Rabacal (duration: 3h 30m, difficulty: moderate)
- Ribeiro Frio (duration: 3h 30m, difficulty: moderate)
- Pico Areiro - Pico Ruivo (duration: 3h 30m, difficulty: difficult)
- Queimadas (duration: 3h 30m, difficulty: easy)
- Lakes of Madeira (duration: 3h, difficulty: moderate)
- Levada do Rei (duration: 3h 30m, difficulty: easy)
4. Go canyoning.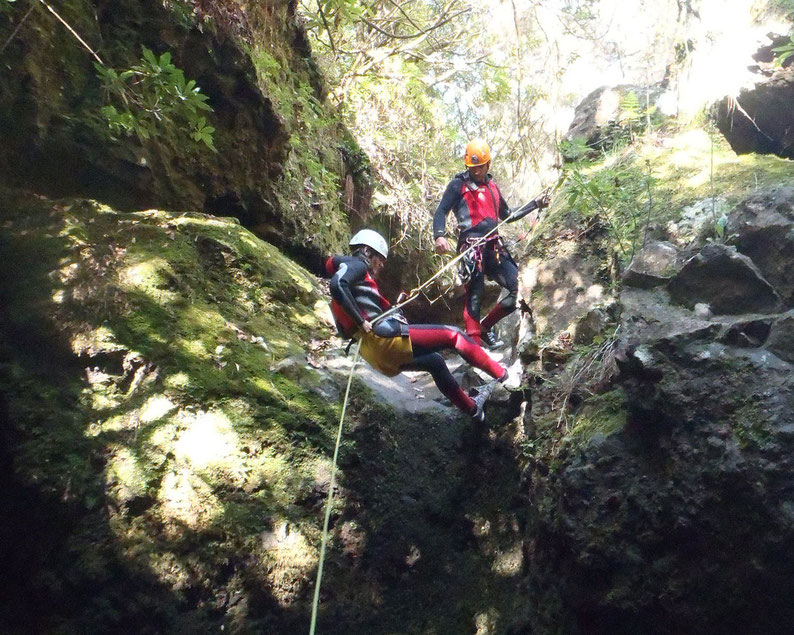 5. Try local food and wine in Funchal.
Have a stop at the famous market "Mercado dos Lavradores" in Funchal and get amazed by the huge offer of various exotic fruits: anona, guava, passion fruit, papaya, maracuya etc. 
You can't go home without having a delicous dinner in Funchal, Ribeira Brava or Ponta do Sol. Try the typical Madeira dish "Espada com banana" (black scabbard with banana). The dish goes along well with a glass of some delicious local wine (it's not that cheap though..).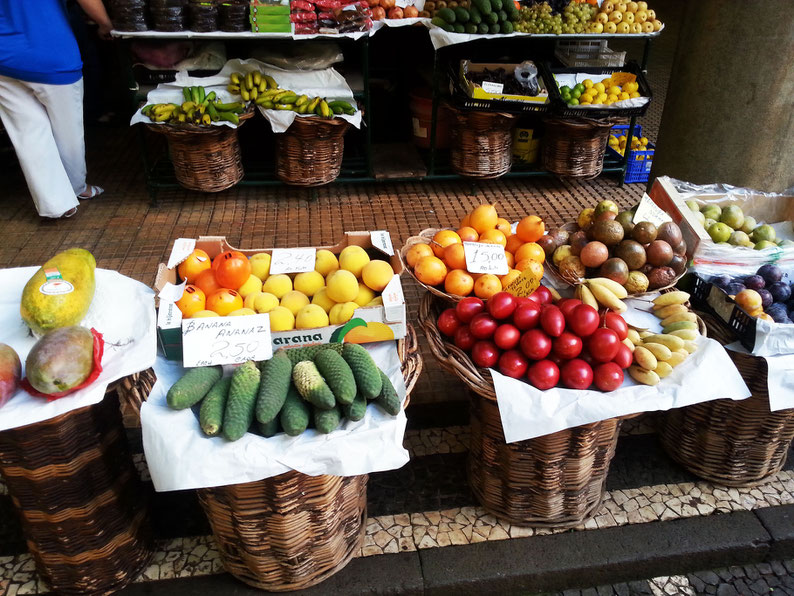 Madeira is a great destination for a week or two. If you like swimming, diving, hiking, canyoning and strolling along the coast it's a nice place to be. Madeira has to offer a lot more - you can go also horse riding, paragliding, kitesurfing, windsurfing, kayaking, on a ship cruise and even whale watching! Unfortunately, we didn't have the time to experience that.. 
Nevertheless, if you are looking for a strickly party island, you're in the wrong place. There are some clubs in the capital city, Funchal, which are probably great, but that's it. In general, the island is quite calm.
If you like to enjoy Madeira on its best, don't choose to go there in the peak season. It can get very crowded, expensive and touristy.
However, I've never seen so much beauty on such a small island. You won't regret going there, believe me.
Have I forgotten something very important? Have you ever been to Madeira? Yes? So, what would be your 5 things to do in Madeira? I am curious to hear it! Please let me know in the comments below.
Please share it if you like this blog post! Thanks**
Related Blog Posts
Now, that you know what are the 5 things to do in Madeira, let yourself gaze into photographies taken at our trip to this beautiful portuguese island! Enjoy!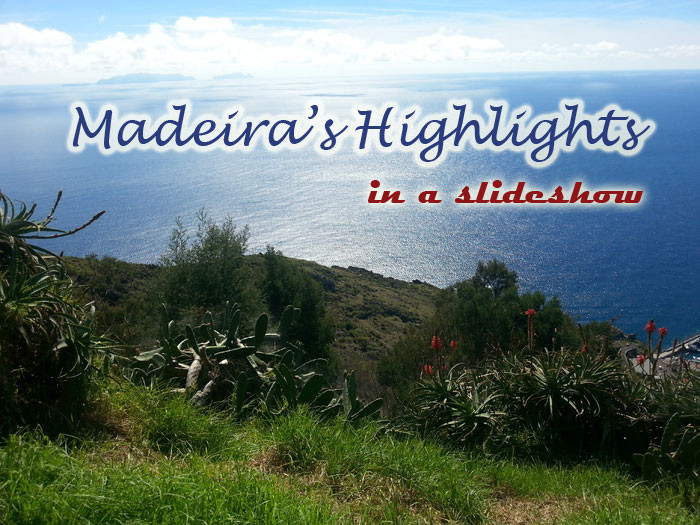 You might also like
Leave a comment