So you've decided to hike the Annapurna Circuit and/or the Annapurna Base Camp. Congrats, great decision! To help you get set up and ready to go, here's a list of what you need to take into account, before embarking on this epic journey.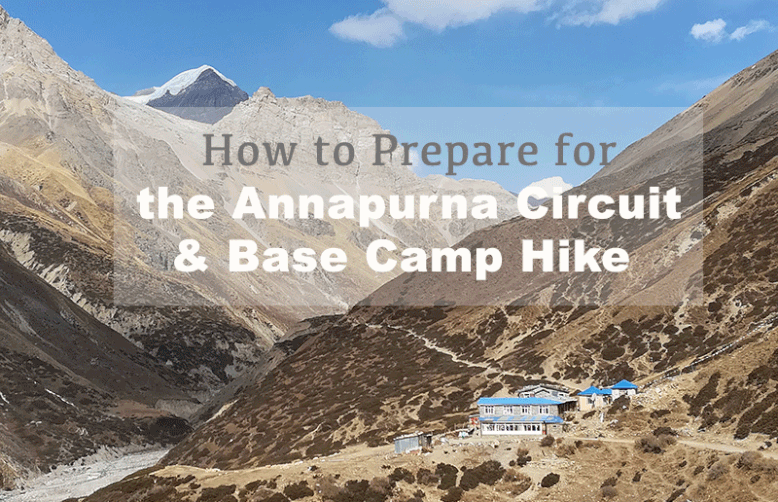 When to go?
The most popular months for the trek are September and October, followed by March and April. I personally went in late January and I was very happy with the choice, as the trail was almost empty, and the locals were very happy to see tourists. I imagine that the feeling is much different in the busy season, however trekking in winter has a risk of being snowed in and having to wait for a couple of days for the conditions to improve (I did not experience any snow).
Should I hire a guide?
If you are like me and being in the mountains is your second home, I would suggest you go alone and carry your own equipment as it adds value to the adventure. The roads are clearly marked and accommodation is easy to find (there is a village every 2 or 3 hours). If you have never been to the mountains, I would suggest considering hiring a guide, although even then you might be OK going on your own. The path is not very technically demanding, just make sure you are fit and take time for your body to acclimatize.
How fit do I need to be?
Depends on how much time you have given your self for the trek and what distance you plan to cover on foot (there are possibilities of taking a bus or jeep). I walked from 4 to 9 hours every day, doing anywhere from 15 to 30 km and doing an altitude gain of up to 2000 m. Make sure you can do that, while carrying all of your stuff. Remember, stopping is not a sign of weakness. Make sure you listen to your body and don't fall victim to your ambitions. And give your body time to acclimatize to the high altitude. Altitude sickness or acute mountain sickness is nothing to play with – if you feel it, turn around and go down and rest until you feel better.
Accommodation
There are guest houses (called teahouse) along the way of both the Annapurna Circuit and the Annapurna Basecamp trek. The price in the low season was either free or 100 NPR (ca. 1 USD) at low altitudes and up to 300 NPR (ca. 3 USD) higher up. They make most of their money by you eating dinner and breakfast there, so make sure you do that. The food is good and not expensive (the trend is the same – cheaper at lower altitudes). You will get a simple room with a bed. Sometimes the rooms also have electricity, sometimes you must use it in the common area (you may need to pay for it).
Higher up, most places charge for hot showers (100 NPR or ca. 1 USD). There is also WiFi, which tends to be free at lower elevation, but don't expect insane connection speeds – you are in the mountains after all. Trekking in late January and early February, we did not have a problem with finding rooms. In fact, we were the only guests in most of the guest houses, but I have heard and read that the situation is different in the busy season.
Equipment
You can buy most of the things you need in Kathmandu or Pokhara at very low prices, however I would advise against it, as the quality of the products is very low. As I often go hiking where I live, I had all the necessary equipment already at home, so I made use of that. Pack as light as possible and keep in mind that you will need to carry everything that you bring.
Maps - You get basic maps at the office, where you purchase the permits (ask for them if they don't give them to you) or at some checkpoints along the trek. To complement that, I would suggest installing the Maps.me app for your smartphone. This is app is free and enables you to download country maps and use them offline. I used it all the time, to see, how much time or distance I still need to cover. You can buy additional maps at local bookstores, but it is not necessary.
Shoes – have good, quality shoes that are already walked in. Don't bring brand new shoes or some cheap knock off as you might get a lot of blisters. I personally had trekking shoes with ankle support, although I have met people with low x-trail running shoes and they seemed to be doing OK, so I guess both options are good. I would also suggest bringing some flip flops that you can wear in the evening or in the shower.
Backpack – I had a 60L backpack and it was more than enough to fit all my equipment. On the way I saw everything from 40L to 80L. I personally would not go above 60L as it becomes too heavy.
Sleeping bag – although not necessary, I would recommend bringing a light summer bag. For me it was more than enough. You can also rent or buy sleeping bags in Kathmandu or Pokhara.
Trekking gear – I would strongly advise you to bring trekking poles or buy them in Kathmandu or Pokhara. Your knees and legs will thank you. Using poles also leverages your upper body and thus relieves the lower body from doing all the work while ascending or descending. A headlamp is also a good idea in general, but you will need it for the Poon Hill sunrise trek. I also had a first aid kit and I used water purifying tablets, as the water at high altitudes is quite expensive plus buying bottled water is not very environmental.
Clothes – don't over do it. Bring the minimum. I had two pairs of thermal shirts (one for trekking and one for sleeping), thermal pants (only used for sleeping), two pairs of hiking pants, a quick dry t-shirt, two pairs of hiking socks and underwear (I would wash and dry those in the evenings), a sport pullover, a hoodie for the evening, a soft-shell jacket (many people go for the ThermoBall jackets instead) and a microfiber towel. Don't forget about a trekking hat to keep the sun away from your face and a warm pair of gloves and hat. I also had waterproof pants and a rain poncho as well as gaiters in case of bad weather. It was quite warm during the day (especially at lower altitudes) and always cold in the evening and during the night. I tend to not get cold very fast, so you might want to take an extra piece to keep you warm.
Permits
You need two different permits for the trek – the Annapurna Conservation Area Permit (ACAP) and the Trekkers Information Management System (TIMS card). They get checked along the path on a regular basis. Both can be obtained either in Kathmandu or Pokhara (check the office opening hours). I got mine in Pokhara – the office is a 5 min walk from the tourist bus station. You will need 4 passport sized photos (which you can make at the spot), your travel insurance info, passport and about 2000 NPR (ca. 20 USD) for each. The TIMS card only costs 1000 NPR (ca. 10 USD) if you have a guide. In case you don't have a permit at a check point, you must buy it there and the price is double. The whole process of obtaining the permit is very fast, you should be done in about 15 min.
Budget
I averaged about 1600 NPR (ca. 16 USD) per day, a bit less at lower altitude and a bit more at higher altitudes. Apparently, the prices are a bit lower in low season, and the info I got by reading other blogs is you should budget for around 2500 NPR (ca. 25 USD) per day. It goes without saying that there are no ATMs along the trek so make sure you have sufficient cash with you, when you start the trek.
Well, I hope this gives you an idea of what it takes to do the trek. Don't think too long and just do it. You will not be disappointed. Let us know, in case you have additional questions. Until then – happy trekking!
Are you considering doing this hike? When are you planning to go? Let us know in the comments below!
You might also like
Leave a comment