[Guest blogging]   South Africa is, in many ways, the jewel in the crown of Africa. As the southernmost country in the continent, it stands to reason that she should be the denouement of any trip to the world's most alluring continent. We found that there was so much here for travellers from both in and out of Africa, such is the appeal of the place. South Africa has diversified over the years to become a place with rich cultural heritage, a thriving food scene, and wonderful tourist trade.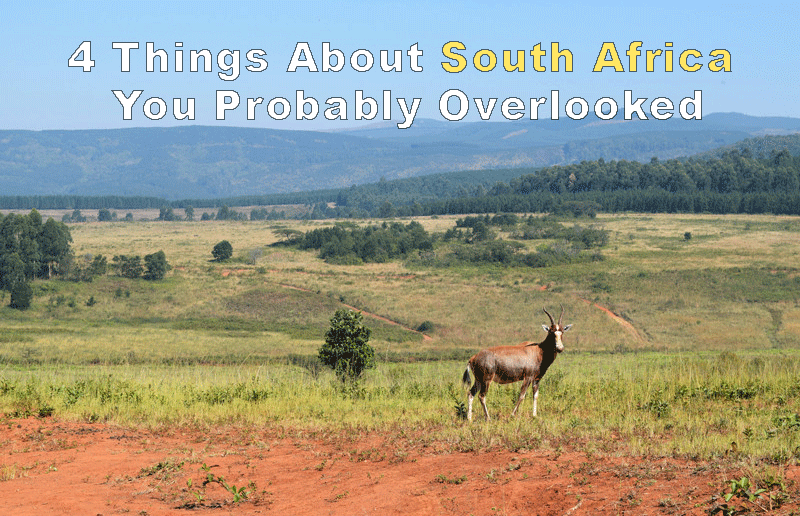 4 Things About South Africa You Probably Overlooked
If you are thinking about taking a trip to South Africa, it is important to make a decision about where to go and what to do. This means you have to consider some research and find the path least trodden, and this is where I'm going to help you. There are many wonderful secrets and unknown quantities to SA, and they are just waiting to be uncovered. These are 4 of the most stunning things you probably overlooked about South Africa.
Baviaanskloof
Out on the Eastern Cape, there is a stunning area called the Baviaanskloof. This place, which you can find on the Garden Route, has some of the most stunning terrain in SA. If you choose to hire a car at some point during your stay, then you need to check this place out. The Baviaanskloof has World Heritage Site status and boasts more than 200km of amazing natural beauty. You will need a 4x4 vehicle if you want to reach the heart of it though.  
Swaziland
Swaziland is the tiny landlocked monarchy that actually lies inside South Africa. Though it is technically a different place, it is widely accessible when staying in SA, and you will be able to drive there. Located south of Kruger National Park, which is the ideal spot for a safari trip, Swaziland has some stunning wilderness, not to mention great cultural significance too. In May 2015, MyHammockTime made the first trip to Swaziland and took a scenic drive through this stunning place, full of mountains, valleys, and open plains. I would recommend this drive to anyone wanting a breathtaking adventure. Just make sure you take your camera with you.
Victoria West
If you are looking for a small town feel, but you also want somewhere a little more urban than the great beyond that spreads over much of South Africa, I would recommend a visit to Victoria West. Nestled between two mountains, and located in the centre of Karoo, this place has that old-fashioned, Victorian-era feel about it. There are some great museums here, as well as a private collection of really impressive rugby memorabilia. I suggest checking out the Art Deco cinema while you're here, as well as the stunning hiking trails.
Waterberg Mountains
South Africa presents the opportunity for some of the most remarkable and exciting travel experiences. And, a trip to the wonderfully named Waterberg Mountains, is something you definitely need to make sure you carry out. You probably didn't know this, but the mountain range runs for more than 150 kilometres East to West and covers around 14,500 square kilometres. Waterberg is a veritable South African Eden, with the mountain range being a genuine highlight, but there is also a stunning self-drive route taking visitors through the Waterberg Biosphere. Stunning.
These are just a few of the great reasons why you need to make sure you visit South Africa as soon as possible. I found that the country had so much to offer, and ticked a lot of boxes for things I would look for when travelling. If you feel like there are any South African secrets I have missed out, please let me know in the comments section.
You might also like
Leave a comment