[guest blogging]   When you hear the word "safari," Sri Lanka is likely not the first place that comes to mind. However, Yala National Park is one of 26 national parks and forest reserves in Sri Lanka and is home to incredible half- and full-day safaris. With wild animals that include leopards, elephants, sloth bears, crocodiles, flying snakes, and flamingos, you may think yourself in Africa!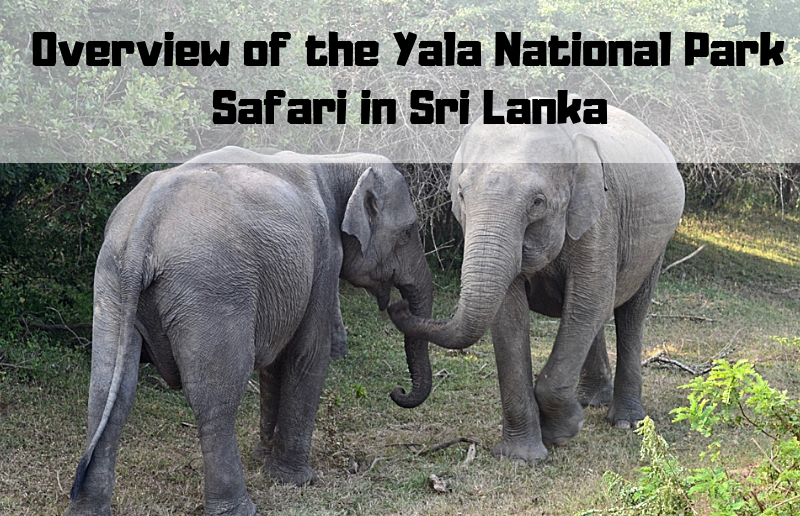 Overview of the Yala National Park Safari in Sri Lanka
We spent 3 weeks traveling around Sri Lanka and the Yala National Park safari was definitely one of the highlights.  In this post, we're going to break down the details like how to get there, where to stay, and what it cost us (spoiler: we were on a budget).
Where is Yala National Park
Yala National Park is located right outside of the town of Tissamaharama in the southern part of Sri Lanka.  We took a bus to 'Tissa' after an incredible few days in Mirissa and spent 2 nights there before and after our safari.
About Yala National Park
The huge draw to Yala over the other national parks in Sri Lanka is their high concentration of leopards which is touted as the highest in the world! There are plenty of other animals worth spotting in this park including elephants, crocodiles, monkeys, hornbills, etc., but the main focus on this tour is finding and snapping a photograph of the elusive leopard!
Where We Stayed in Tissamaharama
As mentioned, Yala is just a short drive outside of Tissamaharama which is where most travelers choose to base themselves for the Yala safari. We stayed in Hotel Tissa, which was about $20 US a night for our own cabin, complete with 2 double beds and a hot shower (which can be hard to come by with budget lodging in Sri Lanka).  The AC is also welcome and this could be the last time you need it for a few days if you end up heading north to Ella afterwards.
Our Recommended Safari Company
We recommend Yala Wild Safaris, who will pick you up from any hotel at the designated time of the safari (either morning or afternoon) as well as drop you off at the end. The safari cost us about 6,000 rupees each, which is about $33 USD per ticket. This includes entrance into the park, the jeep we used to get around, and our driver who also doubled as the animal spotter and explainer.
What to Expect on the Yala Safari
Now that we got through the overview of Yala and some of the logistics of getting to Tissa and lodging, it's finally time to share our experience! We booked the afternoon safari (they offer morning, afternoon, or full day) and the safari Jeep was there for us at 1PM. We picked up one other couple who was traveling from India after having recently retired.
It was about a 20-minute drive from the hotel to Yala National Park, and from there, our driver slowly drove through a designated route, pointing out animals from the car, including wild boars, water buffalo, deer, crocodiles, monkeys, and hornbills.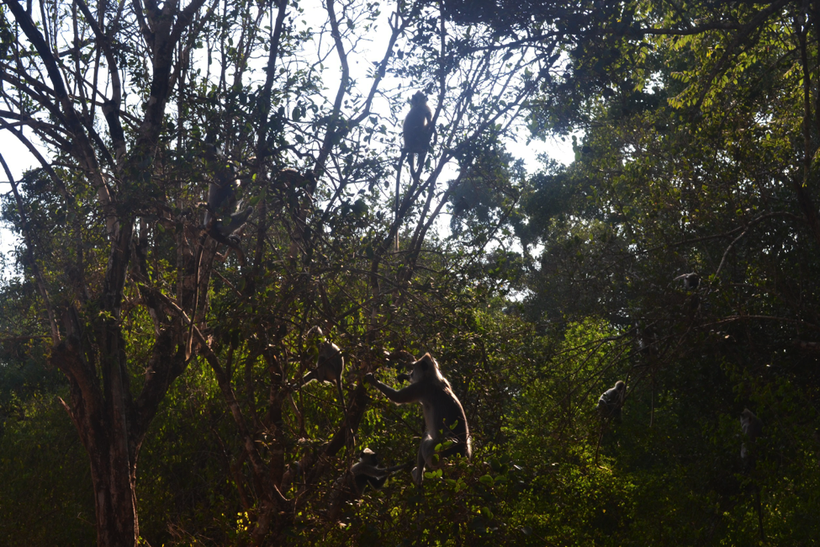 The park is huge at about 380 square miles of natural reserve, but only about ⅕ of this area is actually accessible to tourists. We weren't the only ones in the park and our driver had a walkie-talkie that he uses to communicate with the other drivers. We started to realize that the drivers are using each other as a network to tell the others if/when an animal sighting is happening and where.
It was probably about an hour into our safari when our driver got a call. As soon as he hung up, he put the pedal to the metal and we were flying down the dusty road, unsure of what was coming next. It wasn't until we arrived that we realized that we weren't the only ones who had heard about this spotting. There were about 5 other safari Jeeps poised and watching - a minute later, we watched a beautiful elephant walk idly down the road, making his way back into the brush. He was so close to the Jeep as he went by that he probably could have touched us with his trunk.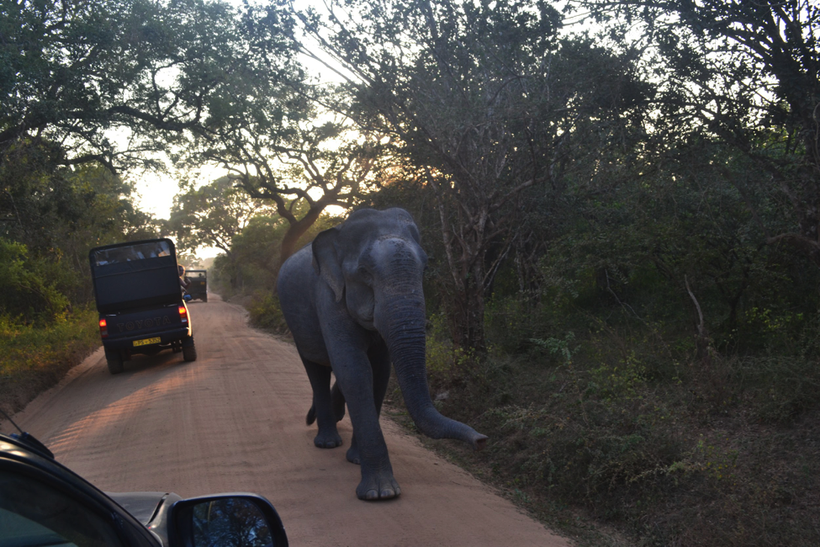 Once the elephant went back into the trees and brush, we cruised around a bit more, our driver pointing out a crocodile in the water. We were waiting for the crocodile to attack the water buffalo like you'd see on Discovery Channel, but the driver told us that this was far too big of prey.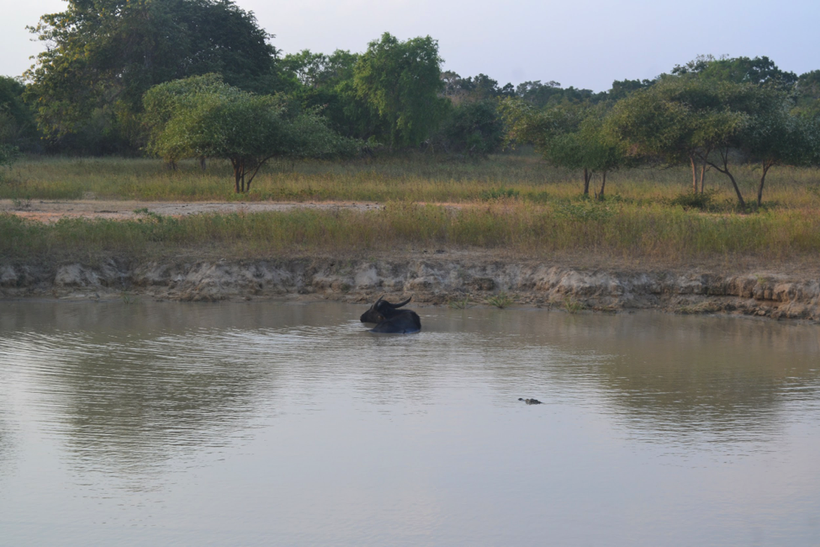 About 2.5 hours in (or about halfway), we took a short 15-minute break to use the bathroom and enjoy the beach. Yala is situated right on the coast, but it was still surprising to see a beach right next to this arid landscape.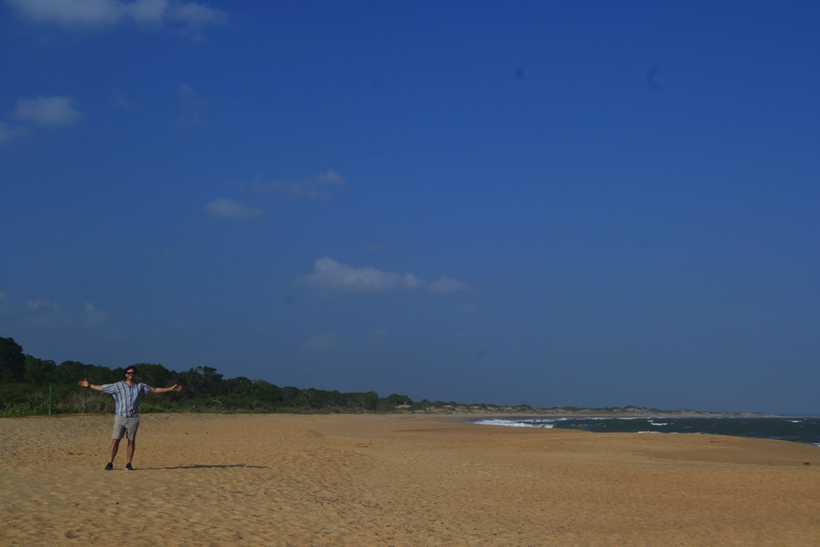 I know what you're thinking… where is the leopard?! Well, once we finished our short beach break, our driver got a call about a leopard spotting, so we were back flying down the bumpy, dusty roads. We stopped a few times, waiting for the elusive leopard to emerge that our driver had been tipped about.
Unfortunately, we spent the next hour repeating this same procedure. Phone call, gunning down the dusty roads, anxiously waiting, and nothing. We never did spot a leopard, but the thrill of the hunt was real!
Conclusion
We never did spot a leopard, but so what? This was our first safari and it was an absolute blast. There is something to be said of actually experiencing wild animals in their natural habitat and having peace of mind that they are happy and living freely. We'd recommend this trip to anyone, although it  seems like it would be a bit bumpy/dangerous for very young children.
---
Author's BIO: Kristine teaches in China and is the owner of Test Prep Nerds, a go-to resource for students preparing for tests required for admissions to college, grad school, and beyond. She is currently teaching at an international school in Shanghai and is already looking forward to her summer vacation and the travels that accompany this time off!
You might like
Leave a comment