Upon hearing that el Nido, Palawan might be a bit crowded, noisy and touristy, Jerry and I decided to find a quiet place away from the busy town center. After a quick search, we've found a cute beachfront cottage that seemed to have our names on it. We found the stay so awesome, that we dedicated a whole blog post to it. :)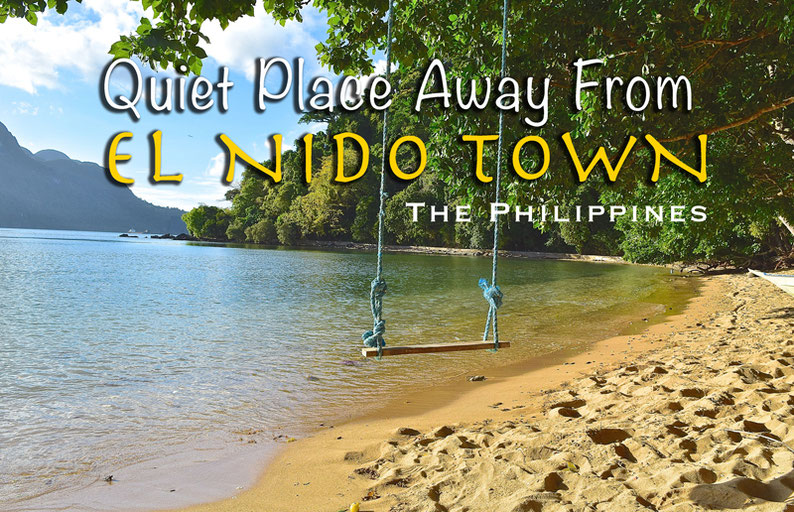 Quiet Place in El Nido
This quiet place away from el Nido town is called the Garden Bay Beach Resort. This place is a 15-minutes walk away from the centre. It might be that you find it a bit tiring to walk there after a bumpy 5-hour van drive from Puerto Princesa to El Nido, but believe me, those extra minutes are well worth it as you'll be able to make up for them at the resort! While others were whining about the busy town and the scams that usually come along with it, we experienced el Nido as a beautifully calm and relaxing place! So what does this place offer?
The Garden Bay Beach Resort offers beachfront and off-beach bamboo cottages with a lovely terrace in the front, air condition and a spacious bedroom and bathroom. As you see below, we really enjoyed hanging out on the terrace and sipping the freshly prepared mango and pineapple smoothies. Usually, in the morning hours, we were visited by a cute cat, making the atmosphere even better. The only thing that was not working properly was the wifi. It was weak and only available at the reception. But honestly speaking, at one point it makes one happy not being able to be connected to the world all the time, so the paradise can be enjoyed instead.
While we first thought that we would need to walk those 15 minutes every day for every meal we wanted, it turned out they served extremely delicious breakfast, lunch and dinner too. There were meat, fish and veggie meals available. For breakfast we usually had mango pancakes or granola cup with fruits. 
What made this stay so special were the numerous hammocks at the beach and even a picturesque swing. Definitely the perfect "tools" to relax and observe the beautiful nature. Needless to say, at the beach, there were usually only 2-3 people to see, sometimes we had the whole beach even for ourselves. Another handy feature of this place is that it's a really nice place to swim. :)
Another thing which made it convenient to stay here is the fact that they organise everything for you - the el Nido A, B, C, D group or private tours, motorcycle rental, etc. So there is really no need to walk back to the city each time you need something!
The cherry on top was that this stay turned out to be a perfect spot to savouring the magical sunsets. Just imagine, lying in the hammock and watching those colours every evening.
The good thing is, if you are not planning to sleep over at this place, you can still enjoy some of their facilities, as lying in one of their hammocks, swimming or eating delicious food by only visiting the place during the day! We highly recommend so if you want to escape the crowds! 
The resort should be affordable to most travelers as it can be booked from about 25 EUR upwards - depends on the day you book. Check different dates! It is really not a very pricey surprise, as you might have thought until now. Remember, el Nido can be quite an expensive spot! Soooo, are you ready to book this place?? 
Or check the availability and prices here:
Check out our adventures in the Philippines:
Is there a quiet place you have found around el Nido that we should be aware of? Let us know in the comments below!
You might also like
Leave a comment