[Guest blogging]   If you get the opportunity, you can dive with a difference. One of the ways to do this is to find some of the most unusual scuba diving spots in the world. When planning a diving vacation, it is best to create a list of unique scuba diving spots in the world. The more unusual they are, the more enjoyable the adventure is going to be. When choosing the unusual spots to dive, you consider many things. One of them is the type of marine life that you will see. You may also consider the type of diving, for example, cave, wreck or open sea diving.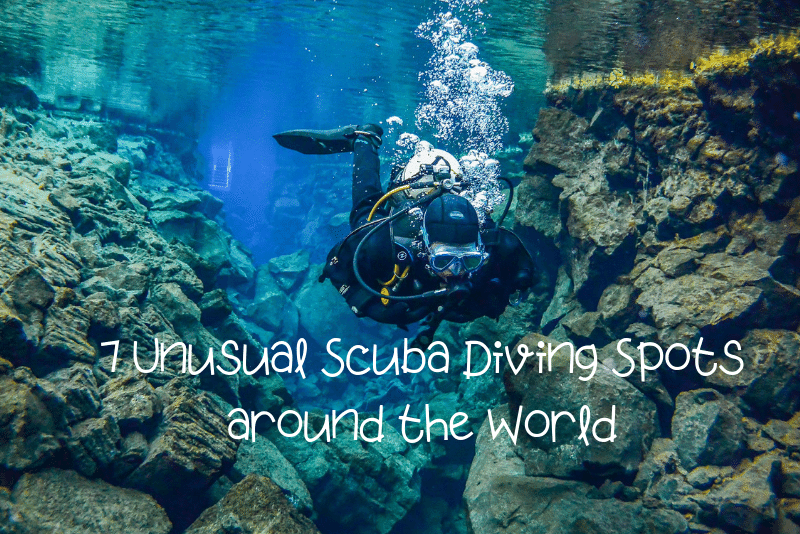 Here are 7 unusual dive spots in the world that you can add to your bucket list:
7 Unusual Scuba Diving Spots around the World
Sipadan Island in Malaysia
Many people choose this as an unusual diving destination because of the diversity of the marine life available as well as the diverse currents. Among some of the species that you can expect to see there include manta rays, eagle rays, whirling barracuda, moray eels and more than 300 species of fish.
With more than 12 dive sites, you can see there will be no shortage of underwater fun here. Some of must visit dive sites include Turtle Tomb, North Point, South Point, Coral Gardens, Hanging Gardens and many more. Of course, every dive site has something special to offer divers.
Some dives are as deep as 20 meters only. However, the one that makes many diving enthusiasts come here is the 600 meter dive to the ocean floor, offered by The Wall dive site.
Thistlegorm - Red Egypt
Pyramids are not the only best things to ever come out of Egypt. There is much more on offer for divers. Thistlegorm was the name of an allied ship that was bombed and sunk by a pair of German bombers back in 1941. Today, this wreck lies down at a depth of 29 feet. You will see crocodile fish, cardinals, giant moray eels and many more animals.
Whatever did not burn when the ship was sinking is still intact. Barrels of gunpowder, two locomotives lie beside the ship and all of 128 meters to explore, divers will never have a dull moment on Thistlegorm. It is so big that even diving experts say that you cannot explore everything on one dive. You have to come back again.
Diving the Great Blue Hole
Located in Belize, this dive site is one of the mos popular in the world, because of its unusual nature. First, it is a hole dive and secondly, the depth is 143 meters. Because there are coral reefs in the hole, it is home to a large species of  fish and other animals. Although the underwater visibility is quite good, it is not enough. You can view this post now to see the best places to buy diving lights.
Sudan
Known mostly for civil war, hunger and other ills, who would have thought that something good would come out of Sudan? However, this country has some great and inspiring dives, starting with Blue Belt shipwreck that was stuck in a reef, sinking as a result in 1977, somersaulting upside down with its cargo. Here, you will experience hammerhead sharks, manta rays, sea turtles, moray eels and many other sea creatures. You will have enough solitude, as there are not many other divers around.
Silfra Lake - Iceland
One of the most appealing things here is that it is where the Eurasian and American continental plates meet. But that is not all, because they have started to drift apart under water inside Silfra Lake. Thus, when you dive in the ice-cold water, your reward will be the sight of the deep fissure. You can witness one of the wonders of Geography right there in the making. Carry your camera because the visibility is high.
Sardinia in Italy
If not for the food and the ambience of the Italians, you can go to Sardinia for diving. You will never regret it. There are hundreds of sunk boats in this island, forming some of the best wreck dives in the world. Besides that, there are beautiful reefs, many species of brightly colored fish and many more.
The Yongala Dive - Australia
To be precise this wreck is in Queensland Australia. Yongala was the name of a ship that sunk back in 1911. As it is protected under the Shipwrecks Act, it is still in great shape, but diving inside the ship is not allowed. At 109 meters long and resting 28 meters below the surface, she is home to some of the largest marine life like the Australian bull sharks, gropers and bull rays.
You might also like
Leave a comment