[Guest blogging]  The Philippines, as an archipelago is a mecca for diving adventures. With numerous islands to explore, it logically follows that the country offers one of the best and most comprehensive diving opportunities for both beginners and advanced divers. It is as much of a paradise for beach lovers as it is for divers. There are thousands of dive sites to choose from. Whether you are looking for whale sharks, shipwrecks, thresher sharks, coral reefs, macro life, turtles or mantas, the Philippines has it all and more.
Philippines' Best Diving Spots for Beginners
Dive sites in the country all follow PADI standards when diving so if you are an absolute beginner you can enroll for a short PADI Discover Scuba Dive which gives you the experience but no certification. If you want to have the beginner certificate, you need to enrol in a PADI Scuba Diver course which usually lasts 2- 3 days under direct professional supervision to a maximum depth of 12 meters.
Here is the list of the best diving destinations in the country for beginners.
Puerto Galera, Mindoro
Puerto Galera is not only famous for its white sandy beaches but also for its underwater life. There are more than 35 dive sites scattered around the waters of Puerto Galera with diverse species of flora and fauna, majestic rock formations and colourful coral gardens. Majority of these dive sites can be accessed from Sabang Beach. For beginners, Hole in the Wall is the most recommended especially for underwater photographers. One will have to swim through a hole and several marine species like parrotfish, frogfish, trumpet fish, snapper, puffer fish and other species of critters can be found. For a spectacular night dive, head out to Coral Garden and Pink Wall.
Anilao, Batangas
2 hours away from the capital, Anilao is one of the best diving destinations in the country and could easily rival the best of the world in terms of macro diving. It is the birthplace of scuba diving in the Philippines. It has the highest concentration of marine species in one area making it one of the best in terms of biodiversity. Muck/night diving is equally spectacular and newbies can also try it out. Some of the species found are: nudibranchs, mantis shrimp, seahorses, octopus, and pipefish. Other rare species are: blue-ringed octopus, sea goblins, ghost pipe fish, snake eels, catfish eels, sea hares, and mandarin fish. Most underwater life abound from 10-70 feet (3-21 meters).
Panglao Island, Bohol
Bohol is blessed with wonderful beaches and stunning underwater scene. Not too far from Panglao Island, several dive sites like Balicasag Island are already gaining international attention where divers (both beginners and advanced) can dive to a depth of 30-130 feet (10-40 meters) and swim with large schools of barracuda and jacks. The mild current and the option to choose your depth makes Diver's Heaven (most popular dive site in Balicasag) a favorite among the newbies. A bit further, Pamilacan Island offers rare opportunity to catch a glimpse of humphead wrasses, bumphead parrotfish, manta rays, whales, dolphins, barracudas and turtles. Cervera Shoal is also a great spot where Snake Island can be found. Here, divers can find colonies of large black and white banded snakes, reef fishes, morays, nudibranchs, and sea urchins at a depth of 30 meters.
Apo Island, Negros Oriental
Off the coast of Negros Oriental, Apo Island is a 70-hectare volcanic island surrounded by a marine sanctuary with over 400 coral species (both soft and hard) and 600 kinds of fish. It is known for its shallow dives that newbies can easily accomplish. Currents can be strong and speedy but the healthy coral gardens and marine life are really worth it. Some of the species inhabiting the area are: sea turtles (that can grow as big as a table), colonies of clownfish (with anemones of course), frogfish, flounders, angelfish, moray eels, sea moths, long nose hawk fish, snappers, school of jacks and sweetlips. Largahan dive site is perfect for beginners because of its shallow and sandy slopes. There is a small wall filled with beautiful coral formations that stretches to the bottom of a dark sandy floor. Some species of corals are: brain corals, bubble corals and gorgonian sea fans. Fish species inhabiting the area include: scorpion fish, ribbon eels and frog fish.
Manta Bowl, Ticao Pass, Masbate
As the name implies, Manta Bowl Dive site is perfect for regular oceanic manta ray sightings. Here, mantas feed on planktons and they also get some cleaning done by the cleaner wrasses. Between the months of November and June, whale sharks also pass through Manta Bowl on their way to Donsol, Sorsogon. These migrating giants feed on healthy supply of planktons and can be seen together with thresher sharks, black and white tip sharks, hammerheads, eagle rays, sweet lips, barracudas, jacks, tunas, and blue spotted sting rays. Newbies are not advised to dive in the months of October through April because of strong currents.
Verde Island, Batangas
The hot volcanic water of Verde Island attracts tons of marine species making it an ideal spot for diving. Visibility is mostly excellent and biodiversity is superb. Beginners can visit The Pinnacle which is a huge vertical reef that drops to a depth of 80 meters. Divers can start off at a certain depth and from there they can slowly zigzag their way up the pinnacle. Some of the species in the area are: frogfish, sea snakes, bassets, jacks, gorgonian fans, and banner fish.
Tubbataha Reef, Palawan
Tubbataha Reef is a UNESCO World Heritage Site and a Marine sanctuary found in the middle of Sulu Sea. It is only accessible from Puerto Princesa, Palawan via a 10-hour boat ride thru Live
Aboard vessels. This massive reef system is composed of 2 huge coral atolls, extensive lagoons and pristine coral walls. Currents can be very challenging so even if you are a beginner it is still advised that you have a mastery of your buoyancy before heading out to dive. Several species can be found including: box fish, barracudas, scorpion fish, turtles, jacks and tunas. There are also incredible encounters with hammerheads, whale sharks, guitar sharks, white and black tips, manta rays, and leopard sharks. The reef is also a nesting ground for hawksbill and green sea turtles.
Monad Shoal, Malapascua, Cebu
 The best dive site for thresher shark sighting is in Monad Shoal off the coast of Malapascua Island in Cebu. Thresher sharks usually come up early for cleaning so divers (even beginners) can dive at the Shark Wall site between sunrise and 9 am. These majestic and solitary creatures usually spend most of their time in deeper waters so your best chance to see them is early in the morning. Although they come every day, the best sightings peak from July to October. Other regular visitors include: devil rays, cuttlefish, nudibranchs, pygmy seahorses, pipefish, mantas, frogfish, batfish, tunas, barracudas, Moorish idols, batfish, lionfish and unicorn fish.
Coron, Palawan
Coron is one of the best spot for wreck diving in the world. More than 11 Japanese Imperial Navy vessels were sunk by the Americans during the 2 nd World War and the wrecks sit between the depths of 5 to 40 meters. For newbie divers, the site of Okikawa Maru is the most accessible as the top part of this 160 meter tanker sits just 32 feet (10 meters) below the surface. Visibility is very good all year round but currents can be strong in some parts. Okikawa Maru is now covered with corals and is home to bat fish and snappers. Coron is also one of the most beautiful and raw places in the Philippines. The area is full of stunning attractions and exciting activities you can try. While it is a bit difficult to reach, spending at least 5 days there is certainly worth your time. It's also quite easy to include Coron in a longer vacation in Palawan, and visit other famous locations such as El Nido and the underground river as well.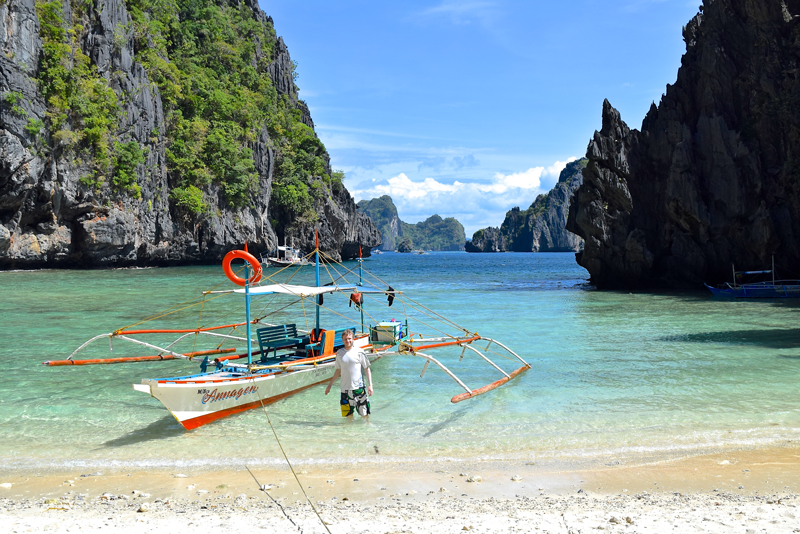 Moalboal, Cebu
Once you descend to a depth of 4 to 10 meters (perfect for beginners), you will already encounter a reef sloping down with soft and hard corals. For more experienced divers, the deep wall that extends 55 to 60 meters down is covered with crevices, cracks, sponges, and overhangs. Reef fish and turtles are frequent.
Mactan Island
Considered to be Philippine's best kept diving destination, Mactan Island is home to several excellent diving sites. Otherwise known as the Coral Island, Mactan offers incredible underwater scene with plenty of opportunities for different dive experiences like coral mounts, drop-offs, plateaus, caves, deep walls and wrecks. For wreck-diving, head out to Talima sanctuary where you can see shrimps, sweetlips, butterfly fish, parrotfish and triggerfish.
For underwater macro photographers, West Punta is the best spot to capture beautiful images of scorpion fish, octopuses, nudibranchs and flounders. Visibility is excellent most of the time. For occasional whale shark sightings, Agus walls offer a spectacular line-up of sponges and corals. Other species to look out for are: clownfish, anemones and mantas. For more advanced divers, Marigondon cave is a welcome challenge. A descent of 30 meters is required to access the cave. Several species to find are: big mouth mackerel, lion fish, and other marine species with luminescent body. Upon reaching the exit, divers will be greeted with a spectacular display of corals.
Are you looking for a place to go diving in the Philippines? Let us know in the comments below!
Related Blog Posts
You might also like
Leave a Comment