Time to tell you about the best things you can do and see in the canton of Graubünden (Grisons) in Switzerland. Recently, we stumbled upon the Hinterrhein river and the beautiful Suffner lake and therefore we included it right onto this list. Have a look.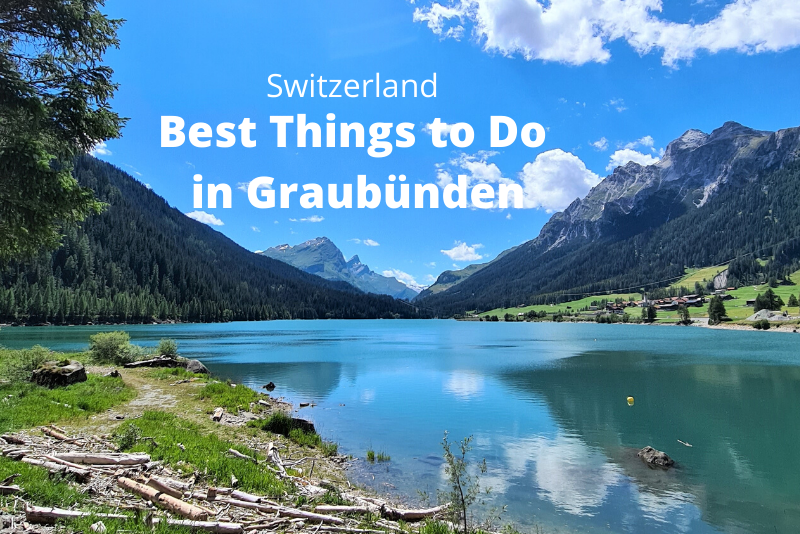 12 Best Things to Do in Graubünden
1# Arosa
Arosa is this hiking hub with numerous hiking paths. While there, we did a tour including Urdensee and Älplisee - two lakes you shouldn't miss when wandering around the mountains.
2# Davos
Similar to Arosa, Davos is known for its scenic mountains, perfect for all kinds of outdoor activities like hiking, mountain biking, paragliding, skiing, cross-country skiing and more. Each year, Davos hosts a couple of world-wide events: The Spengler cup ice-hockey tournament, international tournament in cross-country skiing and the the World Economic Forum (WEF). A place worth visiting.
3# St. Moritz
As famous as Davos if not even more, is the lovely mountain town called St. Moritz. If you like ski races, you probably know, that it also hosts the FIS Alpine Ski World Cup. I attended one of the races in 2017 - have a look. Other than that, St. Moritz has a prestige image, as being the town of beautiful and rich people. The prices are high up here.
4# Hinterrhein River
With its length of 64 km, the Hinterrhein river is one of the two initial tributaries of the famous Rhine river. It flows from Hinterrhein to Thusis, passing San Bernardino and the two gorges called Viamala and Rofla. Why is it on this list? Because the river with its colour is extremely picturesque and is a recommendable stop on your trip. It's also nice to cycle along the river due to the established infrastructure (paths and signs). 
5# Viamala
This is a deep gorge carved through the sheer cliffs by glacial ice. There is even a spectacular bridge from where you can see the 300 m high massive cliffs and turquoise water. Stunning!
6# Rofla Gorge
Situated in the Beverin Nature Park, the Rofla Gorge is a beautiful narrow section of the Hinterrhein river. There is also a waterfall to admire. 
7# Sufner Lake (Dam)
One of the sights we recently discovered is the beautiful Sufner lake. What differs this lake from others? It comes with a touch of wilderness - the nature reminded me of Canada due to wild beaches and Finland due to blueberry bushes and conifer trees. It is possible to do a 1.5 h walk around the lake. Worth visiting, for sure!
Check out this video too! :)
8# Laax
Visiting Graubünden in winter? Make sure to visit the sports center called Laax. It is a huge ski resort, I think one of the biggest in Switzerland. Snowboarders will enjoy it even more, because there is a big half pipe on one of the slopes. 
9# Cauma Lake
The Cauma lake is one of the most beautiful lakes in Switzerland due to its colour and the surrounding nature. It's a perfect location for swimming, yoga and meditation. 
10# Cresta Lake
Cresta lake is a great stop for cooling off after a great day in the Laax mountains. The water is very clear and a very welcoming.
11# San Bernardino
This high mountain pass in the Swiss Alps is connecting two cantons - Graübunden and Ticino. On the top there is the frontier of the German and the Italian language. Nevertheless, the pass is mostly known for it scenic landscape, full of lakes, mountains and boulders - a glimpse of it can be seen below. 
12# Lenzerheide
Last but not least, there is this amazing holiday region called Lenzerheide. It's a hub for mountain bikers, skiers and hikers. There is also the Heidsee lake, which usually freezes in the winter. What is more, Lenzerheide is known for it's FIS Alpine Ski World Cup among ski enthusiasts.
---
This is not all, of course. We will continue exploring this beautiful part of Switzerland and keep you posted about the newly discovered places!
You might also like
Leave a comment