Earning money with the travel blog sounds like a dream to you? Well, it was a dream for us to0 and you know what? It became reality! If we managed to do it, so can you! Below, we outlined the ways, which worked for us.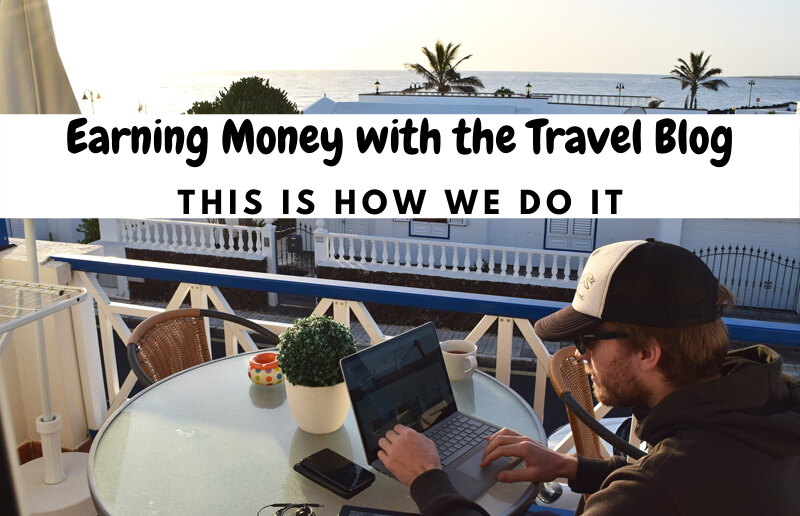 Earning Money with the Travel Blog
YES, IT IS POSSIBLE and FEASIBLE!
The one predisposition you need to have as a blogger if you want to earn money with your blog is ENOUGH TRAFFIC on a monthly basis. But what does it mean to have enough traffic? Let's say, if you have about 1000 users on your page daily, it's a good start for earning some money online!
The reality is, It's not as easy to get so much traffic in a short time. It's a lot of work -> many hours in front of the computer, researching, reading online, writing posts, editing photos, designing, doing PR, coordinating, reaching out, replying to emails and so on. It takes time but it is feasible. Just be patient and believe in yourself. 
Let's see how we earn money with this blog:
1# Affiliate Links
Nowadays, there are million of affiliate programs out there, so it's more the question what program should one choose. It can go from placing links to products, hotels, outdoor activities, rental cars to travel insurance, web hosting platforms etc. You have to decide what you're going to talk about and what do you really recommend. 
Some of the biggest affiliate programs out there are Amazon, Booking.com, Agoda, Skyscanner etc.
In our opinion, affiliate marketing is the most pleasant way of earning money when it comes to blogging. Actually you get paid over night, if someone likes your recommendation and buys staff via your link. We do it a lot, but we ONLY place links to services and products, that worked for us and we were happy with! 
The most important thing is - you have to blog constantly in order to receive enough traffic on your page. And then, bookings via your links will eventually come.
2# Press Trips
If you go on press trips, you can expect to be paid in advance or you get something in return (like accommodation/tickets/services for free).
You might have noticed that we did some press trips during our blogging period. At the beginning, it's tentative to go on every press trip one gets offered but later on you see what kind of press trips are fitting your niche and your blogger values.
For us, it was a pleasure to be invited to a Surf Camp for a week, go kayaking, attend a food tour or to stay at a beautiful hotel. All for free but we had to write about it, hand out photos, do many social posts etc.
The press trips are usually not as relaxing, as one might think. It's still work you have to do and deliver the promised results, which you agreed prior to with the company.
There are two ways to get press trips: You can get an invitation or you get proactive and contact the companies*, you'd be interested to work with. A better feeling is definitely, if you get that invitation e-mail, as the company already checked your blog, your social media channels and has a an idea who you are and who is your audience.
*Those "companies" can be hotels, hostels, tourism boards, museums, rental car companies, companies for outdoor activities, companies which sell travel gadgets, clothes etc.
3# Sponsored Posts & Guest Blog Posts & External Links
Once you have enough traffic on your blog, there is a big chance that you'll start receiving emails from people asking if you're into publishing sponsored or guest blog posts on your blog.
We are getting those inquiries on a daily basis. It's a great honor to receive those emails but it also means a lot of work by replying back, coordinating and eventually publishing those posts.
Once you decide to do that, make sure to only pick the good ones - the ones that fit your topic, are well-written, include photos and placed links to normal web pages (always check those!).
Jerry and I are open to sponsored & guest blogging but we are getting more and more careful with that, what means, we don't want to over saturate our blog with guest posts. They have to bring some added value in order to get published.
One of the ways, how to earn money with your blog is also by including external links to one of your existing blog posts.
Check and decide what's the value of the blog posts, the client wants to place the link into. If the blog post gets a lot of traffic, make sure to not underprice the service. You have put a lot of your time, energy and know-how into it, so it's worth something.
4# Ads
Another good option to earn money with blogging is placing ads on your travel blog. What does it mean? Well, there are two options, i.e.:
1.) A specific company contacts you and wants to run an ad on your blog for a specific amount of time or
2.) You sign up for an ad program like Google Adsense, Mediavine etc., which automatically roll out any kind of ads on your blog (you select it prior to that)
However, it isn't so easy after all. You have to have enough traffic per month to be attractive to companies to place an ad on your blog or to be welcomed in an ad program. They need evidence, so don't think of cheating!
The ones, who are following and reading our blog a bit longer now, might have noticed end of 2019 a sudden appearance of automatic ads on our blog - this is because we signed for an ad program.
Well, we know what you might think about it - it's probably harder to read the content now, those ads might be disturbing and annoying. We get you and we actually agree with you.
However, let's try to see it this way - we love to write articles for you and give you all the information we have but it's also time consuming and it doesn't come without costs - we still need to pay the monthly subscription for the website provider and the domain. Also, we need to pay our design software like the Adobe Creative Suite. Therefore, we kindly ask you to be understanding and accept those ads. The content is still ours and written with passion.
Placing those ads is a good way for us to earn money and covering those blogging costs.
5# Travel Photos and Videos
Are you a great photographer or video maker? If this is your strength, make sure to sell those travel photos or videos on famous platforms like Shutterstock, iStockPhoto, Dreamstime etc. 
We don't sell photos to aforementioned platforms above that but it happened to us, that we got contacted and asked if we'd be happy to sell our travel photos for a specific destination to that company. So, yes, that's also a way of earning money with the travel blog :) 
You can also sell drone photos and videos, if you're a good drone pilot. We created an online store with our best drone shots - here it is!
6# Services
The cool thing is, if you're getting enough traffic on your blog, you can start selling your services - basically your know-how. I (Sonja) have a deep know-how in online marketing and I'm offering consulting hours.
My daily profession is web-analyst in an international company, so I'm in touch with all online marketing activities on a daily basis.
In case you are up for consulting for any kind of online marketing field (blogging, SEO, SEA, Social media marketing, landing pages, web-tracking, e-mail marketing...) pop me an e-mail: info@onlinestrategy.ch. 
---
...or...
Are you a company and interested in cooperation? Let us know!
---
As you see, there are many options to earn money with your travel blog. There are even more, but frankly speaking, we haven't it figured all out yet, so the ideas above are ways, that worked for us so far. If you are a travel blogger and wanna start gaining money, we hope this blog post will help you. Good luck with all!
What are your ways of earning money with your blog? Let us know in the comments below!
You might also like
Leave a comment