For us, the most valuable outcome of travels is the things we learn while travelling around the country. Herewith, we would like to share with you what we have learned during our great time in Georgia!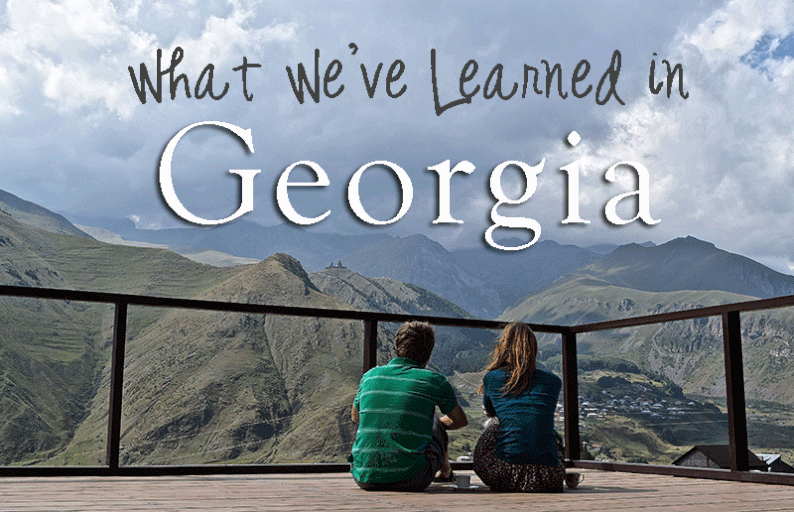 Tbilisi is a developed young city with a great nightlife
The nature in Georgia is their gem
People are reserved but friendly
They walk very slowly, seem not to be stressed :)
The Georgian food is incredibly delicious
Georgians are crazy drivers
The tunnels don't have lights
There are almost no speed signs
Watch out for cows, pigs or dogs on the roads
The Police own the best buildings in tows/cities
We felt quite safe walking around Tbilisi and in other parts of the country
It is a relatively cheap destination for travelling
Don't believe all the booking.com ratings
Many mountain villages have cash machines
The service in restaurants and cafes has still some space to improve :)
Georgia is maybe still an offbeat destination for West Europeans but not for Eastern Europeans and Central-Asian people
It is a bit touristy at the most famous spots in Georgia
Many best-known places in the lower Georgian mountains are accessible by a 4WD car
Almost 80% of population are Christians
The public transport is maybe not the best in quality but the frequency of rides is good
Waiting in lines is not their strength
Many people smoke, mostly men
English is not spoken widely, Russian is a good attribute if you travel in Georgia
Crossing yourself when passing a church is quite typical for Georgian people
They make good bread
...if you have another 4 minutes, please check our travel video from Georgia:
What was your impression of Georgia? Anything you would add to this list? Please share it in the comments below!
You might also like
Leave a comment