Singapore is replete with amazing places, which, if you happen to visit the island state, you should try your best to tour. Here is a 7 day-itinerary that can help you to experience the best of what the city-state has to offer: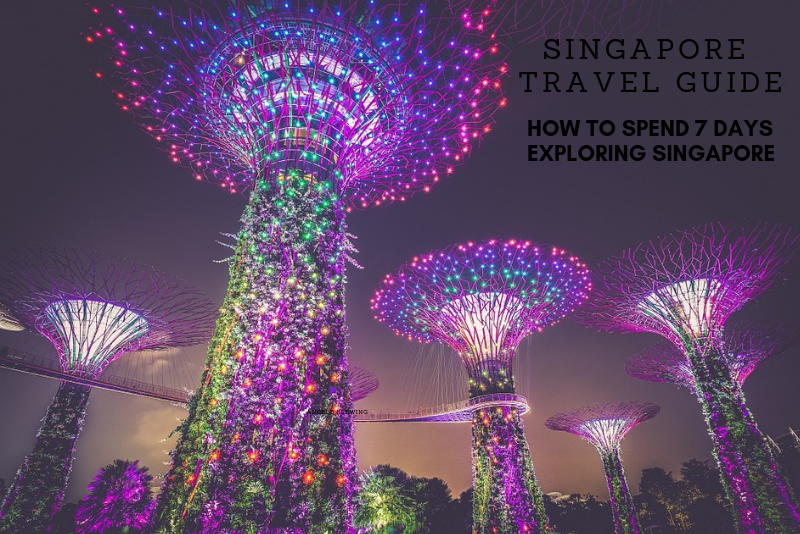 Singapore Travel Guide: How to Spend 7 Days Exploring Singapore
Day 1 - Visit the Best Places in the City
Morning - Gardens by the Bay
Your tour starts at the Gardens by the Bay, where you can see some marvelous features, like the Supertrees, the Flower Dome, and the Cloud Forest.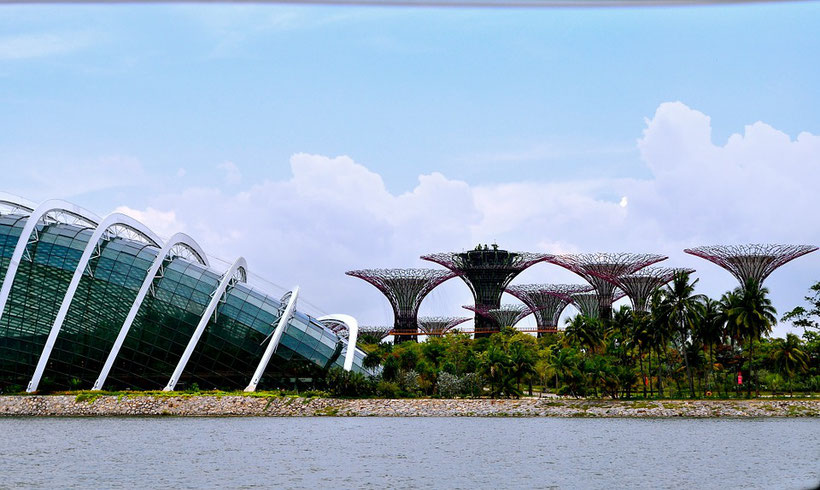 Afternoon - The Singapore Flyer
The giant observation wheel standing 165 meters above the ground (about 42 stories high) offers unobstructed views of the city. You can have your lunch at the great Singapore Food Treats in the Flyer Building.
Evening - Marina Bay Sands
Visit some great celebrity chef restaurants. After dinner, go to the SkyPark to end your day in style on the rooftop bar called CE LA VI. You will enjoy fabulous cocktails and music, and you can watch the beautiful sunset and catch stunning views of the city skyline.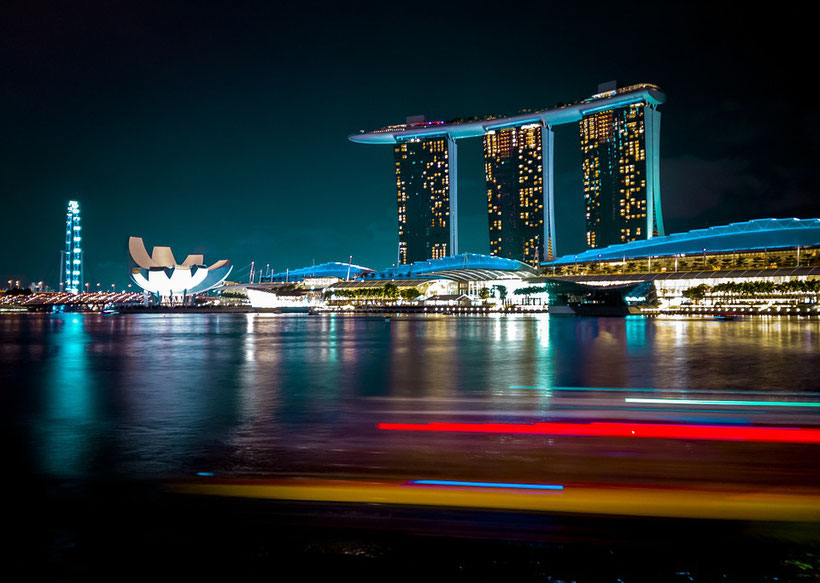 Day 2 - Great Moments under the Sun
All Day - Sentosa Island
Enjoy the whole day at Sentosa Island—the most widely known island resort, which has an array of things to see and do. Some great places include Universal Studios Singapore—the movie-themed entertainment park with lots of fantastic rides. Other places include Quayside Isle, Tanjong Beach Club, SEA Aquarium, Images of Singapore, and the Spirit of Singapore Boat Ride.
Day 3 - Experience the Cultural Hubs
Morning - Chinatown
Make a tour of Chinatown on foot. Drop by Maxwell Food Centre for breakfast from the well known Zhen Zhen Porridge Stall, and ensure you sample kopi (traditional local coffee). Get a bit of history and culture by visiting the great Buddha Tooth Relic Temple.
Afternoon - Little India
Spend your afternoon exploring the bustling Little India, and visit Sri Veeramakaliamman Temple. Check out the small speciality stores that sell great sanis (traditional women's clothing), accessories, and spices. Your visit to Little India is incomplete without sampling some authentic Indian meals, like the Banana Leaf Apolo and the fish head curry.
Evening - Kampong Glam
As the day ends, head to Kampong Glam and tour some great places, like the Malay Heritage Centre and the stunning Sultan Mosque found on Muscat Street. Check into Zam Zam—a dining place that offers the best of Indian–Muslim cuisines, such as murtabak (a stuffed pan-fried flatbread) and nasi biryani (a dish comprising spiced Indian rice, accompanied by meat or veggies).
When planning your itinerary from your home country, do not be stressed about getting a visa to go to Singapore, but instead engage Visa Express. You stand to gain from their vast experience and history of high approval rates, enabling you to save time and avoid lots of hassle.
Day 4 - Museum Visits
Morning - National Gallery Singapore
Start with the most recent of the museums, and get a chance to see over 8000 pieces of artwork, as well as the world's biggest public collection of Singaporean and Southeast Asian modern art.
Afternoon - Singapore Art Museum (SAM)
This is the largest collection of contemporary artwork from the Southeast Asian region. Also, the building that houses SAM is a historical feature; it was once a mission school.
Evening - National Museums of Singapore
Acquaint yourself with the island state's rich culture and history at the national museum. You should also expect film screening, amazing performances, and interactive installations.
Day 5 - Visit some Interesting Neighborhoods
Morning - Joo Chiat/Katong
Have a breakfast of traditional local food at Joo Chiat and see the neighborhood comprising beautiful rows of traditional shophouses.
Afternoon - Tiong Bahru
Spend your afternoon in one of the oldest housing estates, which is a good combination of past and present. Also, drop by the indie bookshop, BooksActually, and the famous Qi Tian Gong Temple.
Evening – Dempsey Hill
While at Dempsey Hill, you are spoiled with choices for dinner: You can have chili crab at Jumbo Seafood, modern European cuisines at The White Rabbit, or some Indian dishes at Samy's Curry. You can also down your choice drinks at the pubs there—RedHot BrewHouse and The Rabbit Hole at the White Rabbit.
Day 6 - Have a Green Day
You can have a day of interaction with flora and fauna by touring the following places:
Singapore Botanic Garden
Start the day at this green site that ages over 150 years and is a UNESCO World Heritage Site.
Bukit Timah Nature Reserve
Spend your afternoon exploring this 163 hectare ASEAN Heritage, which hosts about 40% of Singapore's flora and fauna as well as the tallest hill in the country at 164 meters tall.
Henderson Waves
Welcome the night on your way to the Southern Ridges to tour the tall Henderson Waves and witness their full beauty when lit. Take the 10km trail if you can, and go through Mount Faber Park all the way to the Labrador Nature Reserve.
Day 7 - Go on a Shopping Spree
You can wind down your visit by going on a shopping spree in the following places:
Orchards Road
This is the most famous shopping district, from international brands to great bargains.
Bugis and Haji Lane
This place is for value or bargain shopping, with many trendy stores for women's apparel, vintage, and much more.
Singapore Changi Airport
End your itinerary with a duty-free shopping adventure at the Changi Airport. Get some souvenirs for yourself or for people back home. You can buy high-end goods, candies, perfumes, chocolate, and other things.
---
Conclusion
You can manage to see all the best things that Singapore has to offer in 7 days with this itinerary. Of course, it will be jam-packed and will call for tons of effort from you to accomplish it.
---
John Austin is an experienced health and fitness writer of 10 years. He has been a fitness trainer and consultants with top fitness centers for the over 22 year. He started writing after realizing that many people do the wrong things in fitness because they do not know what is right. Follow more of his online publications to get more insights. 
You might also like
Leave a comment