Are you planning to visit Peru or Bolivia in the near future? If yes, then scroll down a find some great ideas of what to do and see in Peru and Bolivia in 3 weeks!
We've prepared a short overview of our unforgettable journey to these amazing countries with its stunning landscapes and friendly people. Enjoy and feel free to ask some questions regarding the route!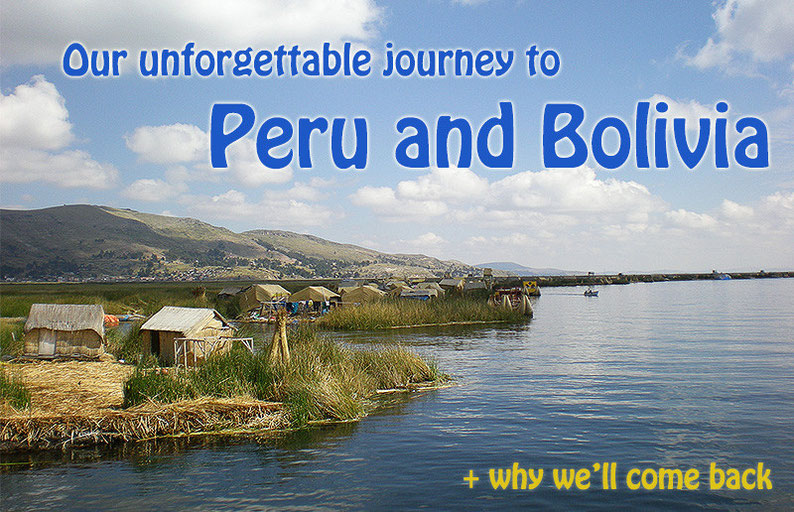 Questions and answers
How did you travel to Peru?
From Stuttgart via Amsterdam to Lima and the same way back
How much did you pay for the flight?
KLM Airlines: 820 EUR for the return flight; LAN Airlines: Flight from Cusco to Lima: 180 EUR
What was your route? Peru and Bolivia in 3 weeks - travel itinerary
Lima - Paracas - Islas Ballestas - Arequipa - Chivay - Canon del Colca - Puno - Lake Titicaca - Copacabana - La Paz - Uyuni - La Paz - Puno - Cuzco - Machu Picchu - Cusco - Lima
How did you travel within Peru and Bolivia?
Travelling by bus - most of the time with Cruz del Sur and flying from Cusco to Lima
How long did you stay in Peru and Bolivia?
3 weeks, sunny almost every day, except 1 hour of rain in Cusco
Is it possible to see Peru and Bolivia in 3 weeks?
Yes, it is possible. However, if you do the route we did, you can stay max. 2 to 3 days in one place
Peru and Bolivia in 3 Weeks
Peru
1st stop: Lima, Miraflores
After 22 hours of travelling by car, plane and taxi we've finally arrived to our hostel in Lima. First we've travelled by car from Zurich to Stuttgart (2 hours). Then we flew from Stuttgart to Amsterdam, followed by the flight from Amsterdam to Lima (12 hours).
Flying with KLM was - if you ask me - a very shaky, turbulent flight - whereas if you ask Jerry  - a very pleasant flight :P
Once we arrived in Lima, we wanted to see the lovely part of the capital city - Miraflores.
Miraflores is a calm district, a good 30 min drive from the airport. It is located at the coastline. We enjoyed the long strolls along the coast, with nice views of the surfers' paradise and palm trees. 
TAKE A STROLL ALONG THE COASTLINE
GO PARAGLIDING
CYCLE ALONG THE COAST
SURF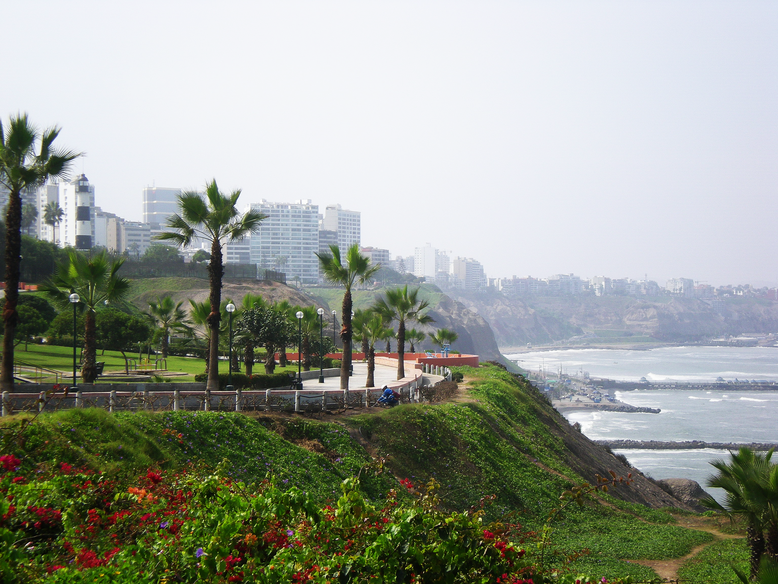 We were impressed by how many local people were doing sports - running, cycling, inline skating, fitness, aerobics.. They all looked very sporty and healthy. Respect!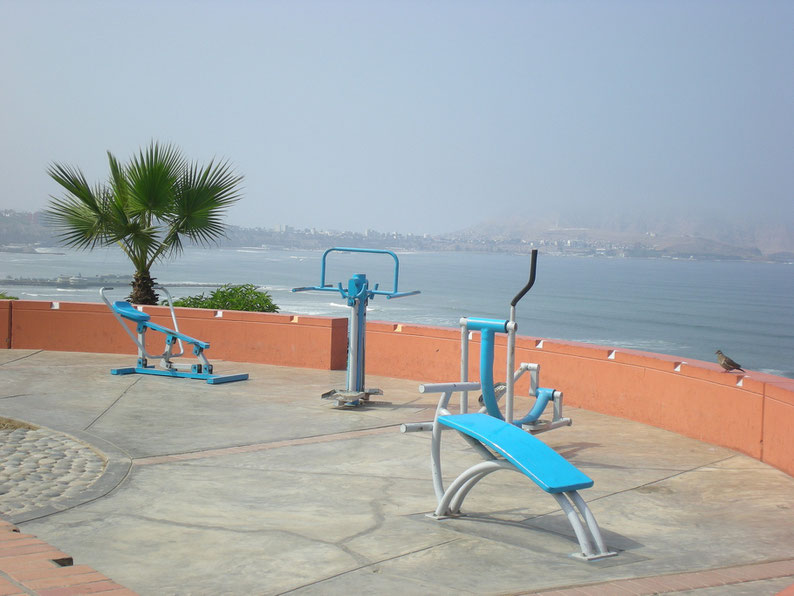 Once we walked the stairs down to the beach, we saw many surfing schools. Unfortunately, we didn't have the time to try out surfing.. but hey, maybe you can do it!?
What I really liked seeing is people coming from their jobs and going straight to the beach to surf. I've also got the impression that people have a good work-life balance here. For a second I thought, it would be nice to stay here longer and experience that.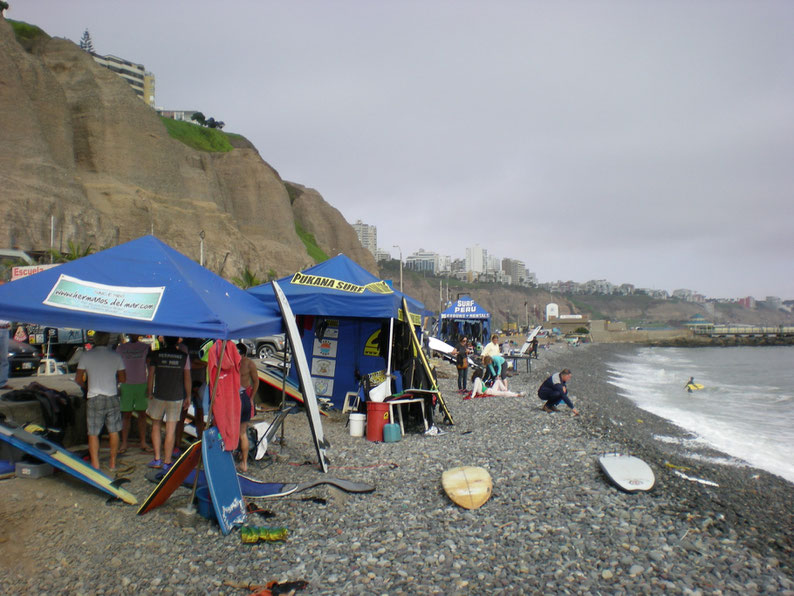 2nd stop: Paracas
Paracas was probably one of my favourite stops in Peru! Nice beaches, palm trees, bars, restaurants, hammocks everywhere! :) ooohh..I loved it! oh and nice sunsets!!
LAY IN A HAMMOCK
ENJOY THE SUNSET

TRY OUT QUINOA SOUP
ORDER A FISH PLATE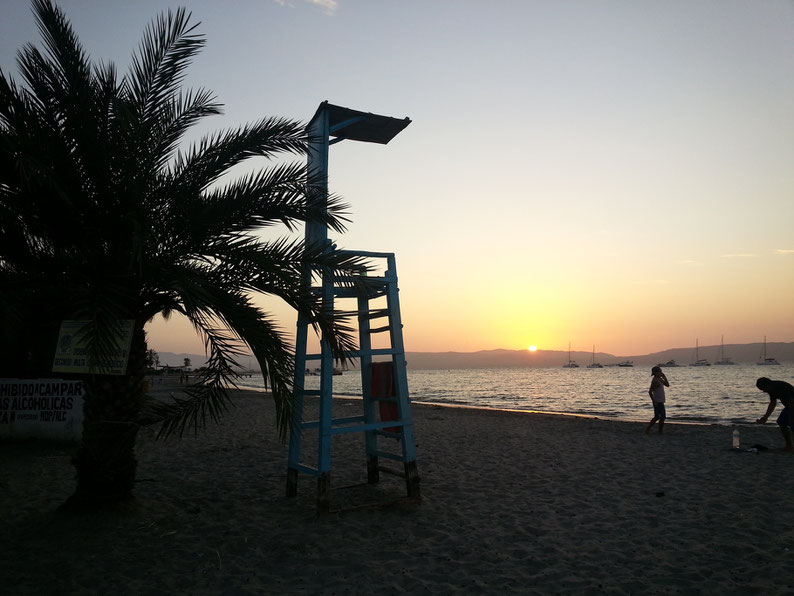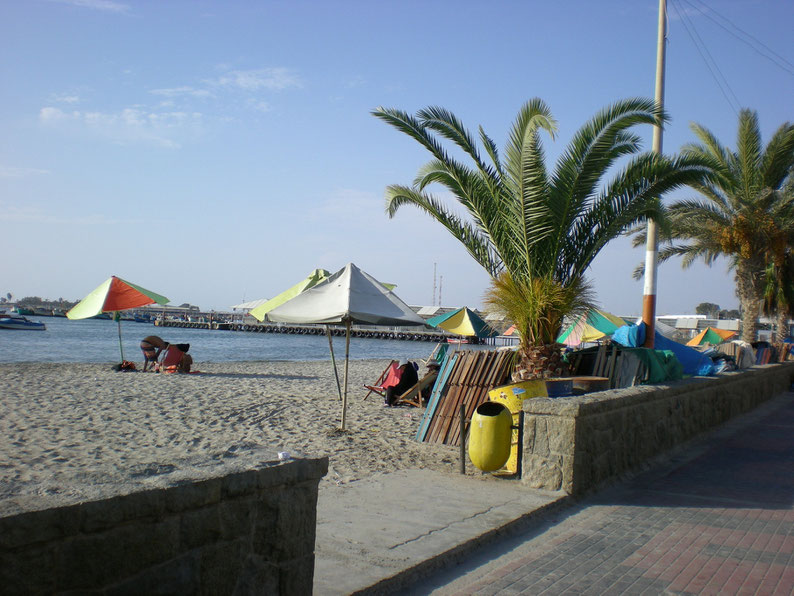 3rd stop: Islas Ballestas
We booked our trip to the "poor man's Galapagos islands aka. Islas Ballestas" from our hostel Backpackers Paracas House. By the way, a hostel worth to visit (and meet the owner Alberto!).
A trip worth to do if you like sea lions, penguins, dolphins and birds!
TAKE A BOAT TRIP TO THE ISLANDS
ENJOY THE VARIOUS BIRD SPECIES 
TAKE A PHOTO OF A SEA LION
BE IMPRESSED BY THE DOLPHINS
SEE PENGUINS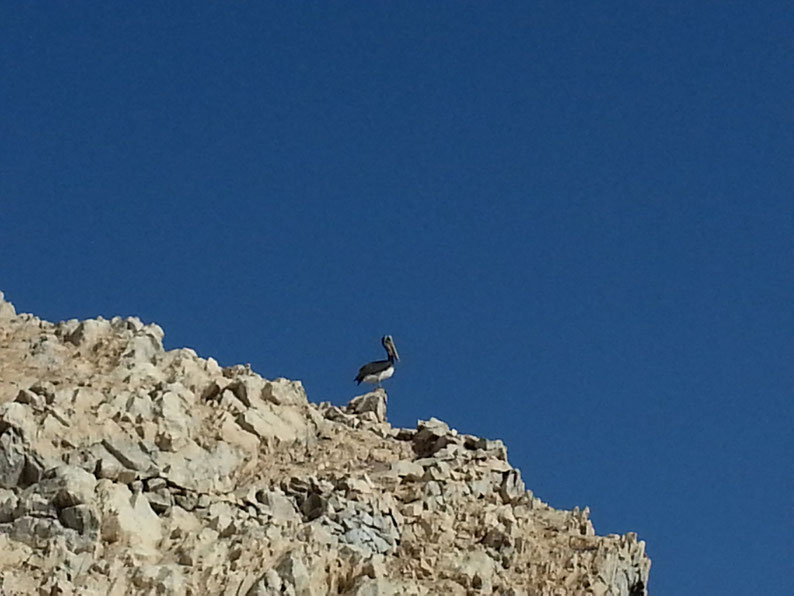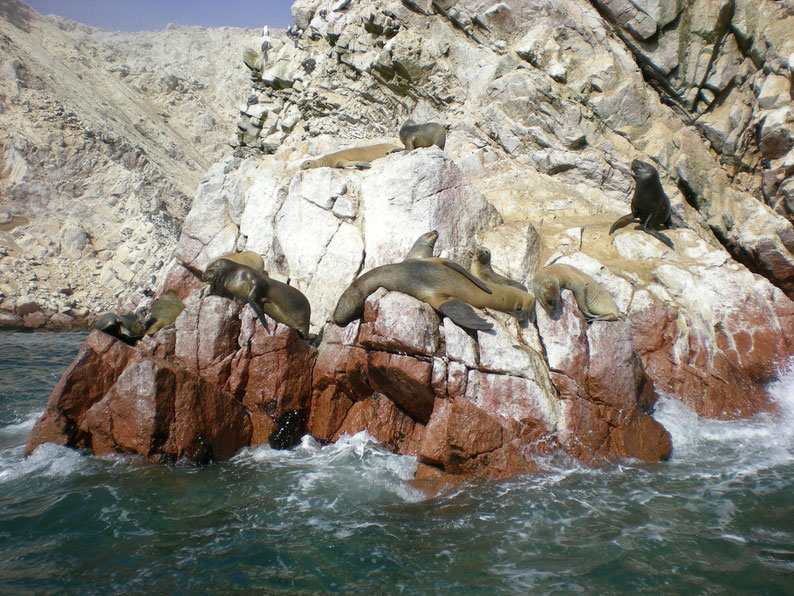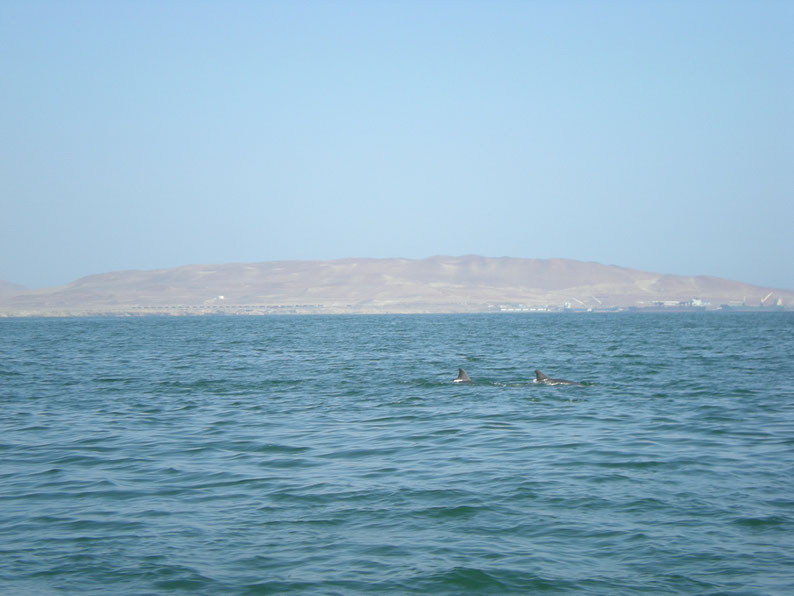 4th stop: Paracas National Reserve
Some people are saying it's not really worth it, but sorry guys, I don't agree with you! 
Here is why:
ENJOY THE VIEW OF THE TURQUISE WATER
TAKE A PHOTO OF THE RED COAST
FEEL LIKE IN A DESERT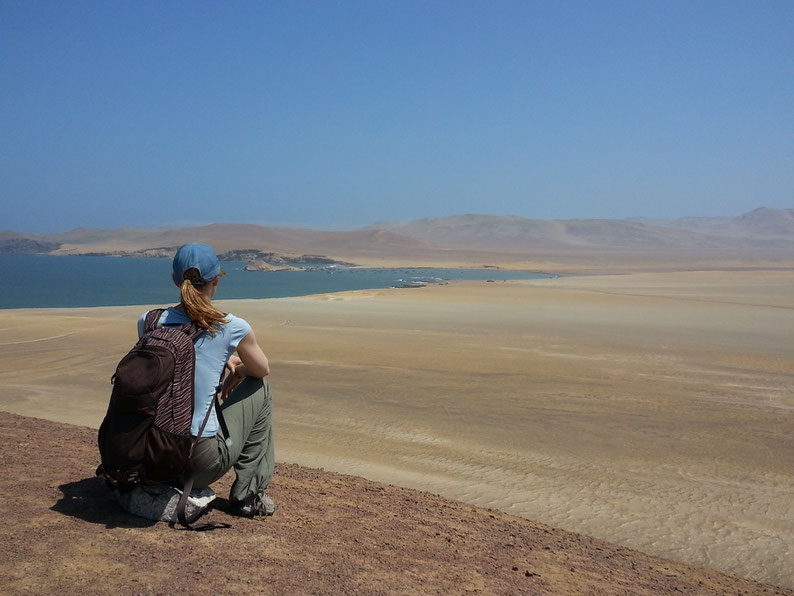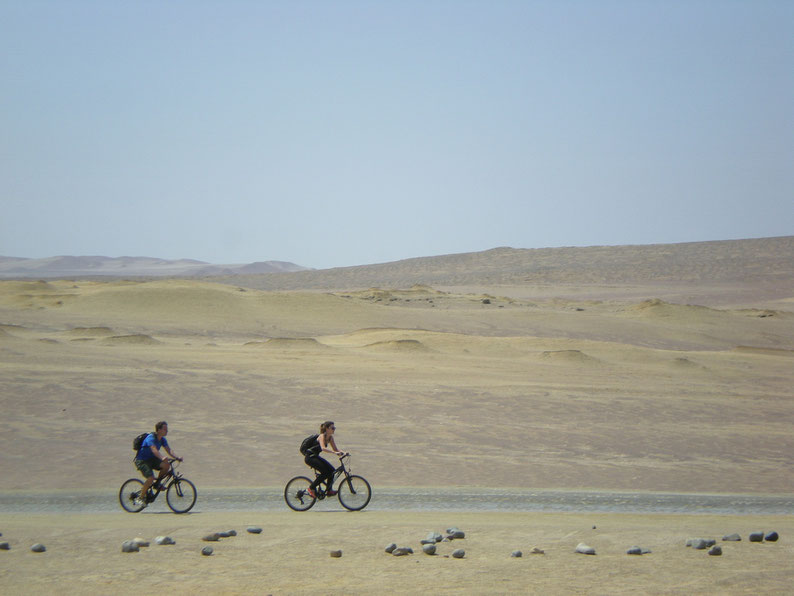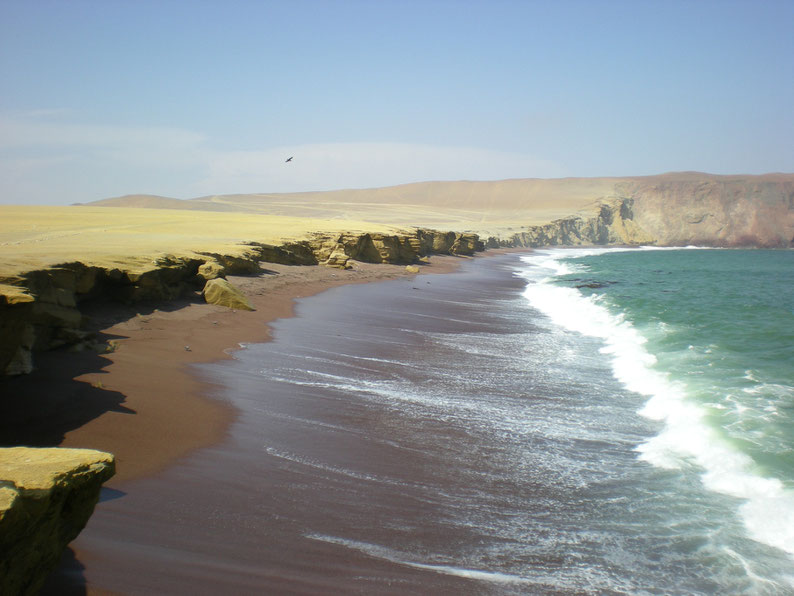 5th stop: Huacachina
Worth visiting is also Huacachina. However, 1-2 days are enough to explore the amazing oasis in the middle of the dunes. One of the most memorable moments was climbing up the sand dune and watching the sunset. It was so romantic! :) I wouldn't recommend swimming in the lake! Please don't do that... 
CLIMB A DUNE AND ENJOY THE SUNSET
TAKE A BUGGY RIDE
GO SANDBOARDING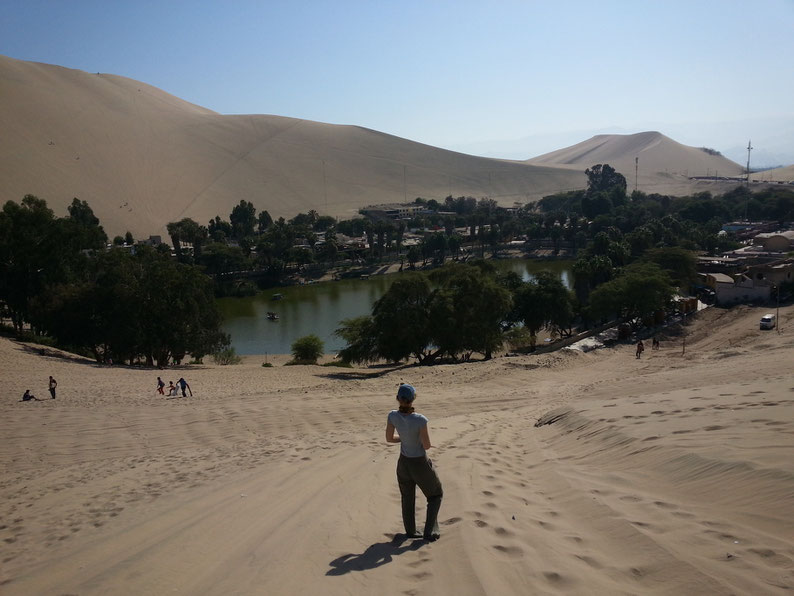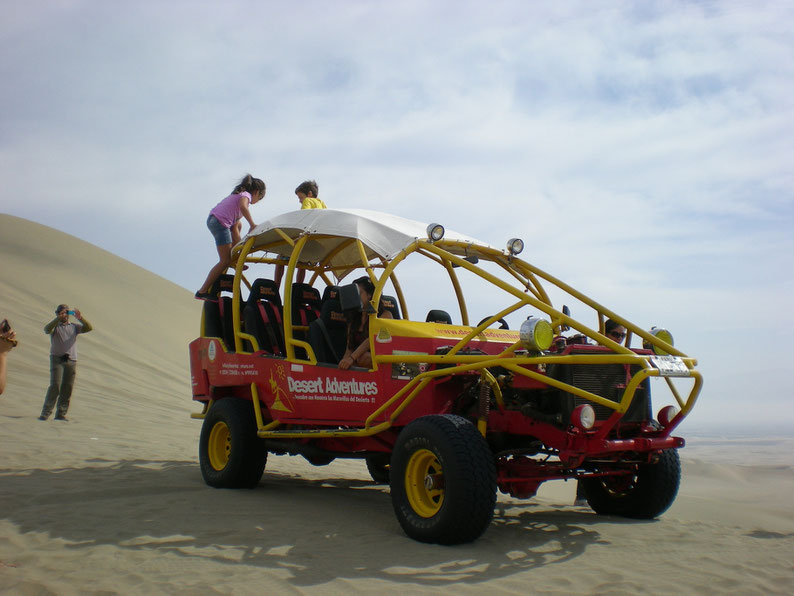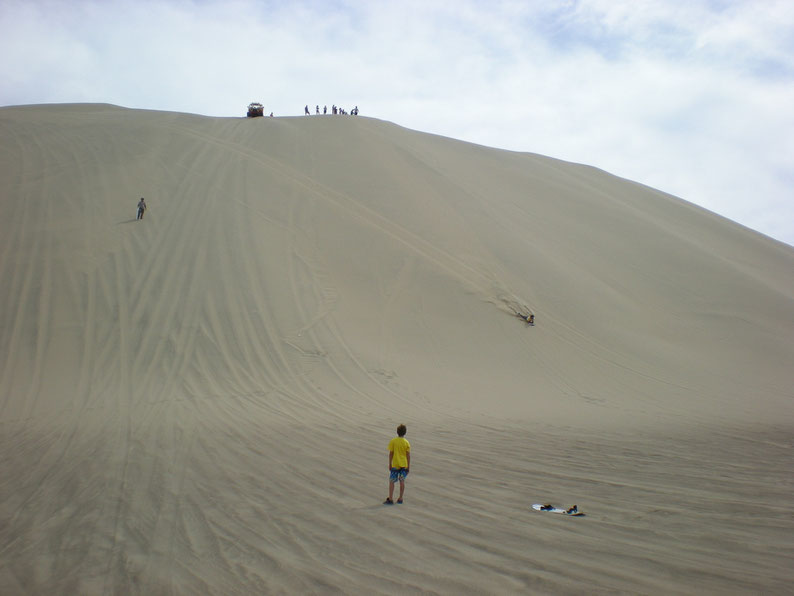 6th stop: Arequipa
Arequipa (2300 meters above sea level) is the second largest city in Peru. Fresh air, cold mornings and evenings. The view of the vulcano El Misti was fantastic. We were so happy with the hostel we chose. It was called Bothy Hostel Arequipa. It had a nice terrace with hammocks and tasty breakfast with fresh juices. In addition, the staff was very friendly and helpful. 
TRY OUT COCA TEA
CHEW COCA LEAVES
BOOK A HIKING TOUR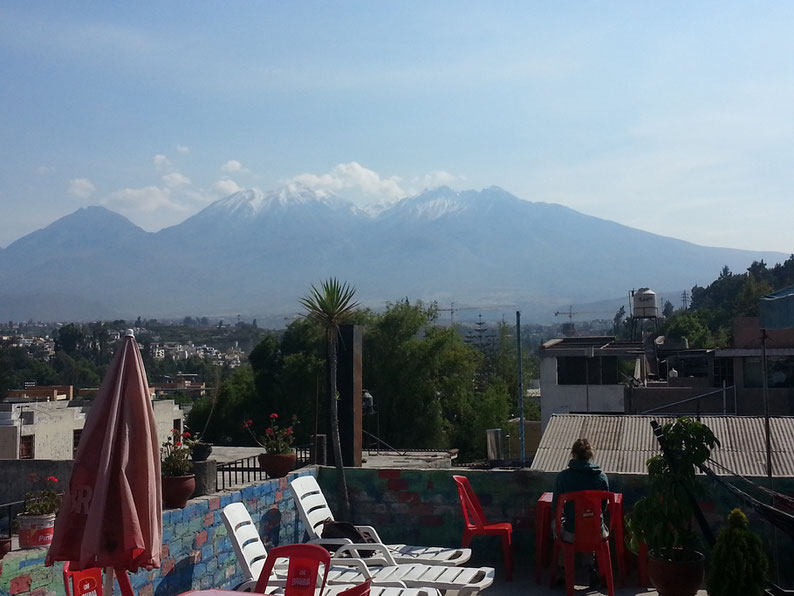 7th stop: Chivay
We made just a short stop in Chivay (3600 m above sea level), which is a nice little town in the Colca canyon. You can see typical locals and try the tasty Tuna fruit or juice. The landscape is trully breathtaking.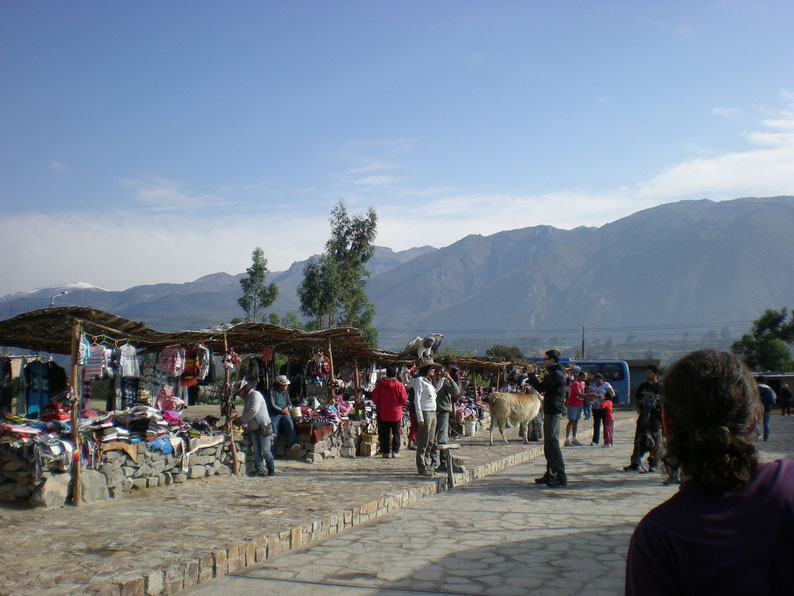 8th stop: Trekking Cañon del Colca
We've booked the 2-day tour to Canon del Colca via our hostel. The price was about 70 USD (entrance to the Colca canyon included) per person. Quite expensive but worth it! And here is my suggestion - book a 3-day tour! Not only because of the great tour itself but also due to the difficulty of the route. The 2-day tour started with 8 hours of hiking down and a bit up on the first day and on the second day 3 hours of hiking UP (!) at 4 am. It was steam and exhausting. However, it was one of the most beautiful hiking tours I've ever been on. Our guide, Carlos, was a great man, had many good stories to tell and had answers to all our questions!
ENJOY THE VIEWS
TEST YOUR LIMITS
SOAK YOUR FEET INTO THE POOL
TAKE A PHOTO OF LAMAS AND ALPACAS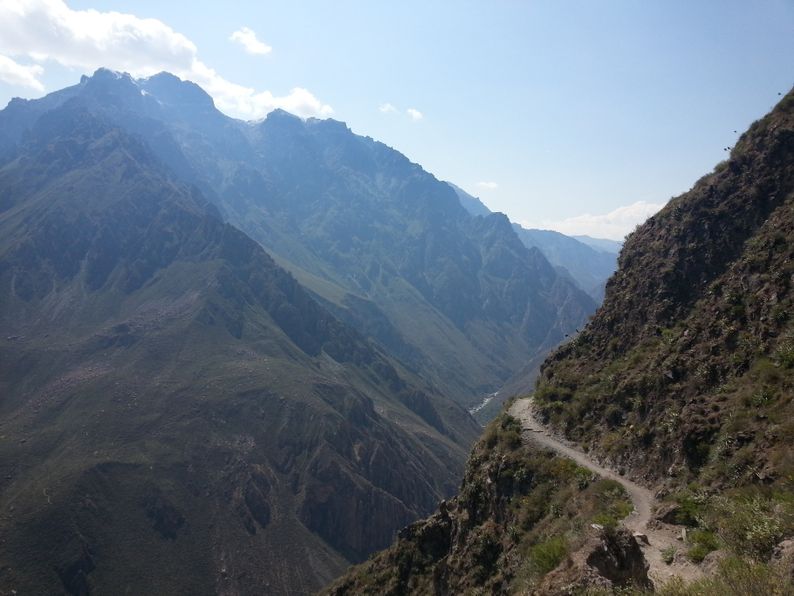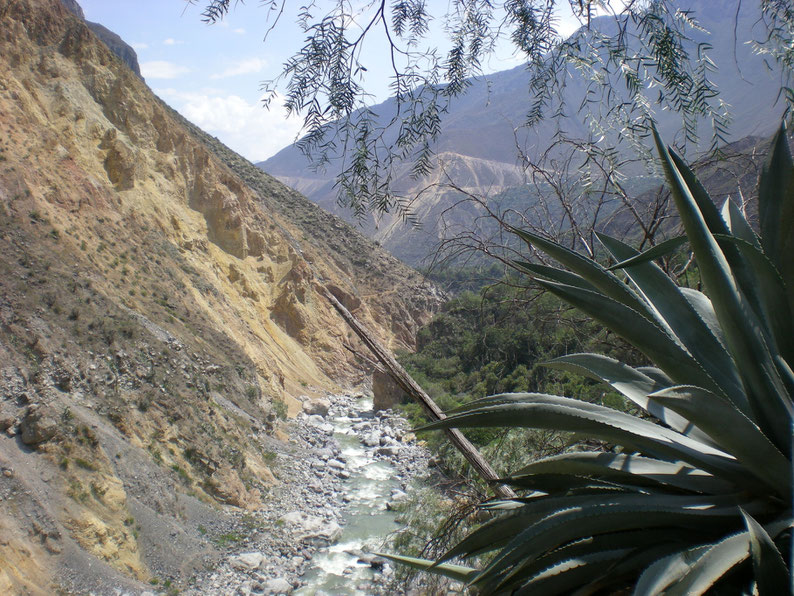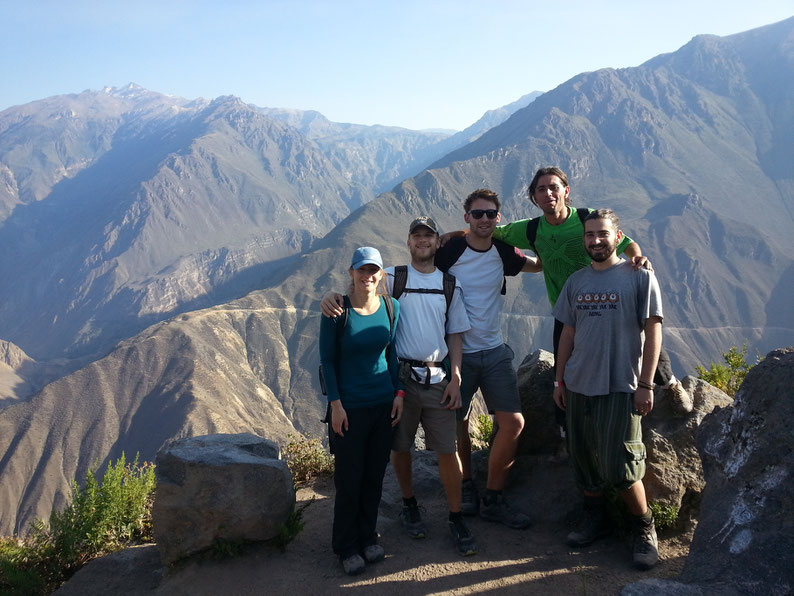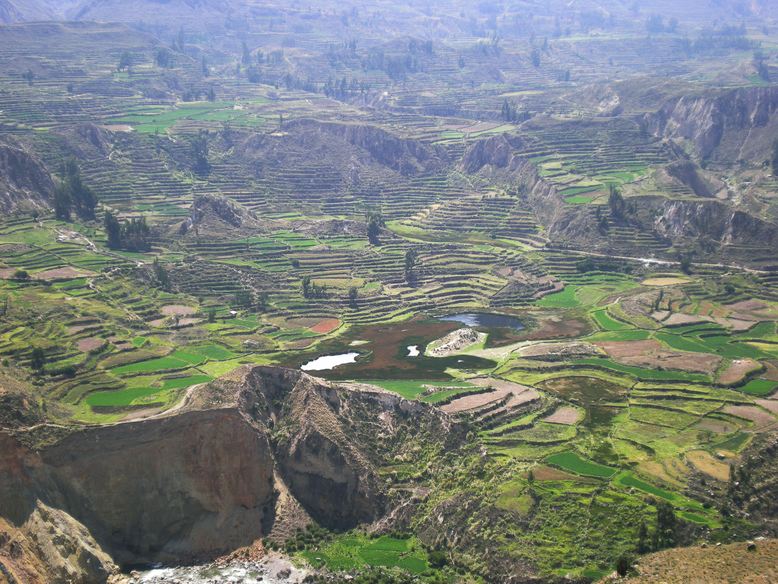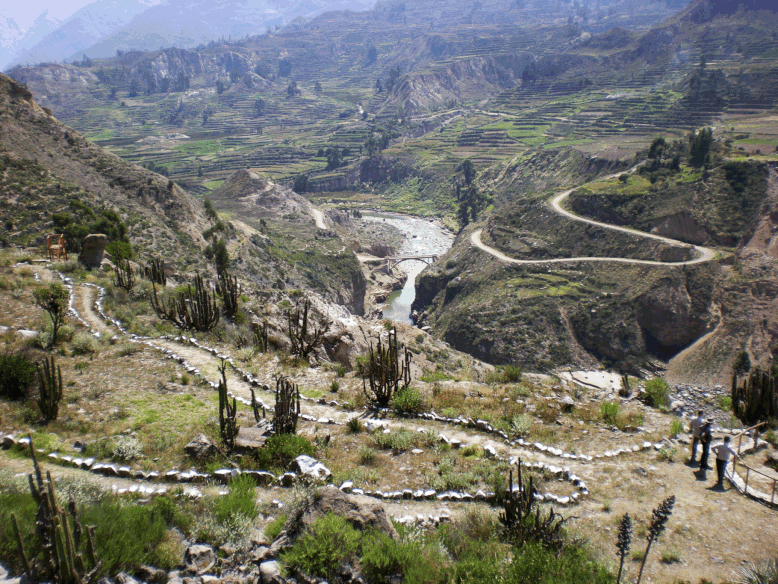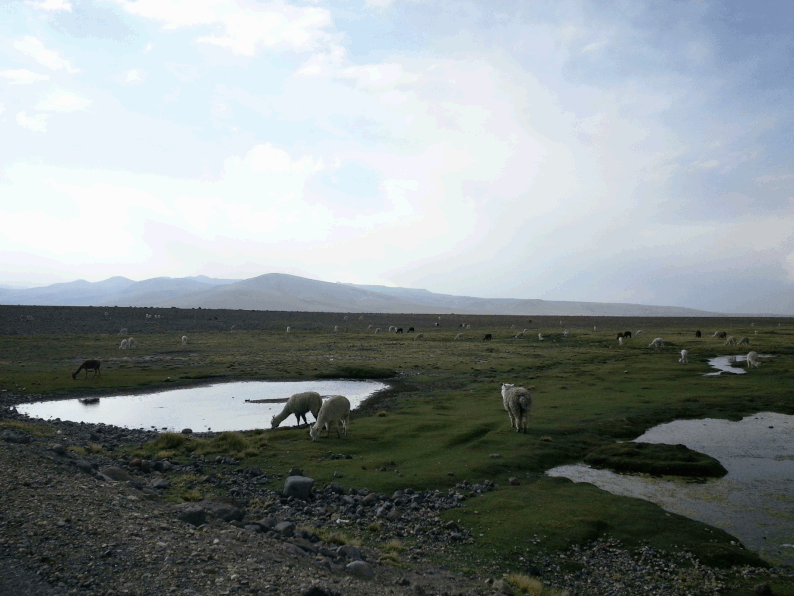 9th stop: Puno
When we stepped out of the bus, we felt a bit dizzy. Since Puno lies at 3800 metres above sea level, dizziness is not uncommon. A lovely city with almost 120 000 inhabitants, can be pretty cold in the mornings and evenings. Luckily, we had a great hostel with a heating oven! :) 
Once we checked-in at the hostel, we went on the market, where we bought fresh vegetables from a friendly local. It was the first time we've cooked a dinner on our trip! To mention its ingredients - pasta with onions, tomatoes, avocado and carrots! And why is this special? Because it tasted soooo good - a lot better than it does in Europe!! The vegetables had 1000 times more taste than here in Europe. Sorry, but it's the truth..
CLIMB UP TO HAVE A BETTER VIEW
BUY FRUITS AND VEGETABLES ON THE MARKET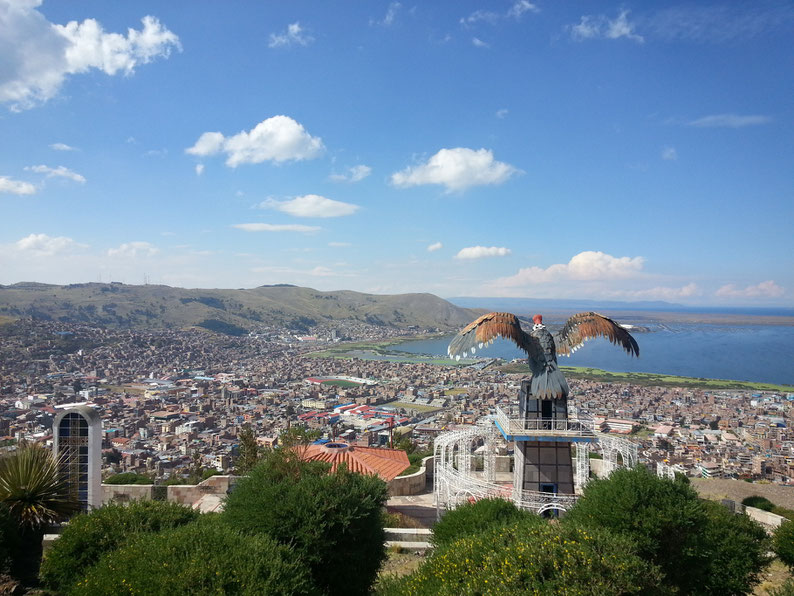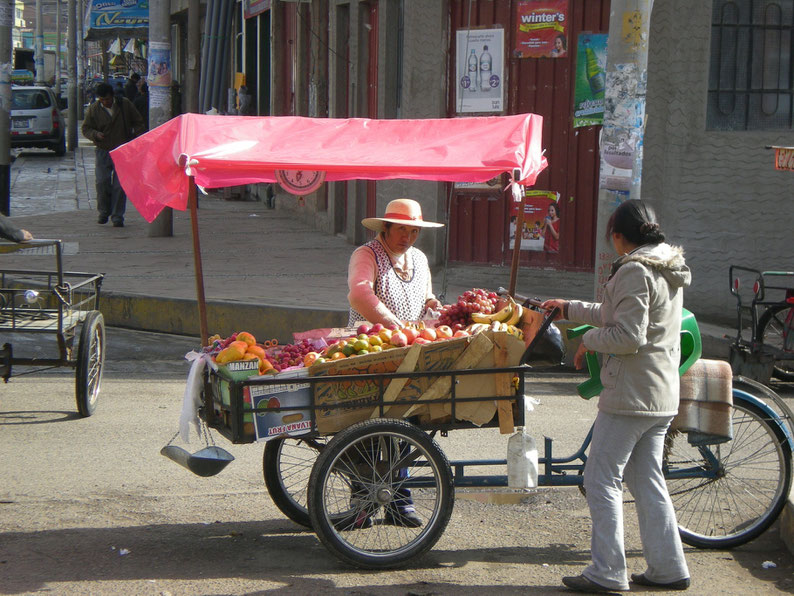 10th stop: Lake Titicaca
HAVE A LOOK INTO PEOPLE'S HOMES
TRY OUT THEIR CLOTHES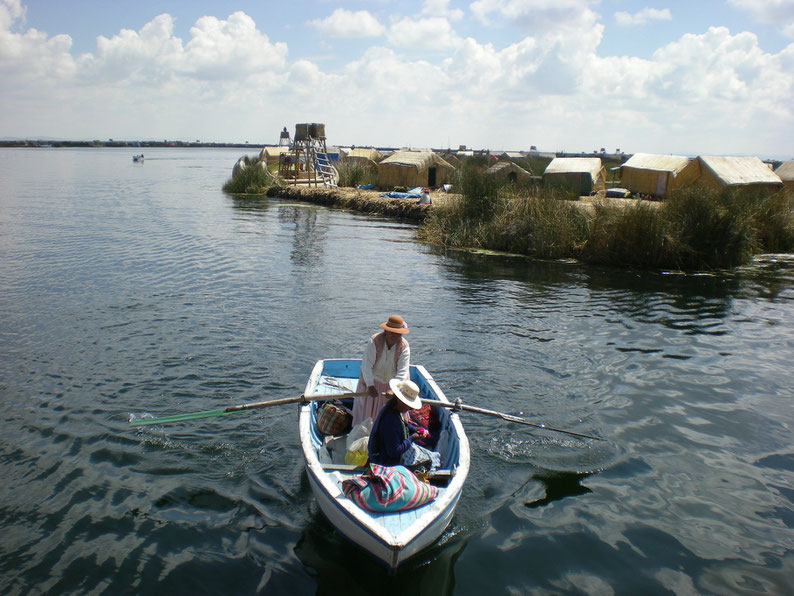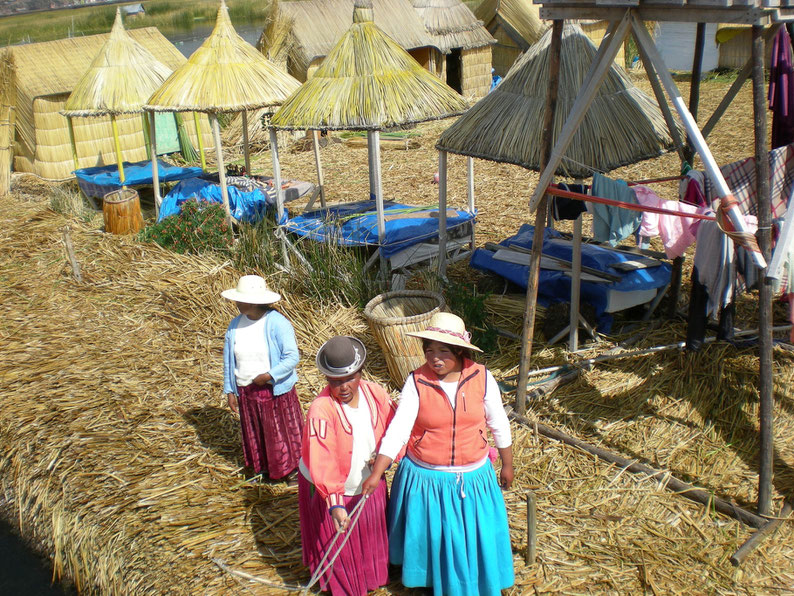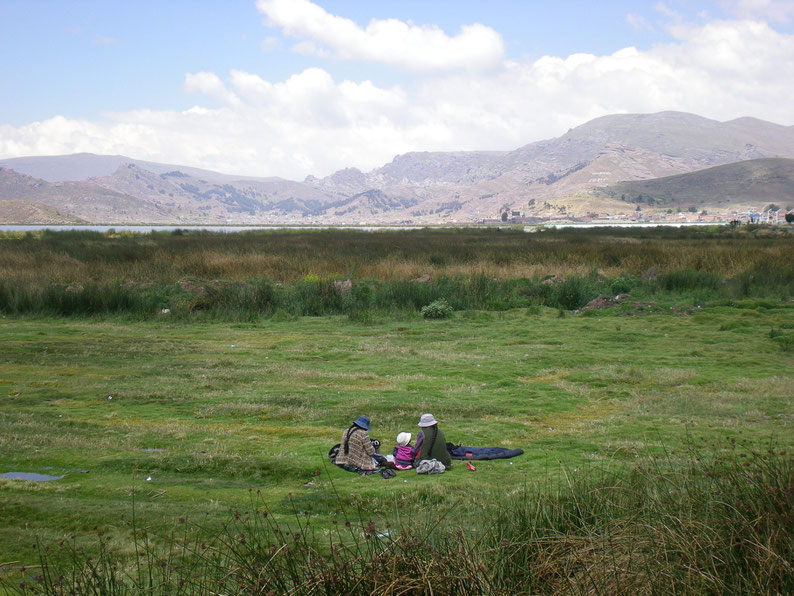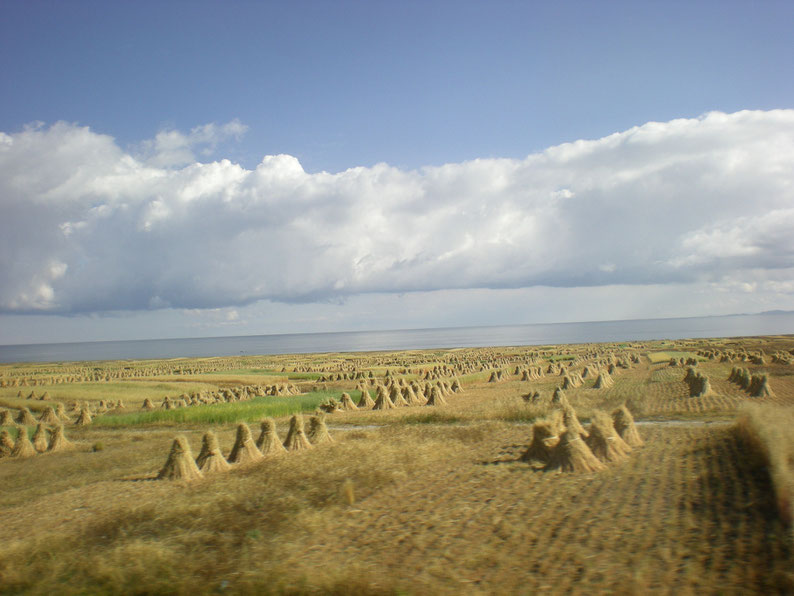 Bolivia
Crossing the border between Peru and Bolivia was actually quite a cool experience. All you have to do is fill out a form and show your documents (unless you're from the US, in which case, you have to buy a visa). The police and customs officers were really nice to us and we had absolutely no issues coming across. 
PREPARE YOUR PASSPORT
DON'T LOSE THE IMMIGRATION PAPER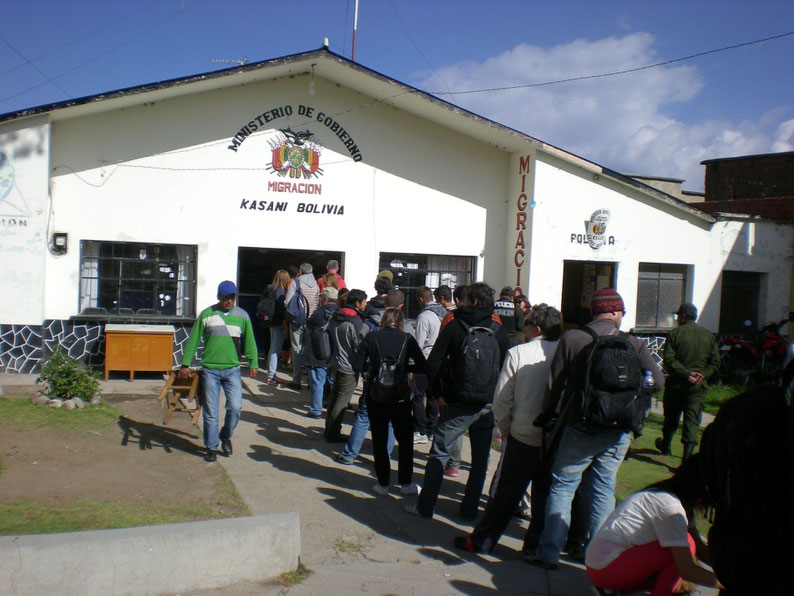 11th stop: Copacabana, Bolivia
Not to be confused with the brasilian Copacabana, the Bolivian one is a fun little town at the coast of lake Titicaca. It's a bit touristy, but there are nice restaurant or bars with nice views just waiting to be visited. What I would really recommed is take a few hours and climb the hill above the city and just enjoy the breathtaking views of the lake and the city.
SIP A FRESH JUICE AT THE BEACH
CLIMB UP THE NEAREST HILL AND ENJOY THE VIEWS
BOOK A TRIP TO ISLA DEL SOL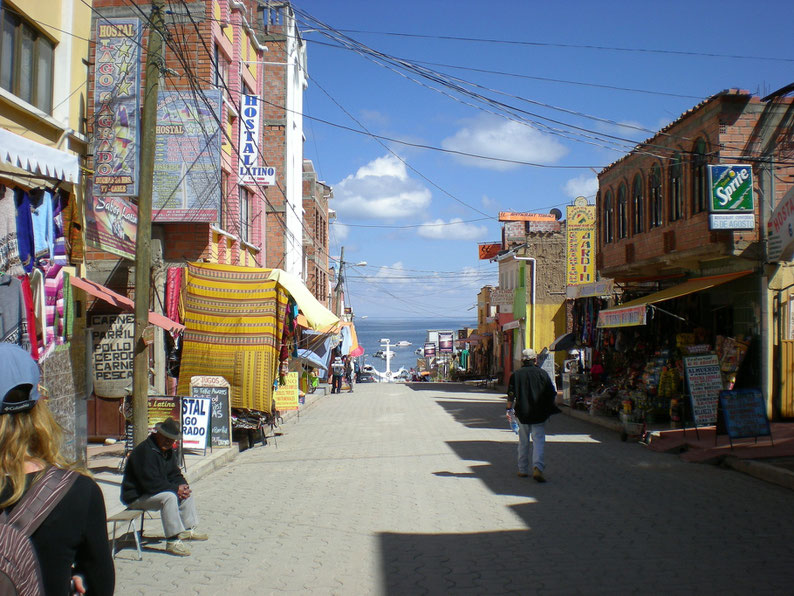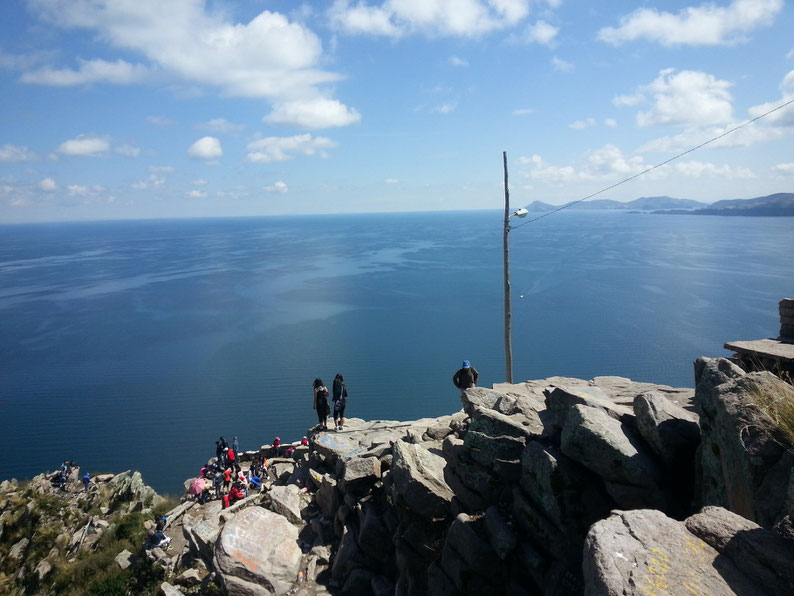 12th stop: Uyuni salt flats
Pictures don't do justice to the amazingness of the view. It's just breathtaking and unique. Definetely one of the highlights of the trip. 
TAKE FUNNY PHOTOS AT THE SALT FLATS
FEEL LOST
ENJOY THE ISLAND FULL OF CACTUS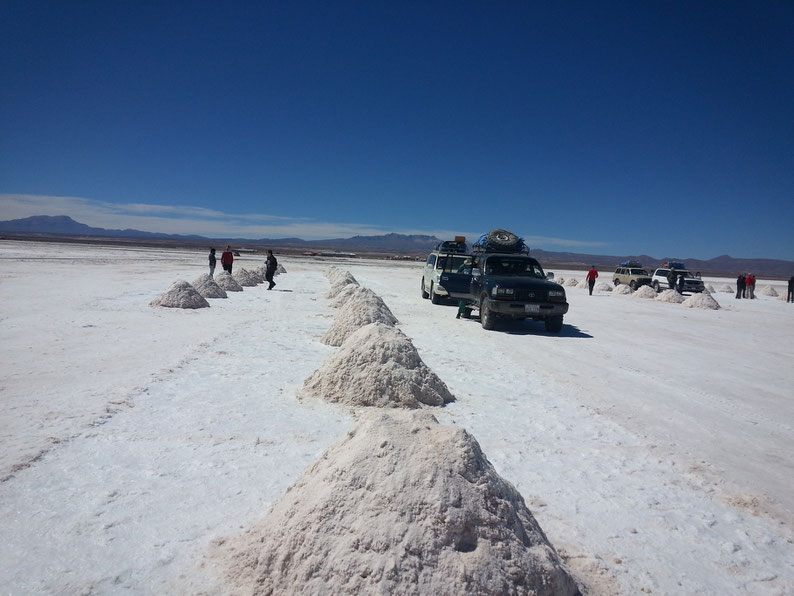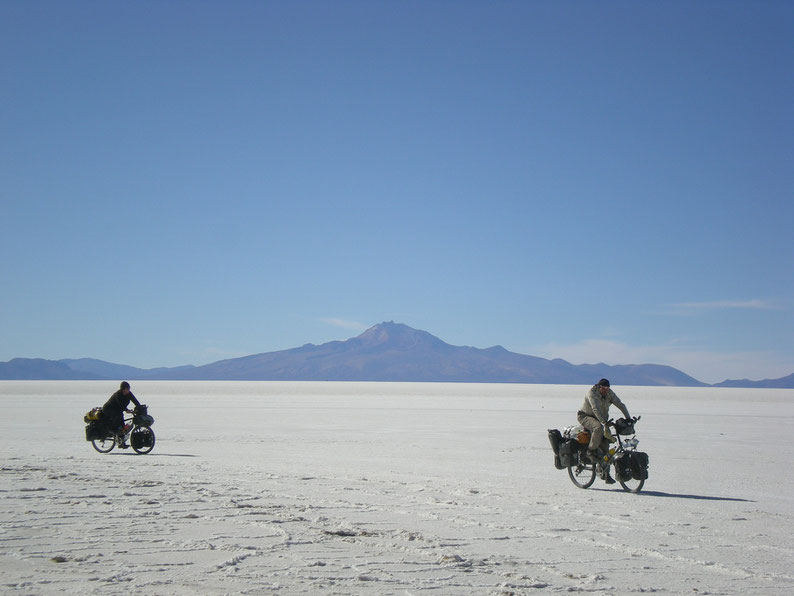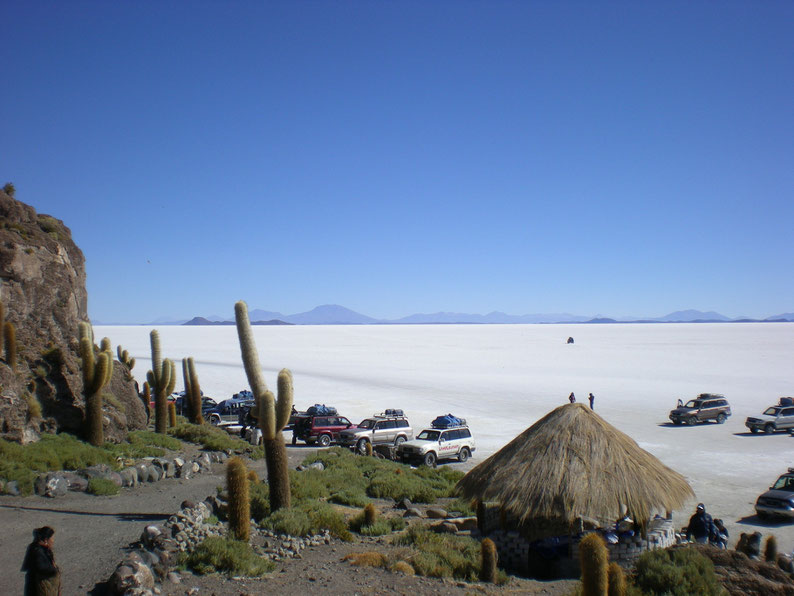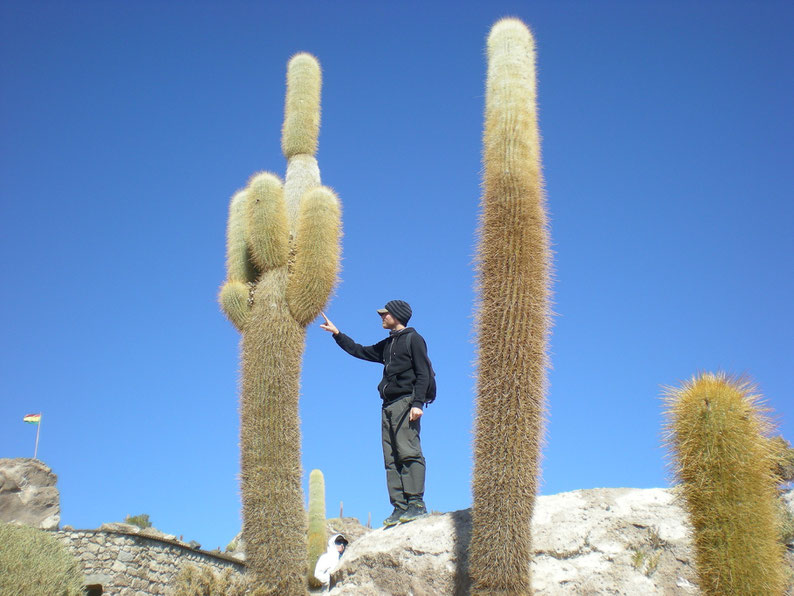 13th stop: La Paz
La Paz lies at 3600 m above sea level and has about 2 million inhabitants (just like the country I come from). We just spent a day there and quite frankly it was enough. The panorama of the city is worth seeing, other than that, it's a large crowded city, just like many others (or maybe it was just us being tired after two straight nights on the bus).
VISIT THE PARK
TAKE A PANORAMA PHOTO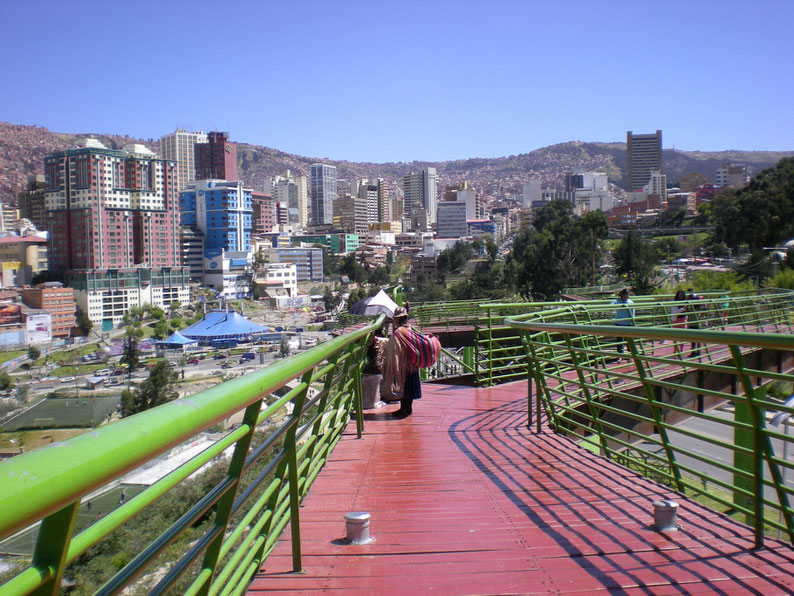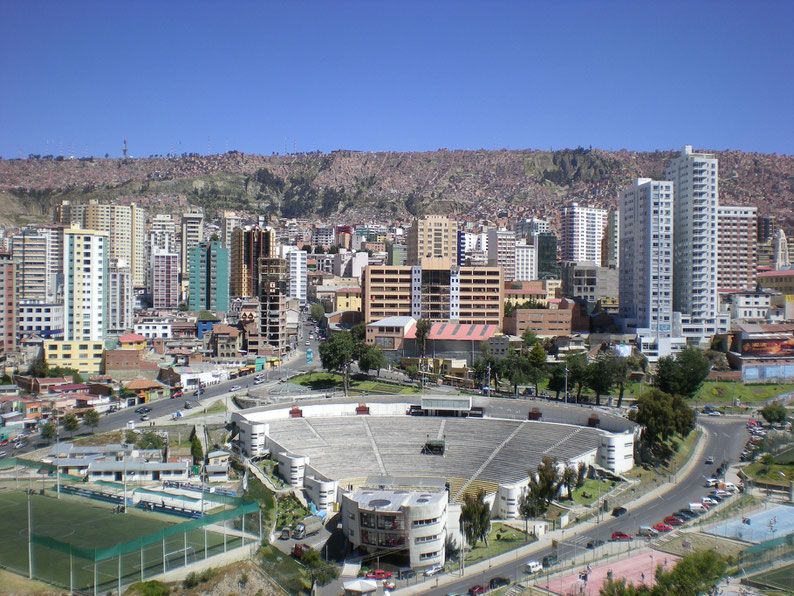 Back to Peru
14th stop: 3-day Inca jungle trek
1st day: Cycling down from 4900 m.
2nd day: Zip lining.
3rd day: Climbing the Machu Picchu mountain.
Cost of this tour: 170 dollars
First, I had my concerns about the toughness of the tour. But it turned out to be an unforgettable tour with lots of fun, great people and nice hiking.
BIKE DOWN FROM 4900 METRES
GO ZIP LINING
ENJOY RAFTING
FEEL MISTIC
WALK 1720 STAIRS AT 5 PM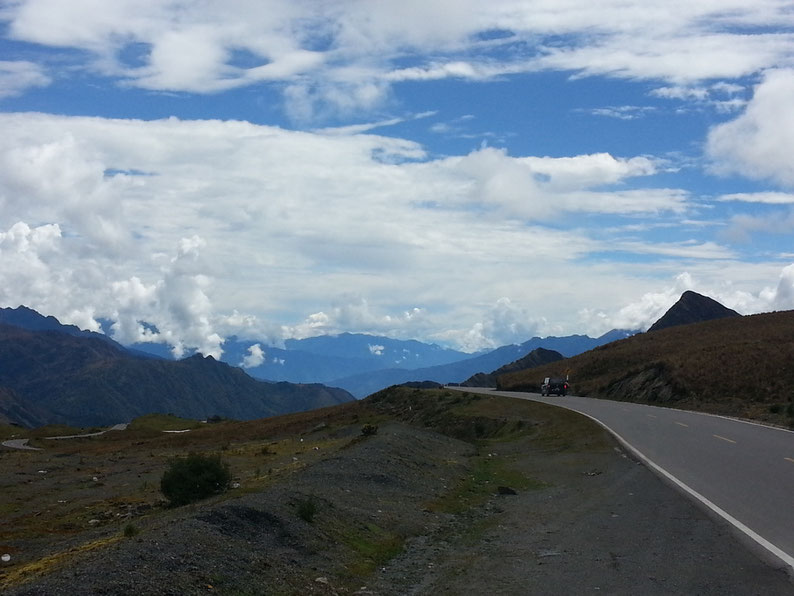 Cycling down from this altitude offers you stunning views of the valley, some adrenaline and a good training for your body.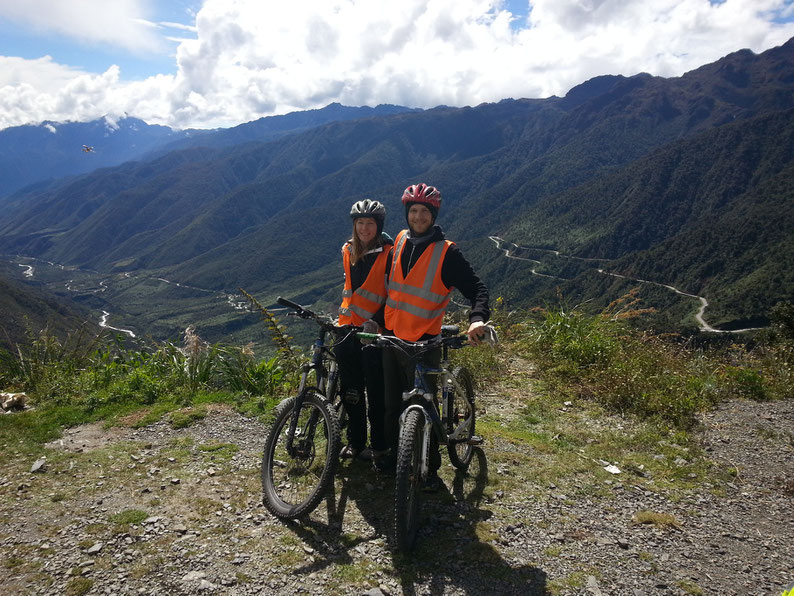 Zip lining was lots of fun ...except of some people in the group who were screeming all the time (I don't like this at all..). However, everyone should try zip lining some day!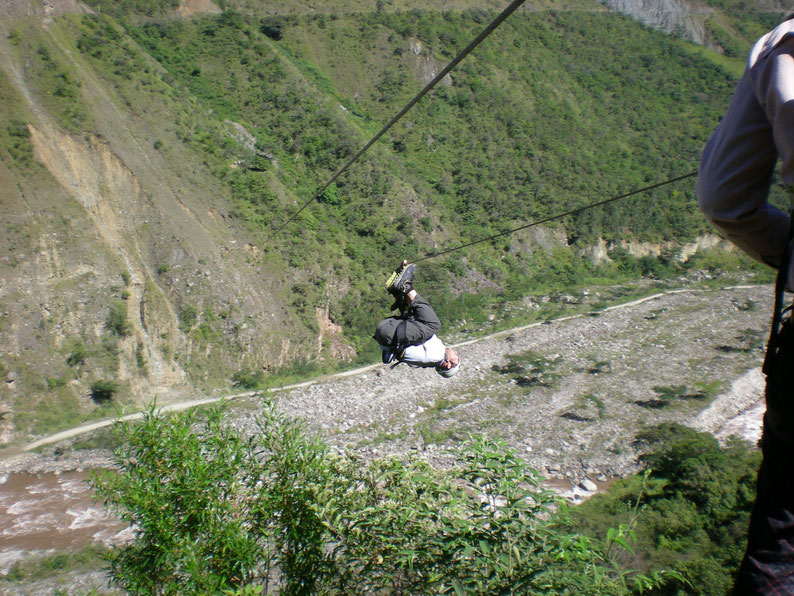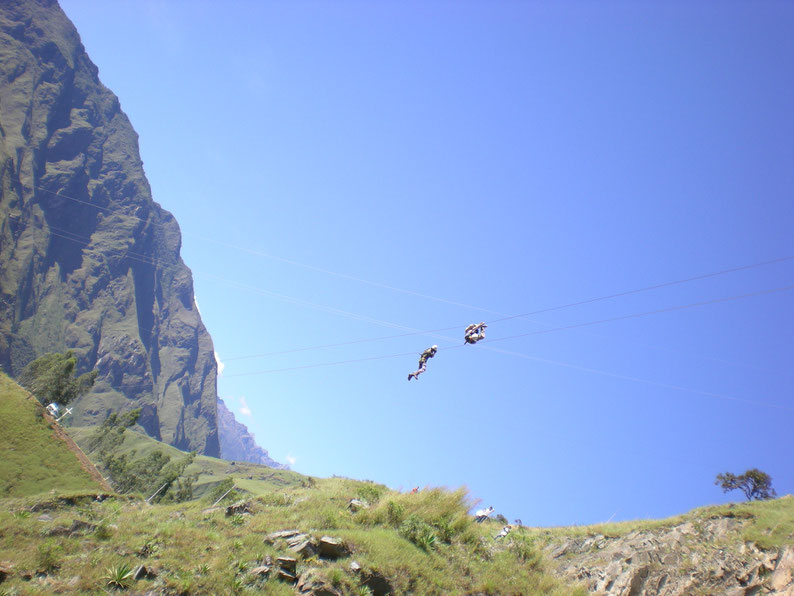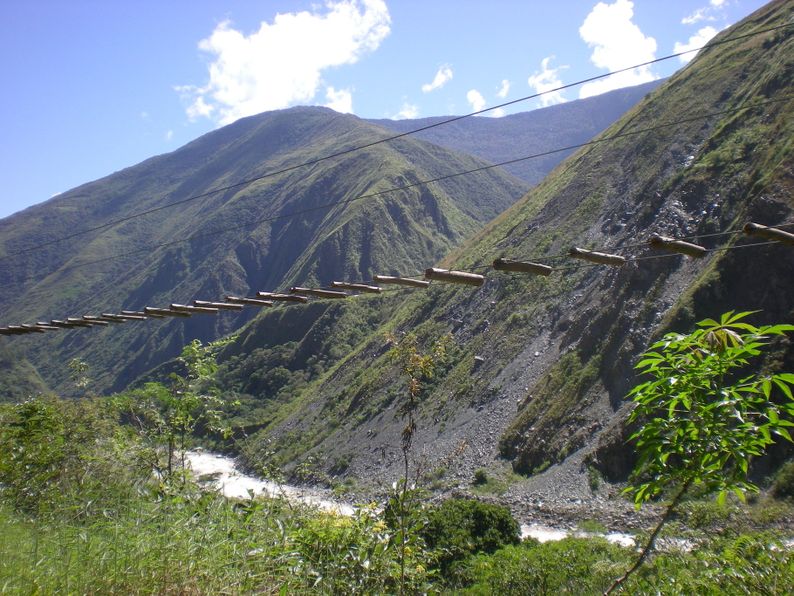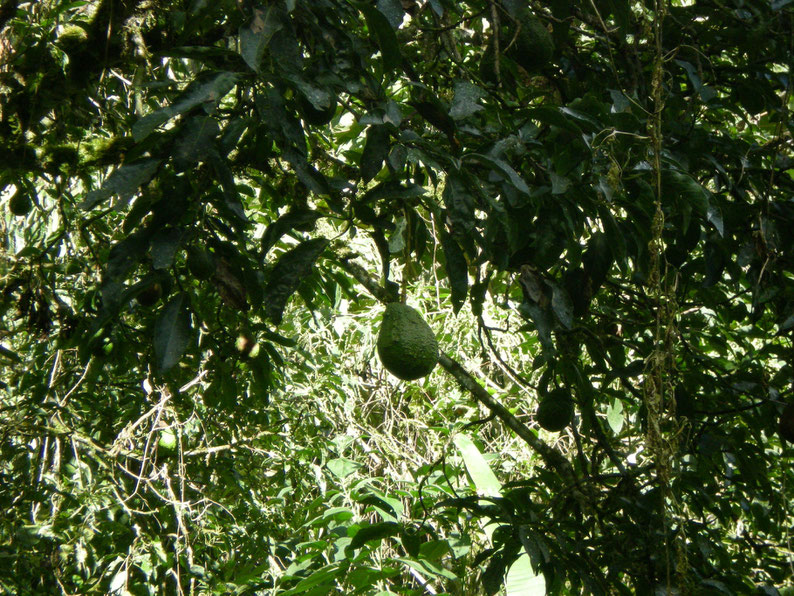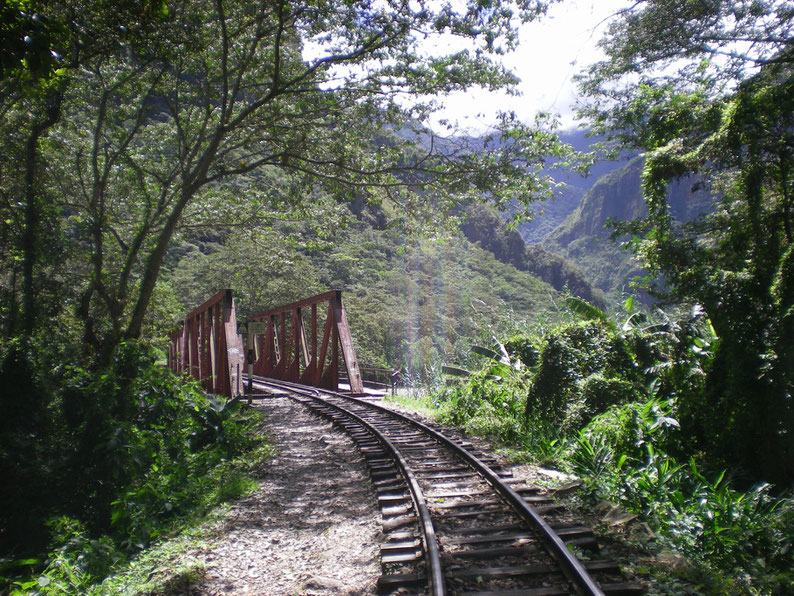 Here is where the climbing to Machu Picchu starts - at Agua Calientes. The door to the Machu Picchu mountain opened at 5 am. and then? 1720 stairs. Yep. Don't ask. 
If you don't feel walking the stairs, you can take the bus!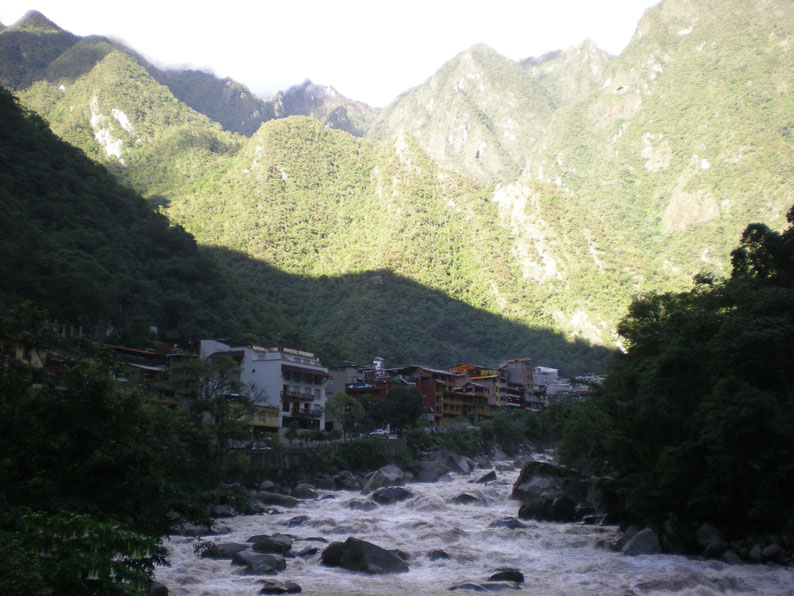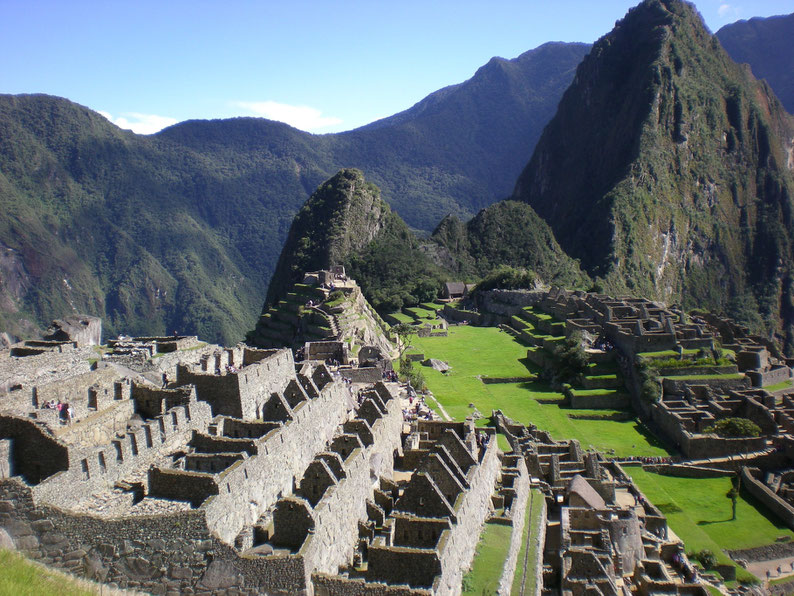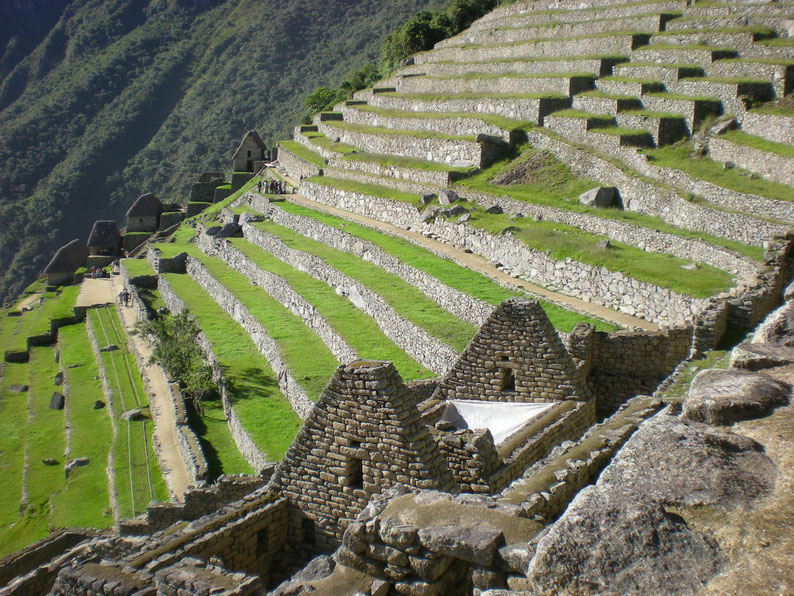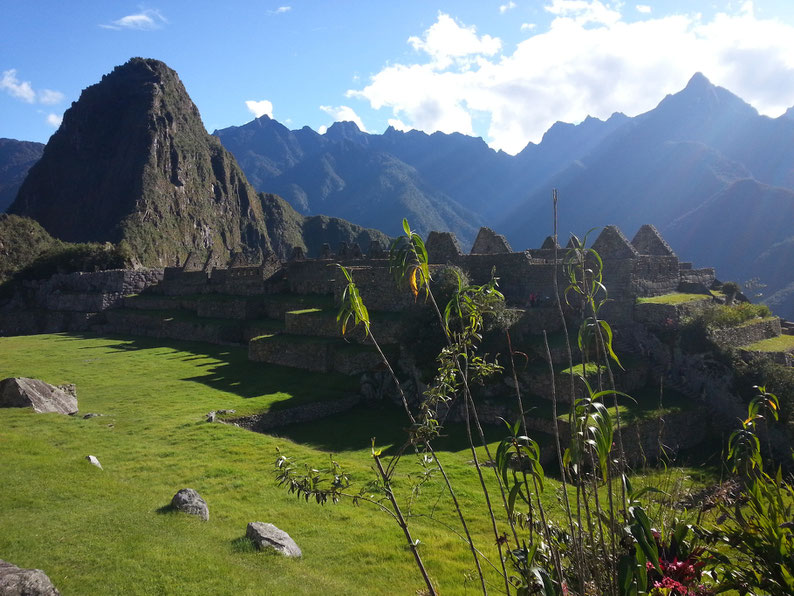 And why we'll come back?
There is no need to ask if we are planning to come back. The question is when would it be and what is our next destination in Peru and Bolivia. I don't have an answer yet to the first question but we do know what are the places we still wanna see. We would love to see the northern part of Peru - the Huaraz mountains, the beautiful Mancora beach and the Amazon Jungle!
To sum up, Peru is suitable for adventurers who love hiking, climbing, mountainbiking, rafting, zip lining, swimming and surfing. Except for the expensive tours, it is an affordable destination, the local people are friendly and willing to help, the food is fantastic - not only for meat lovers, also for vegetarians. The landscape changes all the time - from mountains, lakes, ocean, flatlands to deserts and oasis. A destination worth visiting!
In Bolivia, due to lack of time, we had to skip the famous Yungas Road also know as "Road of Death". Places like Isla del Sol, Tiwanaku, Sorata, Potosi and the Amazon Jungle will be also on our list when coming back. South America, see you soon. You're lovely!
Did you like this blog post about Peru and Bolivia in 3 weeks? Be informed on the latest blog posts via Facebook! 
You might also like
About the author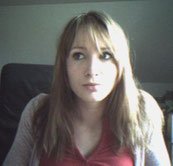 Is this section really necessary? Well, it seems so as many bloggers do that... So let's try it. I'm Sonja, I don't have a nickname. I'm here to give you some useful tips on your next travels. You can use them or not. In 2012 I moved abroad to change my life a bit. But hey, I'm repeating myself as I've already written about it here. 
Leave a Comment