Playing with the idea of moving abroad? You probably already know that moving abroad is generally not one of the easiest moves to do in your life but, believe it or not, it is a lifelong investment in yourself of which at the end you will be very proud of. If you're wondering what this step does to your mindset, go ahead and read the following blog post about our 7 lessons we've learned so far while living abroad over the past couple of years.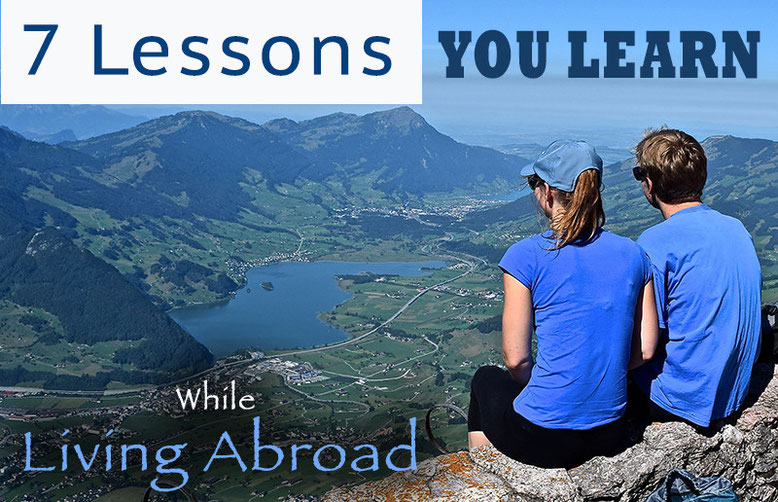 After 3 years of living abroad, some people tend to ask - "How is life abroad? Is it challenging?
Do you regret it after all?"
We can give you the answer to the last question: "By all means, no, we don't regret it at all!
In fact,
MOVING ABROAD was one of the most rewarding moves we have done so far!
But let's get not ahead of the things.
Let me ask you first - have you ever dreamed of moving and living abroad? 
If yes, we want to encourage you to take the life-changing step by outlining our personal experiences from living abroad. We hope to provide you with some important facts below. In case you have some questions, do not hesitate to write us an e-mail!
Reasons to Live Abroad & Our Story
To keep a long story short, we left Slovenia in 2012 and found a new home in Zurich, Switzerland - basically, the country is just a 9-hour drive from where we used to live in Slovenia. Now, one might think. pfff..is that really a CHANGE? Well, it might not be a big change geographically but it is somehow a change as far as culture, language and political system is concerned. Also, one have to keep in mind that we can't see family and friends every time we want. We can't just stop by for a coffee. Now, our visits are a result of pre-planned vacation days. In fact, we get to see our closed ones only 3-4 times per year. But prior to this, we knew that this will be a consequence of our decision to move abroad.
And why did we left our home country? Probably you think the reason is because of the income issue. Of course, we're not ashamed to say that this was one of the reasons but it was definitely not a solely reason. Believe it or not, but we also wanted to have a new life experience - we wanted to see how it is to live outside of our comfort zones - what do we really need and what can we give up in our lives..?
And there is another reason, very simple: We love to travel! That means, we love to explore countries, meet new people, mingle with the locals, see how they live, what challenges do they face.. we also enjoy trying out new food, observe other habits and speak foreign languages. And so we went for it. We moved to Switzerland - the country my mother comes from! Prior to our departure, WE WERE SCARED TO DEATH. Personally, I can still remember the night before we drove away. I was shaking. Jerry was quiet. Abnormally quiet. We couldn't sleep. I shed a few tears. But then, everything turned out well. We did it! And you can do it too! 
"Your life does not get better by chance, it gets better by change." - Jim Rohn
But now let's see, what have we learned so far?
1.) Reasons to Live Abroad - Open Mindness
Now, we are living in a country full of different cultures and mindsets (in Switzerland, every 3rd person is a foreigner). We thought travelling to other countries opens your mind. That's true. But we realised living abroad with so many other cultures is a whole new page. You start to accept all the good and the bad things. Now everything is great. But you get used to it. You become even more understanding, more tolerant and more open towards others. You judge less. You care, but differently. It's a totally new feeling, worth to embrace and be grateful for. 
"And then all of sudden she changed. She came back a completely different person with a new mindset, a new outlook, a new soul. The girl that once cared way too much about everyone and everything no longer cared at all." - Unknown
2.) Reasons to Live Abroad - The World is Big
Hey, it's not just the life you have been living so far. Your life could be totally different. You can work in an elephant sanctuary, work on a ship for a year, be an theatre manager. While we lived in Slovenia, our day looked like this: Waking up, driving to Ljubljana to work, working in an office, driving back, maybe going for a hike. But if this doesn't feel right to you, change it - it can be more fun or not - but try it! Since living in Switzerland, our routine changed a bit. What is more, our wanderlust sparked even more. Now we want to see and explore more of the world. Also, we have the confidence that we could probably move to some other countries too - why not Sweden, Ireland etc.? The world is big. Go explore it.
"It's a big world out there. Go explore." - Unknown
3.) Reasons to Live Abroad -  We All Have a Different Mindset
At the beginning, you're maybe a bit confused of the different mindset people have. After a while you start seeing the reasons why people might think the way they think. People handle and judge based on their experiences, habits, religion, living standards and culture. They have its own perception what it means, for example, to tidy something up and how to wash your clothes. Everyone has his own experience with something so a specific way of thinking comes out of this. But after a while you start to understand their way of thinking and acting. You respect their opinions but you also try to explain your way of seeing things. At the end, it's all about learning from each other, isn't it?
"Do we look alike? Do we talk alike? It's OK, we are different; it's what makes us friends."
- Raydelle Matthews
4.) Reasons to Live Abroad - You Will Always Be a Stranger
Well, that's true. You will always be the person who lived somewhere else before and now moved to the country. You have to get integrated and find the comfort with all the barriers and challenges. You have to conquer their language. You never grew up here. So get used to it. You are the stranger. But is this a challenge? Look further, sometimes it can be an advantage too! Nobody knows you - be free, reinvent yourself! Become a better you. A new you. 
"I just want to go somewhere where nobody knows my name." - Unknown
5.) Reasons to Live Abroad - Home is Overrated
Of course, the first few months come with a strange feeling while living abroad. People behave differently, there is another mindset, the products in the grocery store are not the same you are used to, it is hard to overcome the language barriers etc. But what happens after a couple of years living in another country? You get used to it! You see what is different, you accept it or hate it, you compare the good and the bad things to your home country but you start getting used to things. Suddenly, you are lucky to have the things around you which you didn't have before, you met people you're happy to know them, you discover the nature which takes your breath away. It's not that hard anymore. It's ok now. Everything is different, but it feels to be right too.
"It hurts to let go but sometimes it hurts more to hold on." - Henry Rollins
6.) Reasons to Live Abroad - You Are not Alone
Prepare yourself, the beginning of your new life abroad is going to be tough. You will probably feel alone. You would need help from your neighbours but you don't know them yet. You would want to go out on a Friday night but you don't know who to call. The basic stuff will suddenly be a challenge. But after a while, you will see, that you're so not alone out there! There are millions of people out there who are going through the same process as you do and some of them probably even didn't have the choice to decide whether they want to stay or leave their own country. They just had to do it. So don't think you are the hero who invented living abroad. While facing all the culture barriers, you start understanding all the culture differences, you slowly get to know your neighbours, your meet up with your coworkers after work, you enrol in a language course... with other words, you are starting to integrate. All of a sudden, you realize that your life is somehow "normal" again.
"Be strong because things will get better. It may be stormy now, but it never rains forever."
- Unknown
7.) Reasons to Live Abroad - There is More than the Life You Had
It's just more than that. It is just not all about the goals that everyone in your town in your home country has. The meaning of life is not only the one you figured out with your best colleagues. There are thousands or millions of ways of seeing things. As an example - once we settled down in Switzerland, we realised pretty soon that there is so much more than the life we had in Slovenia. Don't get us wrong - we don't want to miss any of the years we've spend in this lovely country called Slovenia (and we don't want to offend anyone here!). But now, we see that there are so many opportunities, possibilities and challenges out there.
"Life begins at the end of your comfort zone." - Neale Donald Walsch 
It's not only about having the same routine all your life, right? We know, stability sounds nice, but what we want to say is, what about trying out some new things, getting to know a new routine, eating of a sudden exotic meals, working for a company which sends you to many business trips abroad, visiting the most famous fashion shows, attending the biggest fairs out there etc.? Why not listening to a coworker from Guatemala about his life? Why not trying out new stuff to see what was good at your old life and what was bad? Why not giving your soul a chance to discover a wholly new perspective? One of the best outcomes of our living abroad move is that we can travel even more than we did before. We are pretty damn grateful for this!
"Despite the fact that moving abroad was emotionally one of hardest things we've ever done, it has been one of the most rewarding life-changing steps we have taken so far. In fact, it has been the best investment in ourselves. It opened so many doors!" - Sonja & Jerry
Thank you for reading this blog post. Feel free to share it if you like it. 
Do you live abroad? What have you learned during your time living abroad? Please share it with us in the comments section below!
You might also like
Leave a comment