Monthly recap is here :) September was crazy busy for us. In fact, we are still recovering. Mostly due to the second item below. Here's what happened: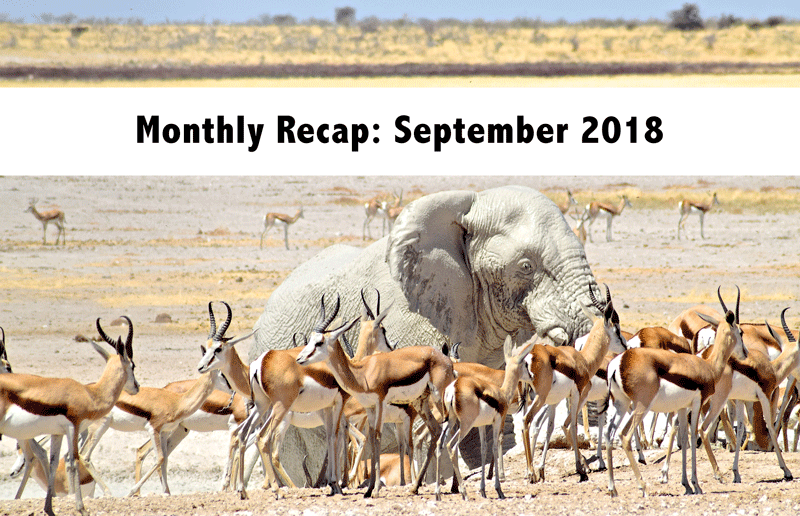 We went to Namibia!!!
After being really impressed with our South Africa and Swaziland trip (read here and here), we finally made it back to Africa. This time it was Namibia's turn. We considered making a short visit to Botswana as well, but decided against it in the spirit of "taking it easy". The trip was beyond awesome. Honestly, we have seen quite a lot by now and Namibia really impressed us with a combination of awesome (and potentially dangerous) animals, breathtaking landscapes and very friendly (although sometimes a bit slow) locals. The first blog post about Namibia is out and we are happy to share our impressions with you.
We moved!!!
We finally found a new flat that fullfils all of our demands. If you're thinking about moving - don't do it... it's just soooooo much work. In Switzerland flats are usually not furnished so in addition to all the junk that we own, we also had to take apart, transport and re-build all of the furniture, closets, etc. It's a never ending process. But on the plus side, we now have an awesome trampoline in front of our building - fun times ahead.
Blogging
Due to us being away or busy moving most of the month, no groundbraking news here. Expect it to be more active in October.
New Videos
An awesome video of Namibia is coming up. The video will feature fun stuff, such as elephants drinking water, lions walking across the road, our jeep moving from a birds eye perspective, Sonja going crazy on a quad bike in the desert and much more :)
What Books We've Read
What Movies We've Watched
We actually watched a movie while in Namibia. One night was particularly cold and windy and we were quite unsuccessful at trying to sleep in a tent, so we decided to treat ourselves to an apartment the following night. As a result we got to see The Circle featuring Tom Hanks and Emma Watson. It was not very good but still entertaining. So don't go out of your way to watch it.
What Gadgets We Bought
Almost no shopping this month. Our wallets were light enough due to the Namibia trip and all the costs associated with moving. The only thing we bought was a mobile power inverter, which enabled us to power our phones, camera, drone while cruising around Namibia in our jeep. Quite handy, since many campsites did not have electricity available.
Upcoming Month
No idea!! We're settling in to our new place and we'll do out best to make some weekend tips while the weather here is still warm-ish and sunny, but nothing has been planned yet. Honestly, at the moment, we like it that way. Until next time. Stay tuned and follow us on Facebook and Instagram for stories and photos! See you there ;)
You might also like
Leave a comment