Do you need a packing list for Namibia? We just came back from this picturesque "moon" and we guarantee you, you will have the time of your life. Namibia with its landscape and wildlife will make your jaw drop. However, it's important to visit the country well-prepared and one of the things you can already do is to take all the necessary things with you. So let's have a look, what you should pack for your trip!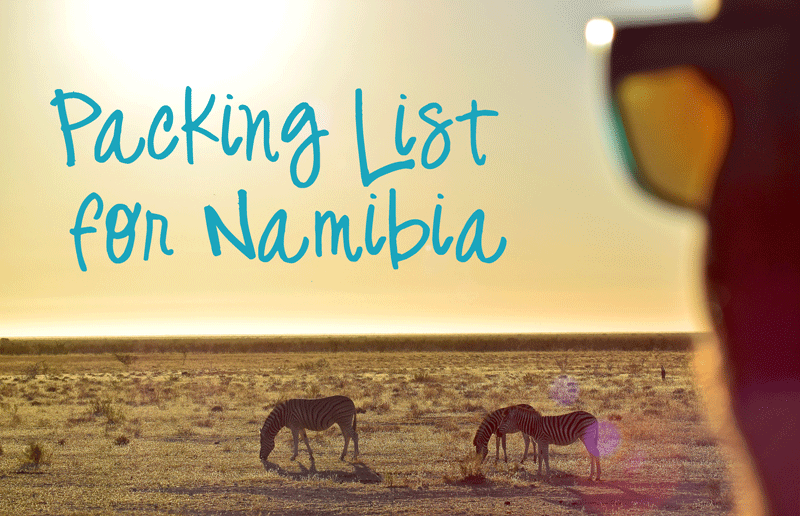 Packing List for Namibia - Don't Forget These Things!
So here's your packing list for Namibia:
Documents
Flight ticket
Passport (if needed)
Copy of the passport
Visa (if needed) - check it out here
Vaccination certificate (if needed)
International driving license in case you're renting a car (make sure it's an international one!)
Travel insurance (we recommend World Nomads)
If having a drone: Flight permit
Clothing
short sleeve t-shirts
long sleeve t-shirts
sports wear: t-shirts & leggings if going hiking
trousers
warm jacket
swimsuit, if using the swimming pools at camps or lodges
socks
underwear
Shoes
walking shoes for exploring cities
hiking shoes for the mountains & dunes
flip flops in summer for the beach or for showering in the lodges
Gadgets
Accessoires & Other Gear
rucksack (daypack)
purse
sun glasses
warm hat, as it gets quite cold at night
scarf (quite convenient, as it gets cold at night but also to cover from the sun)
towels
walking sticks for hiking
water bottle for sightseeing and hiking
tent (if going camping)
mattress (if going camping)
sleeping bag (if going camping)
pillow (if going camping)
headlight (if going camping)
mosquito spray
mosquito net (sometimes available in the lodges)
Cosmetics
sun cream
body lotion
make up (women if needed)
mascara removal
make up removal pads
Travel Medicine
headache pills
antihistamines
Antidiarrheal

 medication

sunburn lotion
band-aid
Well, all packed? Good! We wish you an unforgettable trip to Namibia!
Are you planning to visit Namibia? Which places are you heading to? Let us know in the comments below!
Related Blog Posts
You might also like
Leave a comment