Do you need a travel checklist for Switzerland? Good, in this blog post we'll let you know what you need for your trip to & around this beautiful alpine country! Whether you'll arrive by plane, train or you'll drive by car to Switzerland, we got you covered. You wanna go hiking or camping too? Visiting in winter? Don't worry, it's all listed. Here you go.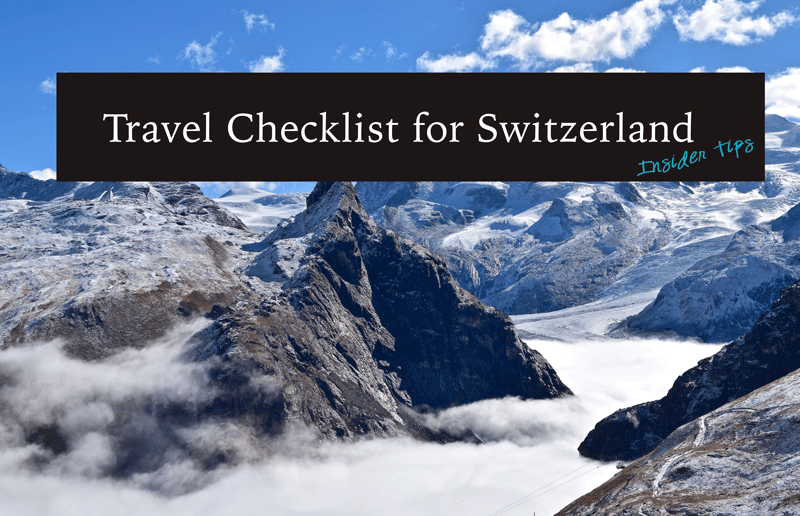 The Ultimate Travel Checklist for Switzerland - Insider Tips!
So here's your travel checklist for Switzerland:
Travel Documents
Flight ticket
Passport (if needed)
Identity card (only if no passport needed to enter the country - for EU citizens only)
Driving license in case you're renting a car
Travel insurance (we recommend World Nomads)
Clothing
short sleeve t-shirts
long sleeve t-shirts
sports wear: t-shirts & leggings if going hiking
trousers
nice jacket or coat for the city sightseeing
warm jacket for the mountains
rain jacket
swimsuit, if going in a spa in winter or swimming in the lakes & rivers in summer
socks
underwear
ski wear, if going skiing: ski socks, ski trousers, ski jacket, ski helmet, ski glasses, ski gloves, ski sticks, ski shoes & skies
Shoes
walking shoes for exploring cities
hiking shoes for the mountains
flip flops in summer or for showering in the hotel, hostel...
Gadgets
Laptop if (really) needed
Smartphone
Smartphone charger
Power bank for your phone, if needed
Camera + charger
Drone (if owned) + charger
Additional batteries for your phone, camera, drone...
Additional memory cards for camera, drone if needed
Travel adapter plug for Switzerland
Waterproof bag for the gadgets (in case of kayaking & swimming down the rivers - fun activity in Switzerland!)
headphones if needed
Accessoires & Other Gear
rucksack (daypack)
city bag
purse
umbrella
sun glasses
cap in the summer, warm hat in the winter
gloves in the winter
scarf in the winter
towels (for showering, your hands & face, bathtowel)
walking sticks for hiking
water bottle for sightseeing and hiking
tent (if going camping)
mattress (if going camping)
sleeping bag (if going camping)
pillow (if going camping)
headlight (if going camping)
Cosmetics
sun cream
body lotion
deodorant
toothbrush
toothpaste
make up (women if needed)
mascara removal
make up removal pads
hairbrush
Travel medicine
headache pills
sunburn lotion
band-aid
Well, all packed? Good! We wish you an enjoyable trip to & around Switzerland - check out what places to visit and how to spend the days in the country in other blogs posts we wrote about. Cheers!
Are you planning to visit Switzerland? Which places are you heading to? Let us know in the comments below!
Related Blog Posts
You might also like
Leave a comment