[Guest blogging]  The capital of Catalonia, Barcelona is a modern city with an old soul. Filled to the brim with breathtaking scenery, impressive architecture, and plenty of leisure locals, the city is a fantastic vacation choice.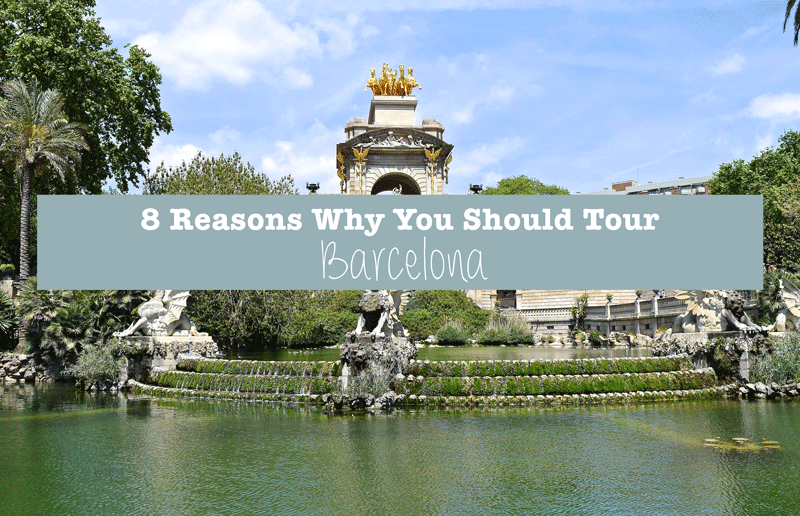 8 Reasons Why You Should Tour Barcelona
Barcelona has something for everyone: there are kids-friendly locals and plenty of fun stuff to do with the family, there are bars and lots of locations where you can dance and meet new people, and there are quiet areas where the city breaker can satisfy their thirst for knowledge and culture.  
So, whether you're looking for a quick runaway or a full-time vacation, Barcelona is one of those European cities you must visit! To make it more convincing, below you'll find eight reasons to put this wonderful city on your vacation list.
1# Basilica de la Sagrada Familia
I am in love with unusual architecture, so this church has been on my list of touristic objectives since forever. La Sagrada Familia is a UNESCO World Heritage objective (added in 2005) and is the most imposing touristic objective in Barcelona.
Even though it's still unfinished, the intricate architecture, the size, and the respect it commands will have you stop in place, lost in awe for such a wonder of the world. If you've seen it once, you'll want to see it again, because you'll always have something new and amazing to discover in this astonishing creation of the great Antoni Gaudi!
2# The Gothic Quarter
Known as the Barri Gotic, this part of the city takes you on a stroll down memory lane and gets you acquainted with how life used to be 2000 years ago. Ancient Roman buildings (relics, of course), a medieval cathedral, and the streets that Christopher Columbus himself once stepped on are among the main attractions.
Once you start walking the narrow cobblestone streets, away from the modern world and traffic, you'll feel lost in time!
3# Lots of Tours
Barcelona is first and foremost a touristic city, so you'll find plenty of occasions to book a tour (https://barcelonaexclusiveprivatetours.com) has some amazing offers if you're interested). The cool thing about tours in Barcelona is that you have plenty of options. Starting with the Hop-On Hop-Off tour in a bus and ending with a bike tour, the city is designed to make it easy for tourists to move from one point to another.
4# La Rambla
This wide avenue is Barcelona's most social place. Here you'll find stores, restaurants, terraces, and more while getting the city's pulse. Here you'll find the famous Mercat de la Boqueria (a market that sells food of all types, colors, and tastes), street performances, the Fountain of the Three Graces, and another of Gaudi's creations - the Palau Güell.
5# Parc Güell
Yet another astonishing creation by Antoni Gaudi and yet another UNESCO site, this park is filled with color, grottoes, viaducts, and buildings that seem to have been inspired by Hensel and Gretel stories.  The park also offers a breathtaking panoramic view of the city and the sea, that will stay with you forever!
6# Montiuic
The site of the 1992 Summer Olympic Games, this hillside area is great for people who love the outdoors and enjoy spending time exploring fortresses and other similar locations. Here you'll also find the Tibidabo Amusement Park, the National Museum of Catalonia, and Spanish Village (Poble Espanyol).
7# Casa Batllo
Yes, another of Gaudi's creations and another UNESCO World Heritage site, this building is famous due to its unusual architecture that makes it look surreal (like a castle form a fairytale). Just like any other buildings designed by Gaudi, this one is unique and is worth visiting at least a few times!
8# Cool Museums
Besides impressive parks, amazing restaurants, and unique architecture, Barcelona is also known for its cultural offers. I'm sure you'll love the Zoological Museum, the Museum of Earth Science, and the Picasso Museum!
Have you been to Barcelona? How did you like it? Let us know in the comments below!
Related Blog Posts
Leave a comment