Looking for a fun place near Barcelona? Make sure to visit Castelldefels, a beach town just 20 minutes from Barcelona!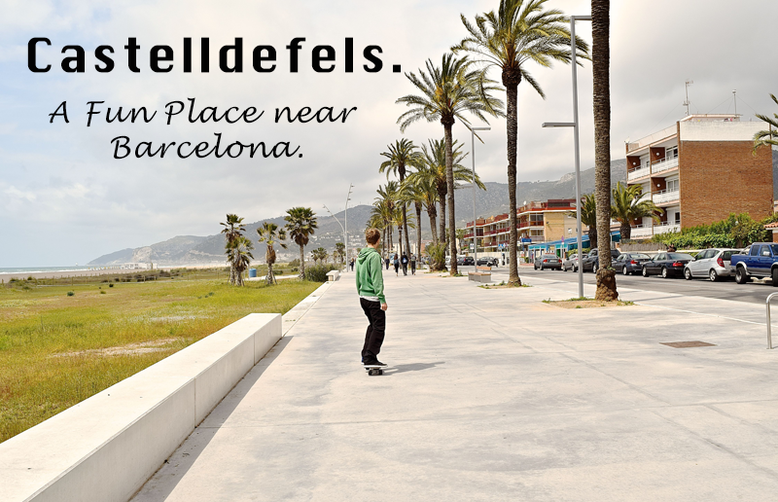 Why Should One Go?
Castelldefels is located 20 km southwest of Barcelona. It is a beach town of 63k inhabitants and is easily accessible by train from Barcelona airport and its city center. It makes an awesome place if you want to be close to Barcelona but escape the hustle and bustle of the city. 
What is more, Castelldefels is a perfect spot for outdoor people! There is a long beach with a promenade, suitable for running, cycling, skating and skateboarding. 
For water lovers, there are possibilities of kitesurfing, windsurfing, wavesurfing, jetskiing and stand up paddling, while on the beach you can do yoga, gym, play volleyball, fly a kite.. You see? It's a paradise for sports people!
In the evening there are many cool bars and restaurants to choose from! Restaurants such as CheChe, Amar, La Canija are the ones where you should consider ordering your paella! 
When to Go
We're afraid this place gets quite crowded during the summer months. It was nothing like that at the end of April/beginning of May - our travel period in Castelldefels. The sun was shining, it was warm during the day (although a bit chilly in the evening), and not too many people were around, so we consider this period to be a great time to visit Castelldefels!
Where to Stay in Castelldefels?
We recommend to look for a great Airbnb stay as there are plenty in Castelldefels to choose from! Our Airbnb experience was simply SUPER! It was only 100m from the beach and offered everything that one can imagine: A guitar, ukulele, surfs, skateboards, a coffee machine, a bottle of wine etc. It was called the Beach House. If you haven't signed up yet to Airbnb, make sure to click on this link to get a discount!
Jerry was not only playing the guitar again and rediscovering the joy of skateboarding but it was also a nice place to revive our sports spirits like running and doing gym together. This beach town brought us so much fun and positive energy that we consider to revisit it next year in May! Finger crossed! 
Related blog posts
You might also like
Leave a comment