Day Trips from Zurich are a MUST DO when in Switzerland! Within 1 to 2 hours of drive from the city there are many cool places to spend your day out of the city - and to make it more interesting, we put places on the list which are not only in Switzerland but also in Germany or France. Here you go.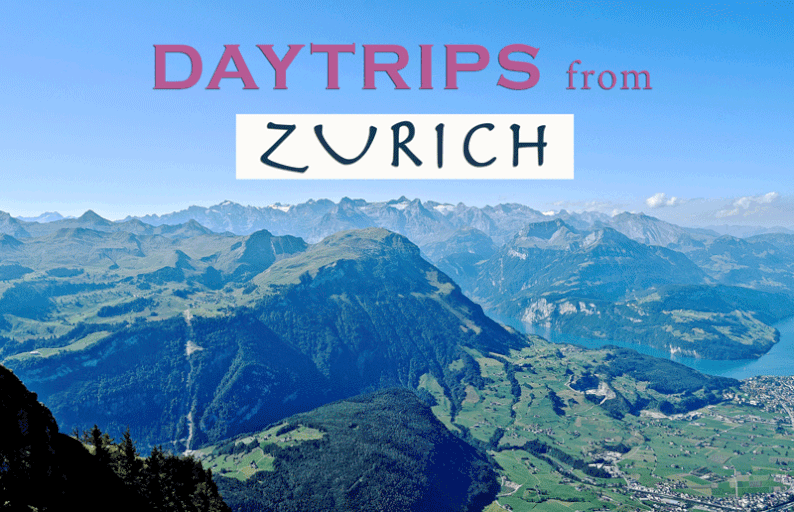 Best Day Trips from Zurich
Walensee, Switzerland
One of the must do day trips from Zurich and only 1 hour away is the lake called Walensee! In summer you can plunge into the lake, hike in the surrounding mountains and even go summer sledding, do a ship cruise across the lake and have a barbecue. Such a picturesque place to go!
Lucerne Lake, Switzerland
A 1-hour drive and you will find yourself in the mountainous area in Switzerland with a huge turquoise lake! There are many hiking opportunities, like Grosser Mythen or Pilatus. Believe us, this is the place which you want to visit while travelling around Switzerland. A perfect day trip from Zurich for sure!
Baden, Switzerland
Only 30 minutes from Zurich and you reach this cute town called Baden. With its beautiful historical sights, it makes a town worth visiting! Do you see that bar on the photo below? It's the best bar in this small town! You can not miss it!
Meersburg, Germany
Meersburg is the most beautiful city along the Bodensee lake for sure! It's old and new castle with its lovely narrow streets and lots of cafes are the highlights of the city! In summer you can also have a swim in the lake. Drive 1,5 hour from Zurich and enjoy the day!
Konstanz, Germany
Another beautiful day trip from Zurich is Konstanz. The German city has it all - great shopping places, many cafes, historical buildings and it is located along the Bodensee. In summer, after strolling down the streets, you can easily find a nice beach and swim in the lake. It is about a 40 minutes drive from Zurich and a great idea how to spend your day!
Colmar, France
Colmar is a cute town in France, worth visiting not only in summer but also in winter where there is a great christmas market to enjoy. Fans of Brugge, Colmar is quite a look-alike city with lots of cafes and restaurants. Well, the downside is, you have to expect many tourists.
Schwarzwald, Germany
Consider also the following day trip from Zurich: Schwarzwald. It is a great "playground" for hikers and mountainbikers. The beautiful spots like Schönau or Titisee with its unspoilt nature will fulfil your needs of a peaceful day outdoors. 
What day trips did you do from Zurich? Let us know in the comments below! 
Related blog posts
You might also like
Leave a comment