Wondering how is life in Switzerland? Find our honest opinion on life in Switzerland along with some statistical facts in the blog post below!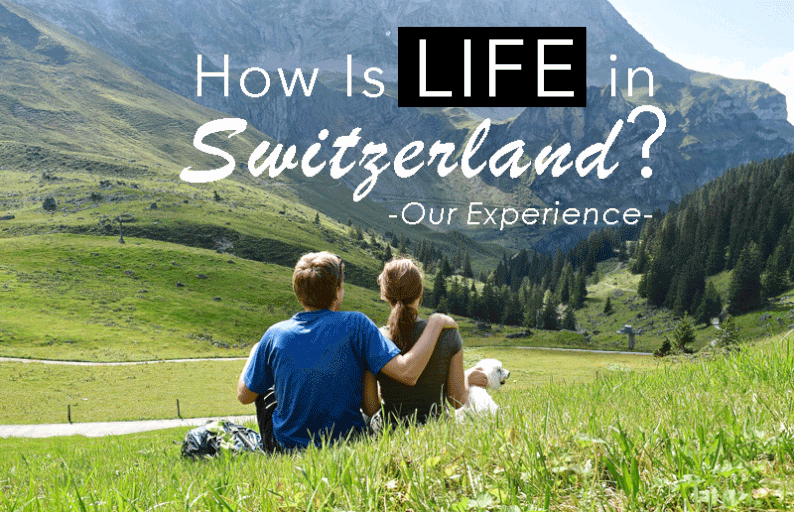 How is Life in Switzerland
It was 4 and a half years ago when we packed our stuff and started our car engine towards Zurich. Who would have thought this would become one of our most exciting and rewarding steps in our lives. It opened many doors, contributed a lot to our personal growth and gave us the chance to meet many awesome people who meanwhile have become real friends. Despite the good facts we just mentioned, we are not saying everything is perfect. So, with all honesty, how is life in Switzerland?
Summing it up in two sentences, it would look like that:
It's pretty good but not as easy as one might think.
Once you get over some potential obstacles, it can be a dream country to live in.
Let's check out some specific areas:
How is Life in Switzerland - Standard of Living
Switzerland has one of the highest standards of living. Looking at the purchasing power, the country ranks 3rd after Luxembourg and Norway (SwissInfo, 2016). With simple words, it is possible to buy a lot of stuff with your monthly salary! :) We have to confess, during our time here in Switzerland, our standard of living significantly improved. That doesn't mean we are buying random stuff ;) We rather spend our money on experiences (like travelling), not things. 
How is Life in Switzerland - Jobs
Compared to other OECD countries, Switzerland ranks 2nd (after Iceland) in terms of jobs. The assessed factors are employment rate, long-term unemployment rate, job security and average earnings (OECD Better Life Index, 2017). With that being said, the job situation is quite pleasant. In reality, it seems that there are many jobs on the market, however it is also a tough competition between the job seekers. For example, as an economist with a bachelor and/or master degree you notice many jobs ads suiting your profile but after a while you maybe hear how many candidates with thousands of additional certificates applied for the same job. It is tough but at one point you may land the job. Just be very patient.
How is Life in Switzerland - Prices of Services and Products
In Switzerland, services are very expensive. A visit at a hairdresser for a man would cost between 50-100 CHF, while for a woman it would be between 100-200 CHF. A lunch or dinner for 2 at a decent restaurant in Zurich would cost between 60-120 CHF. The price for a coffee at a cafeteria is between 6 and 10 CHF.
For the products, it may vary. Meat, fish, veggies as well as some fruits like blueberries are quite expensive. While other type of food is probably at the same level as in other West-European countries. Worth to mention, a lot of electronic devices can be purchased for a good price, sometimes cheaper than in any East-European country.
How is Life in Switzerland - Bureaucracy
Bureaucracy may cause a bit of headache unless you love to spend your time with documents :) We must admit this is something we don't enjoy much and it comes in forms of filling out a bunch of documents regarding taxes, moving in and out of a canton, bank matters, insurance, heating etc. We think it is much more paperwork than in Slovenia (and Slovenia has a lot of it already!). 
How is Life in Switzerland - Work/Life Balance
Honestly speaking, work-life balance is not the best in Switzerland. Statistically, OECD ranks Switzerland out of 39 OECD countries somewhere in the middle (OECD Better Life Index, 2017). The fact is, employees are working long hours. It is usually 45 hours per week, for manufacturing industries even 50 hours. That is something we can confirm, the working days are usually quite long (much longer than in Slovenia) - let's say we usually have to work 8.5 hours per day plus a lunch break, so 9 hours at least. It is common to be at home between 6.30 pm and 8.30 pm. Of course, there are days we can finish earlier and days we get home even at 10 pm. After some time, you simply get used to it. Worth to mention, it is quite common in Switzerland to get the possibility to use overtime and take whole days off - a great option for a traveller! ;) 
How is Life in Switzerland - Summer Activities
Summer is our favourite season in Switzerland. There are more than 1,700 lakes, so swimming and also hiking along them is quite spectacular! We already managed to explore some of the most beautiful ones - check it out! Other than that Switzerland has many km of marked skating, cycling, mountain biking and kayaking trails. Such a paradise! For adrenaline junkies, there are many options if you want to go ziplining, bungee jumping, canyoning, river rafting, paragliding etc. We simply love it.
How is Life in Switzerland - Winter Activities
There are plenty of awesome winter activities in Switzerland. That's definitely one of the reasons why we enjoy living in Switzerland so much! Since we moved to this Alpine country, we started to practise activities such as snowshoeing and cross-country skiing (besides skiing which we'd already done before). There are many marked snowshoeing trails in whole Switzerland, can you imagine? Thousands of different options with stunning landscape and sceneries! It never gets boring. A glimpse of that is covered in one of our blog posts.
How is Life in Switzerland - Is it Worth it?
Despite some difficulties that come along with moving abroad and some struggles from time to time, we want to make clear, that we enjoy our time here in Switzerland. This new life here gave us some new opportunities such as travelling around the world, having the access to many educational programmes, working in international companies, meeting people from all over the world here in Zurich, being close to the best medical centres, enjoying a high-quality infrastructure and a lot more.
For all travel souls out there: Remember, life is not meant to be lived in one place :)
Hopefully you got some useful info! Please note that this statement is only based on our experience, living in Switzerland for 4.5 years now, and on information, we received by my (Sonja's) family living here.
Is moving to Switzerland a wish of yours? What concerns do you have? Let us know in the comments below. Thanks!
---
Want to know more?
Subscribe to our newsletter! We'll give you more juicy details in this piece of art! Don't worry, it's no spam as we hate it too. You will occasionally get some important insights on the life in Switzerland and some tips on how to start a life of travels. 
---
Related blog posts
You might also like
Leave a comment