Are you just waiting that the winter goes away so you can finally go hiking, travelling or just exploring some new corners? Why, the hell?! :) There is so much to do in winter too! Why not visiting Slovenia? Here are the top 6 winter activities in Slovenia!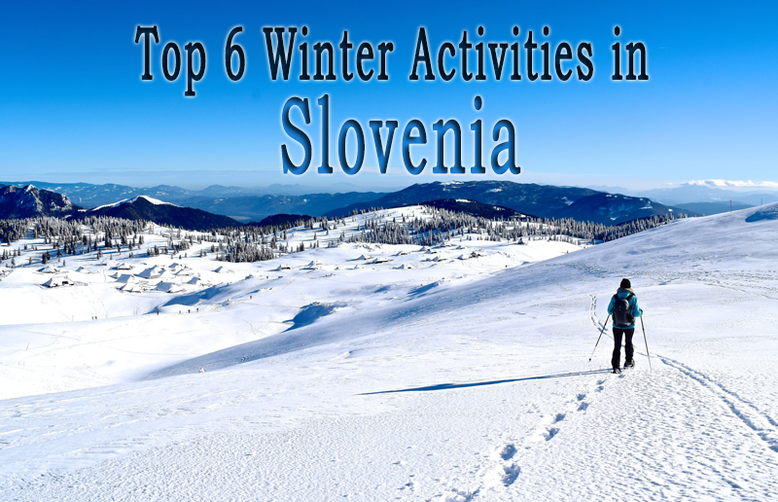 Top 6 Winter Activities in Slovenia
1# Cross-Country Skiing at Pokljuka
Well, what about cross-country skiing? Oh, I know what's you're thinking! That's for all the old ones, right? I wanted something more excited! Yeah, I got you, I thought the same all until I tried it! And you know what? Now it's one of the activities I wouldn't want to miss in winter! Travel to Slovenia, make it to the cross-country centre called Pokljuka and let the adventure begin!
Alternatives: Kranjska Gora, Jezersko
2# Skiing at Krvavec
Krvavec should be on your list once you decide visiting Slovenia in winter! It's not the only place to do that, we'd say Vogel is a great ski resort too if you'd like to both enjoy skiing and soaking up the epic views over the Lake Bohinj. For night skiing, check out Stari vrh! 
Alternatives: Kranjska Gora, Vogel, Stari vrh, Maribor, Kanin, Velika Planina
3# Sledging at Ljubelj
Sledging at Ljubelj is another good reason why visiting Slovenia in winter is a good decision! For those who need an additional adrenaline boost, try night sledging at Krvavec! It's so much fun!
Alternatives: Krvavec, Velika planina, Gozd Martuljek, Jezersko, Rogla
4# Ice Skating in Ljubljana
Ice skating in Ljubljana on an area of 2.000 km2 is one of the newest cool things you can do in the capital city in the winter time! It first opened in November 2017 and lasted all until January. Consider these time frame when visiting Slovenia in winter in order to not miss it! It's so much fun and quite romantic :)
Alternatives: Jezersko, Bled
5# Snowshoeing at Velika Planina
If your time in Slovenia is very short and you'd need to choose between one of these 6 winter activities, go for snowshoeing at Velika Planina! Why? Here are some reasons for it: Panoramic views, stunning trail along the plateau, an alpine village serving delicious food and simply, it's a winter wonderland! 
Alternatives: Pokljuka, Vogel, Tamar Valley
Here is a glimpse of our recent snowshoeing adventure at Velika Planina - check out the drone video:
6# Ski Touring at Klek
We adore ski touring once we're back in Slovenia! So many remote places where you're basically alone! One of the cool places to do this winter activity in Slovenia is Klek! One reached the top, the view over the surrounding mountains and hills will blow you away! Another cool place to do that is Zelenica.
Travel Insurance
Do you need a travel insurance for your trip to Slovenia? When we go travelling, we usually use World Nomads.
Did you visit Slovenia in the winter time? What activities did you do?
Related blog posts
You might also like
Leave a comment